Mr. 300
By Ann Coppola, News Reporter
Published: 02/09/2009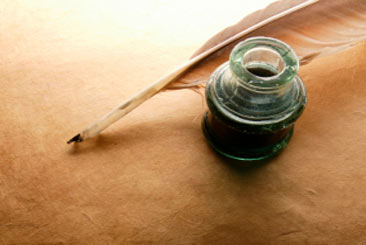 Accidentally stumbling upon something you soon discover you love can be a beautiful thing. Whether it's a destination you find after making a wrong turn or a band you only get to see play because you bought the wrong ticket, those experiences are always thrilling and extra-satisfying.

For Joe Bouchard, a correctional librarian by day, his accidental discovery was writing. After a humble literary beginning nine years ago, Bouchard just recently published his 300th article about the corrections field. Corrections.com caught up with the prolific writer to learn his secret for success.
Corrections.com: Congratulations on reaching article number 300! How did your journey as a correctional writer start?

Joe Bouchard: I didn't start out to be a writer, it just happened. I was on a prison library listserve in 1999, where prison librarians discuss issues that affect them. One of the subjects was the relationships and level of respect between custody staff and prison librarians.

I suggested that we can make ourselves more useful to custody - shake down a book, search for contraband, show that you are part of the custody team. The other librarians weren't very receptive to that answer - I kind of stuck my foot in it – but Linda Allen, who was the incoming editor for The Corrections Professional, liked my feistiness and dared me to write an article on contraband control.

I wrote a piece on contraband in the library and ever since I've been writing somewhere around a feature once a month.

CC: Had you done much writing before you started getting published?

JB: I always liked a good turn of phrase. I had something published in a genealogical feature once, but hadn't written that much. It just felt natural - it's something I fell into and enjoy.

CC: What motivates you to write? How do you bust out of a writer's block?

JB: Events drive me - sometimes I find myself a little upset at a problem at work and I wonder how I can fix it. Sometimes I'm the problem too. There's a little self scrutiny there. I like to conceptualize rather than attack any individual and before I know it, the problem is solved.

Sometimes feelings like frustration will do it too. You can ride these emotions and take them with you to motivate you to write.

CC: Do you have any literary heroes you look up to?

JB: Of all the legends out there, one is a hero of mine called Isaac Asimov, a famed science fiction writer who's had something published in every one of the Dewey Decimal System categories. I also am inspired by George Carlin – he can just see so clearly through concepts. So I look at Asimov as well-written classic rock and Carlin as thrash metal.

CC: How do you find the time to work full-time, write, and enjoy a life outside of those things with family and friends?

JB: Three words. Balance, balance, balance. I think about a lot of my writing ideas while doing rote tasks. And when I'm out snowshoeing or exercising my mind is occupied with these things - not to the point that it's suffocating me. It's kind of a natural stream of consciousness. I know to separate work from the rest of my life and I take time for family vacations and make sure to step away from the laptop.

CC: What advice do you have for your correctional colleagues who'd like to start writing?

JB: I actually have a bulleted list to share:


Check with your chain of command
Issue the proper the disclaimers
Attack ideas, not people
Be honest and thorough
When you're criticized, learn from it rather than retreat from it
Have fun with it! If it's not fun and you're not doing it for the right reasons, it becomes a task
I really respect the great writers, because they can wrestle unmanageable concepts and put them into a logical, readable, thinkable order. They transform the nebulous and confusing into sensible ideas. And from well ordered ideas come sensible practices for everyone.

I'm just a librarian. I've been very lucky with a writing hobby and people have been receptive.

Joe Bouchard is a prison librarian in Michigan's Baraga Maximum Correctional Facility. He also teaches corrections and criminal justice classes for Gogebic Community College in Michigan. Bouchard writes for three regular columns: "Foundations" for Corrections.com, "Speakout" for The Corrections Professional, and "Corrections Directions" for The Correctional Trainer. He's written four books, and his fifth is due out in April, 2009.
---