Cowboys, John Wayne and Dodge City
By Brian Dawe
Published: 02/23/2009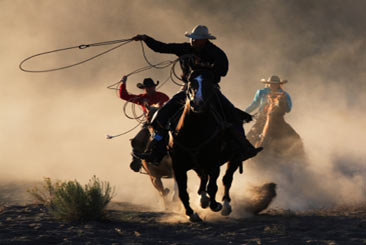 "I want to tell you rookies something straight up. If you make my job harder than it already is behind these walls, the inmates will be the least of your problems. It'll be me and the other officers you have to deal with. This isn't cowboys and Indians, and you ain't John Wayne."

That's how I open my welcoming address to corrections trainees. Not too subtle, not real smooth, a bit aggressive – but nonetheless right on point.

Our job behind the walls is not to met out justice – that's up to the courts. It's is not to decide what punishment fits what crime – that's up to the jury.

It's no longer to rehabilitate, we rarely have the manpower, programs, time or facilities to even attempt to achieve that goal. Our job has come down to two things, try and keep everyone behind those walls alive and don't let anyone leave unless their time is up.

When "newjacks" enter our world there are some very fundamental things they need to know. But nothing is more important than being fair, firm and consistent when dealing with the inmates in your charge.

As a house officer for eight years at MCI Norfolk in Massachusetts it was critical that the housing unit under my control be run as consistently as possible.

With one officer patrolling three floors with 60 inmates and no back-up you best be certain of the pulse of the unit. One of the last things you want to walk into is a housing unit of 60 convicted felons all ticked off at the previous shift officer. .

The job is damn hard enough without having to clean up after someone else's mess. However, putting up with some of the antics of the inmate population takes incredible patience and self-discipline.

Ask yourself these questions:
How do you handle having feces and urine throw in your face? Do you throw it back at them?

How do you handle physical confrontations? Do you let the moment get the best of you or are you trained well enough to remain in control and use only the amount of force necessary?

How do you handle verbal assaults hurled your way on a daily basis? Do you become equally verbally abusive?

How do you handle the death of a fellow officer at the hands of an inmate? How do you handle a staff assault?

How do you handle communicable diseases that can not only take your life but also have a devastating impact on your family and friends as well?

How do you handle an unruly inmate who you know is mentally ill? How do you handle telling an inmate his parole has been denied, or his visitor won't be allowed in, or his appeal was shot down?


Many of these situations are daily occurrences behind the walls, and how we handle them not only affects us but can affect all staff, especially those who will relieve you.

What about the stresses outside of the job? Do you bring them behind the walls with you?

That argument with your spouse, a bad report card, the car broke down, credit card bills that are too high - all of this can impact your performance. As a result, it can also have an impact on the mood of the prison and consequently on the safety of the facility.

The professionalism with which you handle these situations may not only save your life but also fellow staff members as well. I have found that if you strive to be firm, fair and consistent in your dealings with the inmate population we all have a better chance of going home after our shift.

We react as a result of the way we are trained and the experiences we've had over the years. However corrections is unlike any other job.

The situation is constantly in a state of agitation. Who really wants to be in prison – inmates or staff? Yet there we are doing the job that very few people would dare even contemplate.

With inmate populations going through the roof and staffing numbers falling further and further behind, it is really important that we all bring our A-games to the job.

We need to look around the room at roll call and realize that these men and women are your lifeline. Let's not make it any harder on them.

They want to go home in one piece too. If you come to work with an attitude, leave it at the time clock. It's one thing on the streets when your attitude generally only impacts you, but behind the walls it's a whole different story.

Often times correctional officers are thrust into situations on the spur of the moment, there is little time to wait for back up. You must be ready to react immediately.

As you get ready for that next shift ask yourself if you're mentally prepared to respond in a professional manner.

Remember, people die behind those walls. In fact, on the walls of the National Law Enforcement Memorial in Washington D.C. you will find the names of 527 correctional officers who died in the line of duty.

Although being able to physically handle yourself in this environment is important, it is far more vital for your safety and that of your fellow officer for you to have the mental game down as well. If you and the other officers are mentally prepared to do the job, the physical dangers can be greatly reduced.

Remember we weren't hired to clean up Dodge City, that's not our job.

I end my presentation to the rookies with this thought:

"Corrections is not for everyone. In a few years most of you will have moved on to other lines of work. But for those of you who stay, remember, we are all we've got, without each other what's left behind those walls? If you remember that and respect it, we'll be alright. Welcome to corrections."

Brian Dawe is the Executive Director for The American Correctional Officer (www.americanco.org) and the American Correctional Officers Intelligence Network (www.COIntel.net). ACO and ACOIN are not unions, they are a coalition of corrections professionals who work with unions and individual officers from across the U.S. and around the world to address our universal concerns. He can be reached at ACOIN1@aol.com or 307-883-9707.

Other articles by Dawe:

Hats off to county corrections

Consistency for life


---