Greening Juvenile Justice
By Robert Kravitz, President AlturaSolutions
Published: 04/06/2009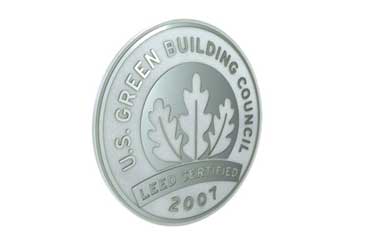 Editor's Note: Robert Kravitz is a former building service contractor who has written two books on the professional cleaning industry. He may be reached at rkravitz@rcn.com.

In 2007, the Alameda County Juvenile Justice Center opened in San Leandro, California. The ultramodern building was designed to meet the county's current detention needs as well as those several years into the future. The 379,000-square-foot facility houses five courtrooms, nine related agencies, and 360 beds.

But the building has a plus that might not be noticeable upon first inspection. It was planned, was designed, and is now operated as a Green facility. In fact, it has met so many health and environmental standards as well as levels of efficiency, it is a LEED® (Leadership in Energy and Environmental Design) Gold–certified building.

Among the building's Green attributes:

Water-efficient irrigation systems save more than 5,000,000 gallons of water annually.
The 850 kW solar panels on the rooftop meet more than 60 percent of the facility's electrical needs.
More than 90 percent of the construction waste was recycled.
Waterless urinals and water-efficient plumbing save about 2,000,000 gallons of water annually.
Cleaning is performed using Green-certified cleaning chemicals and products.

"In order for a facility to be LEED certified, it must use Green cleaning chemicals," says Steven Ashkin, President of The Ashkin Group, the leading advocate for Green cleaning in the professional cleaning industry, and the person in charge of putting together a Green cleaning program for the facility. "And even if the center had not sought LEED certification, there would have been plenty of reasons for it to use Green cleaning products anyway."

Greener, Safer, Healthier, and More Cost-Effective Why would a detention center choose to use Green cleaning chemicals even if it is not seeking LEED certification or any other environmental designation or honor? The answer is simple, according to Ashkin. "Environmentally preferable cleaning chemicals are safer, healthier, and surprisingly cost-effective," he says.

Additionally, and more specific to a detention center, Ashkin mentioned the following:

Prisoners have been known to drink cleaning chemicals. Sometimes they do this so they can be transferred to the infirmary, which is usually more comfortable than the actual detention center; in other situations, they are simply trying to harm themselves. Green products tend to be less toxic, minimizing the ramifications of such abuse.
Cleaning tools including chemicals, mop handles, and equipment have been used as weapons; Green products tend to be less harmful if misused, and tools and equipment are typically made of more durable materials, preventing a mop handle, for instance, from being broken off.
There is less fear of mixing chemicals by accident. Non-Green chemicals such as bleach and ammonia are used in many cleaning situations. However, when mixed together, they can be deadly. Environmentally preferable cleaning products do not contain either of these ingredients.

Ashkin adds that not only are Green cleaning chemicals safer but many of today's Green products have proved to be very effective, which is also of great concern in a detention center. "Hundreds of people are packed together in a detention center," he says. "This means infection, disease, and illness can spread quickly. Many if not most environmentally preferable cleaning chemicals and products perform as well as conventional products at eliminating bacteria and infection, helping to keep building occupants healthy." Floors a Green Cleaning Concern
Among the big maintenance concerns in a detention facility are the floors. In most settings, the facility has hard-surface flooring throughout—typically vinyl tile—and administrators want these floors to be as clean, shiny, and healthy as possible. "The appearance of the floors plays a significant role in a detention facility," says Mike Sawchuk, Vice President of Enviro-Solutions, a leading manufacturer of Green cleaning chemicals who works with distributors that have detention center clients. "[If a floor is] messy, dirty, or unkempt, it can lower morale for inmates and staff alike and even encourage disorder. [When floors are] clean and well maintained, they can do just the opposite."

However, Greening floorcare can be a problem, according to Sawchuk. It has proved more difficult for manufacturers to produce Green floorcare products—such as strippers,restorers, and finishes—that meet the performance levels of conventional products. "This is because most finishes, as an example, contain zinc and other heavy metals that can negatively affect human health," he says. "Substitutes that do not contain these ingredients have not always proved to be effective."

Sawchuk sites one situation: a facility owned and operated by the New York state government tested 23 different finishes before they found two that performed as well as the conventional finish they had used before. "Green-certified finishes and strippers do exist, and some are proving to be excellent performers and cost-effective," he says. "Managers and administrators may need to try different brands in their own facilities to see which works best for them."

Green Means Green
Many years ago, one reason facility managers were reluctant to select environmentally preferable cleaning products was because they tended to be much more costly than conventional ones. However, after years of research and new technology, most Green cleaning products cost the same or even less to use than conventional products.

One reason for this is the fact that Green cleaning chemicals are usually highly concentrated, allowing them to go further, which saves money. Additionally, auto-dispensing systems are usually part of a Green cleaning program. Depending on the use of the product, these systems dilute the concentrated cleaner with water so just enough chemical is used to do the job satisfactorily so there is no waste.

And the savings can add up. The city of Santa Monica, California, reports that their costs for cleaning chemicals has been reduced by 5 percent simply by switching to Green cleaning products. Savings such as these have been replicated by the U.S. Department of the Interior, the Chicago Public School System, and the states of Minnesota, Missouri, Pennsylvania, and others.

"And don't forget the 'intangible' savings that often result from the use of environmentally preferable cleaning products," says Ashkin. "We now know that a number of health problems—from respiratory ailments such as asthma to headaches, dizziness, and fatigue—have been tied to conventional cleaning products. When inmates get sick, it costs the facility—and ultimately the taxpayer—more money."

With the current economic situation and virtually every state struggling to decrease costs and expenditures, it is a rare opportunity when a facility can be cleaner, healthier, and more fiscally responsible all at the same time. The use of Green cleaning chemicals offers that opportunity. When used in a detention facility, this may also translate into a more peaceful, optimally run center as well.

Sidebar:
More than Chemicals
Although Green-certified cleaning chemicals play a significant role in keeping a facility healthier, it should be understood that they are just one component of a Green cleaning system. Ashkin says that a Green cleaning system also involves such things as:

High-performance mats at key entries to help capture soils and contaminants and keep them outside
Microfiber cloths and mops that require less water and chemical to work effectively
HEPA-filter vacuum cleaners to help protect indoor air quality
Floorcare equipment with built-in vacuum systems to reduce airborne particulates


Other articles by Robert Kravitz


---