Snapshot of an Australian Prison
By Colin Rosewarne, Correctional Officer from Melbourne Australia
Published: 03/23/2009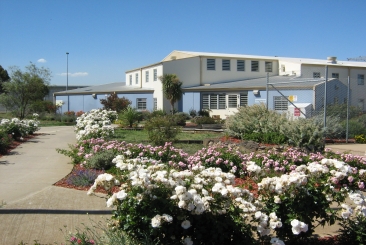 Editors note: Corrections.com author Colin Rosewarne is a Correctional Officer from Melbourne Australia. He is also the Executive Vice President of the Community and Public Sector Union Prison Division (Victoria), Chairman of the Port Phillip Prison Occupational Health and Safety Committee, Delegate of the Prison Officer's Association of Australasia and a member of the Corrections Victoria / Justice Health Working Group.
Port Phillip Prison, Melbourne:

Port Phillip Prison is a maximum security facility for male prisoners, located 18 km south-west of Melbourne. The 765-bed prison has been operated by G4S Australia for Corrections Victoria since it opened in 1997. Approximately 85 per cent of Port Phillip Prison's population are prisoners serving custodial sentences and the remainder are on remand. Many are in transit to other facilities across the state. A major expansion program is also under way, with the construction of an additional unit that will increase the prison's capacity to 824 beds.

Port Phillip Prison is a complex and diverse facility which accommodates the following prisoner groups:
Protection
Youth
Medical
Mainstream
Management (for the whole state);
Intellectually Disabled
Prisoners with psychiatric needs.

Each of these groups has very different requirements and the prison operates in a way that ensures that the needs of every prisoner are met and that good order and safety are maintained at all times. The prison has a 'neighborhood' system of operation and is divided into three areas, known as PSM (for Prison Service Management) 1, 2 and 3. Each of these areas is managed by a Prison Service Manager, with responsibility for the day-to-day supervision and performance of his or her area. The Prison Service Managers are based inside the prison, in close proximity to their accommodation units.

The prison operates domestic and revenue-producing industries from one industry complex, and a number of 'satellite' industries dotted across the site. In addition, many of the prisoners are employed in accommodation units, the hospital, admissions, programs etc.

An education centre within the prison includes a flexible learning centre where courses are delivered to prisoners by a leading public education provider. Other courses include Literacy and Numeracy, Information Technology, Hospitality, Horticulture, Art, Textiles, Laundry, Forklift operation, Occupational Health and Safety, Industrial Cleaning, Koori (Indigenous Australian) Art and full-time education, with access to distance education.

A range of programs and services are offered at Port Phillip Prison which are aimed at assisting prisoners to address their offending behavior and to assist them in their personal development and transition back into the community. Among these are a Cognitive Skills Program, Anger Management, QUIT smoking programs, Lives in Transition (in conjunction with the Prison Fellowship), Relationship Counseling, Individual Counseling and transitional/pre-release programs. Drug and Alcohol Programs are delivered by the UnitingCare network's Moreland Hall. Specific offending behavior programs and services for youth, the cognitively impaired and psychiatrically unwell are also provided within the designated specialist units.

Acute medical, surgical and psychosocial care at Port Phillip Prison is delivered by St Vincent's Correctional Health Service, and the prison provides secondary and tertiary in-patient care for all prisoners in the state. St Vincent's Correctional Health Service and G4S also operate a maximum security ward at St Vincent's Hospital in Melbourne.

The prison has a large gymnasium and a variety of active and passive recreational facilities. Each unit has table tennis, a pool table and gym weight set, as well as an assortment of board games.

Visiting hours are between 09:00 and 17:00 hours every day of the year. Both personal and professional visits take place in the visits center, which consists of indoor and outdoor facilities with vending machines for refreshments.

One of the main strengths of Port Phillip Prison is the ability of its management and senior staff to identify emerging trends and to implement innovative and creative solutions. There is a strong commitment to improving the correctional and justice system and to reducing the rate of reoffending by prisoners when they are released. Some of our achievements and milestones have had a significant impact on corrections in Australia.

In 2004, Port Phillip Prison received a major Human Rights Award for a program involving Indigenous prisoners and a live radio broadcast from inside the prison.

In 2005, the International Corrections & Prisons Association made a prestigious award to the prison for its innovative Prisoner Listener Scheme. An outstandingly successful program, that has been widely copied, the Prisoner Listener Scheme has assisted in the reduction of self-harm and suicide. The prison was the category winner in Offender Management/ Treatment and Reintegration.

In 2006 and again in 2008, against strong competition, Port Phillip Prison was awarded a Business Excellence Award for its outstanding business practice and its contribution to the local community. Port Phillip Prison takes seriously its corporate and social responsibility to the community and is proud of its work in this area. Examples of the prison's community involvement include the following:

Inmates of the Penhyn Youth Unit raised $A95,000 for charities, including the Royal Children's Hospital in Melbourne, through a ground-breaking small business program, Serving Time. The young prisoners, mentored by local businesspeople and supported by some of Australia's largest companies, develop personal skills designed to reduce the risk of them reoffending and to help them to become positive and productive members of the community. Virgin chief Richard Branson, who had heard about the youth unit, asked if he could visit it and left saying he was "blown away" by what he had seen. He has been an enthusiastic supporter ever since. The youth unit's website is www.servingtime.org

Port Phillip Prison has also expanded its community involvement through the prison's Intellectual Disability Unit, Marlborough Unit. Launched in December 2007, the Marlborough Joint Treatment Program operates in partnership with Corrections Victoria and Statewide Forensic Services, with strong community representation. The program delivers critical services and skills training to this special needs prisoner group. A highlight of the Marlborough initiative is the Street Soccer Program, run in conjunction with the Big Issue, an organisation that helps the homeless and long-term unemployed get back on their feet. Members of the Big Issue recently played a demonstration soccer match against a team of prisoners from the youth unit, attended by members of the Australian National Soccer Team, the Socceroos.

Port Phillip Prison is proud of achieving and maintaining ISO 9001:2000 Certification and AS/NZS 4801:2001 Occupational Health and Safety Management Systems Certification. The prison is now working towards establishing an environmental system that will be the framework of its move towards environmental sustainability and international accreditation for best practice through ISO 14001 Certification.

G4S
G4S Custodial Services Pty Ltd, the wholly owned subsidiary of G4S Australia which operates Port Phillip Prison, developed as a result of the outsourcing of government services in the early 1990s. G4S Custodial Services today manages contracts for private prisons for the governments of Victoria and South Australia (Mount Gambier Prison); prisoner transportation services in Victoria and across the enormous distances of South Australia and Western Australia. It also provides security at maximum security forensic psychiatric hospitals and at Long Bay Prison Hospital in Sydney, and court security in Victoria, South Australia, and Western Australia as well as and public non-emergency ambulance services in Melbourne. G4S Australia operates all the Australian Government's immigration detention centers. The company's parent G4S is the world's largest security company by turnover and the second largest private employer in the world, with more than 570,000 employees.

Colin Rosewarne can be reached at colinrosewarne@bigpond.com

Other articles by Rosewarne:
---