Addressing Girls' Delinquency
By "Office of Juvenile Justice and Delinquency Prevention "
Published: 07/20/2009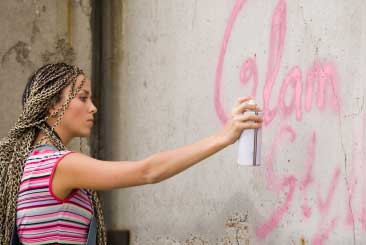 Few studies have examined which girls become delinquent or why; and little is known about how well girls respond to interventions that have been traditionally designed with boys in mind. The Girls Study Group—Charting the Way to Delinquency Prevention for Girls describes the founding of OJJDP's Girls Study Group and the series of bulletins that OJJDP is in the process of publishing drawing on its research findings.

According to data from the Federal Bureau of Investigation, from 1991 to 2000, arrests of girls increased more, or decreased less, than those of boys for the same offenses. By 2004, girls accounted for 30 percent of juvenile arrests. This apparent trend raises a number of questions, including whether it reflects an increase in girls' delinquency or changes in society's responses to girls' behavior. To research such issues and provide a sound foundation to guide the development, testing, and implementation of strategies designed to prevent girls' delinquency, the Office of Juvenile Justice and Delinquency Prevention (OJJDP) convened its Girls Study Group in 2004. The creation of the Study Group was the concrete result of OJJDP's intent to conduct a seminal study of girls and delinquency.

Research

OJJDP's Girls Study Group is a team of multidisciplinary experts with theoretical and practical expertise related to female development, delinquency, and the juvenile justice system.

At its inaugural meeting, the Study Group identified the research questions it would address:

Who is the delinquent girl, including the patterns and trends of female delinquency?
Why is she delinquent?
How and why do patterns of girls' delinquency differ from boys?
What is the juvenile justice system's (and other systems') response to girls' delinquency?
What are the life consequences for delinquent girls?

In 2005, the Study Group compiled a searchable Girls' Delinquency Bibliographic Database on girls' delinquency. Moreover, the Study Group has reviewed 143 assessment tools to determine their suitability for girls and examined girls' arrest data.

The information provided on the Girls Study Group Web site, which summarizes the issues of girls' delinquency and offers additional resources, should enable policymakers at all levels of government to address the problems of girls' delinquency more effectively.

Other OJJDP-funded research on girls' delinquency includes the Pittsburgh Girls Study, a community-wide longitudinal study that examines the development of conduct disorders and delinquency in a large inner-city sample of preadolescent girls; co-occurring disorders, such as depression and substance abuse; and a wide range of risk and protective factors, among other matters.

Publications

OJJDP's commitment to addressing girls' delinquency is reflected in its Girls Study Group publication series.

The Girls Study Group—Charting the Way to Delinquency Prevention for Girls describes the founding of OJJDP's Girls Study Group and the bulletin series that draws on its research findings.

Violence by Teenage Girls: Trends and Context describes recent trends in girls' offending and examines the settings in which girls commit crimes.

Resilient Girls—Factors that Protect Against Delinquency examines whether four factors (a caring adult, school connectedness, school success, and religiosity) can protect girls from delinquency.

Training and Technical Assistance

To meet the challenges posed by girls' delinquency, communities need to increase their knowledge of its nature and of effective strategies to address it. Training and technical assistance constitute one means to this end.

OJJDP's National Training and Technical Assistance Center has developed a curriculum on Gender Responsive Programming for Girls, which is designed to address girls' unique experiences as they relate to race, culture, gender, development, economic status, and physical appearance. The curriculum can be used to enhance services in a range of settings, from community-based prevention programs for at-risk girls to intensive residential programs and detention.

Programs

While our knowledge about what works—and what does not—in preventing and intervening in delinquency has grown, we lack adequate information about evidence-based programs that effectively address girls' delinquency.

One such program is Girl Scouts Beyond Bars. Instituted in 1992, through a partnership with the Office of Justice Programs' National Institute for Justice, the program, with funding from OJJDP, helps maintain and renew bonds between girls and their incarcerated mothers. A related effort, also funded by OJJDP, Girl Scouting in Detention Centers reaches girls who have been adjudicated, are wards of the court, or are court-referred delinquents.

Other evidence-based programs featured in OJJDP's Model Programs Guide include Friendly PEERsuasion, an interactive prevention program aimed at helping girls in middle school (ages 11–14) acquire knowledge, skills, and support systems to avoid substance abuse.

Many states have used funding under OJJDP's Formula Grants Program to support gender specific programming.

Connecticut, for example, has adopted a state plan that calls for increasing gender responsive programming that draws on research and knowledge of female development, socialization, risks, strengths, and needs to guide all aspects of service design and delivery.

Resources

Other girls' delinquency-related resources, including publications and programs, may be found on OJJDP's Web site, by searching under topic: "Gender/Race/Ethnicity," subtopic: "gender," and, as previously noted, via the Girls Study Group Web site and OJJDP's Model Programs Guide.

To keep informed on girls' delinquency and other juvenile-justice related issues subscribe to OJJDP's bimonthly electronic newsletter OJJDP News @ a Glance and the JUVJUST listserv.


---