Grab And Go: Packing An Emergency Preparedness Kit Is Easy - And Essential
By FEMA
Published: 06/08/2009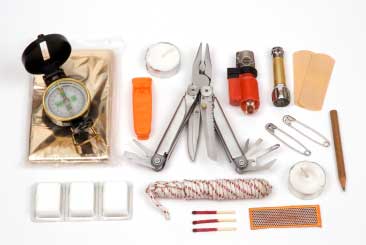 ATLANTA, Ga. -- Just as every home should have a smoke alarm, every home should have an emergency supply kit packed and ready at the start of hurricane season.

Preparing for the potential devastation of a hurricane isn't just the job of emergency management officials. It's also an individual responsibility, said Phil May, regional administrator of the Federal Emergency Management Agency.

"You should be prepared to take care of yourself and members of your family for the first 72 hours - that's three days - following a disaster such as a hurricane," said May, who oversees operations for the eight Southeastern states that comprise FEMA Region IV.

"Packing an emergency preparedness kit helps ensure the safety and comfort of you and your family members at a time when basic public services may be disrupted," said May.

An emergency preparedness kit needs to include food and water for each member of your family for three days, a battery-powered or hand-crank radio, flashlight, spare batteries, first aid kit, can opener, local maps, moist towelettes, toilet paper, garbage bags and plastic ties for personal sanitation.

Other items to consider include sleeping bags or blankets, paper towels, books, puzzles and games for children and pet food for family pets.

A complete list of recommended items for an emergency kit can be found at Ready.gov., FEMA's emergency preparedness Web site.

The emergency supplies can be stored in an easy-to-carry plastic storage container or duffel bag, making them easy to grab and go when an emergency forces you to leave your home.

Putting together an emergency kit isn't a costly enterprise. Many of the items that need to go into the kit are likely already scattered throughout your home.

An emergency preparedness kit will make your stay away from home during an evacuation more comfortable, ensuring you have foods you like, over-the-counter medications, prescription medications, entertainment and even treats during a stressful time.

More information on emergency preparedness, including how to put together a family communication plan, can be found at www.Ready.gov.

FEMA leads and supports the nation in a risk-based, comprehensive emergency management system of preparedness, protection, response, recovery, and mitigation, to reduce the loss of life and property and protect the nation from all hazards including natural disasters, acts of terrorism, and other man-made disasters.


---