Shutting the Door on Foreclosure and Drug-Related Problem Properties: Two Communities Respond to Neighborhood Disorder
By Office of Community Oriented Policing Services
Published: 08/17/2009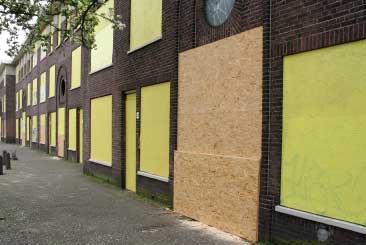 Problem properties create more than just an eyesore. They act as a drain on police resources, create hazardous environments, and lessen the quality of life for neighbors and community residents. Two communities, one large and one small, have implemented innovative community policing responses to break the cycle of repeated calls for service associated with these properties.

Using Community Prosecution in Milwaukee's Third District

Police in the Third District of Milwaukee (Wisconsin) have implemented a number of problem-solving initiatives through their Community Prosecution Unit to tackle the problem of drug-related properties. For those experienced in community policing, the ideas behind community prosecution may sound familiar. Together with law enforcement and the community, prosecutors build long-term, problem-solving partnerships to address public safety issues proactively. Instead of simply arresting offenders and prosecuting cases after a crime has been committed, community police and prosecutors work closely to prevent crime and solve specific neighborhood problems.

The long-standing Community Prosecution Unit comprises law enforcement officers, city and district attorneys, probation and parole officers, a domestic violence advocate, and nuisance abatement staff assistant. Their mission is to reduce crime, fear, and disorder by using public-private collaborations to target nuisance activities. "The key to the success of this unit," according to Assistant Chief James Harpole, "has been the empowerment of the assigned police officers to discover, develop, plan, coordinate, and execute innovate ideas of their own design."

One such innovative idea came about as two Community Prosecution Unit officers, Misty Torres and James McNichol, met with a local utility company, WE Energies, to shut off an illegal electrical hookup. Aware that the home in question was a frequent nuisance property, the officers realized that targeting illegal electrical hookups may be one tactic to gaining access to other drug- and gang-related properties. After developing a strong partnership with WE Energies and other municipal agencies, the members of the Community Prosecution Unit have been able to increase greatly the number of nuisance properties they have shut down.

Focusing on illegal electrical hookups has allowed the police to stop criminal activity, even in homes where other traditional methods such as attempting a drug buy, setting up a meeting with an uncooperative landlord, or providing a visible police presence, have failed. An illegal hookup creates a serious risk to human habitation through the potential overload of the electrical wiring. Because of this danger, police and other municipal agencies are allowed to enforce an immediate evacuation of the property. Law enforcement, therefore, can eliminate both criminal activity and the potential for fires and other hazards.

Fighting Foreclosure Problems in Manhattan, Illinois

The small community of Manhattan, Illinois prepared itself to face a different type of problem property: the foreclosed home. The Village of Manhattan is a residential community of about 6,897 people south of Chicago. It has more that doubled in size since 2000. With larger, nearby towns facing serious foreclosure problems, Manhattan's police department and village administrators decided to take preventive action before their problem grew too large to control.

The village created a database, updated weekly, of all properties in the various stages of foreclosure. Using the database as a guide, the Police Department, Code Compliance, Public Works, and Finance are responsible for a four-point approach to tracking and securing foreclosed structures: monitoring and securing the buildings; enforcing city codes; shutting off water service; and placing liens, if necessary, on delinquent accounts. Law enforcement officers regularly monitor the vacant houses, check for signs of vandalism, and conduct outreach to neighbors in adjacent properties through a Neighborhood Watch program.

Village officials and the Manhattan Police Department have considered these efforts a success. After checking all vacant structures, Manhattan Police found that 27 percent of the area's vacant houses were not locked. They secured the houses and, using their monitoring system, identified additional potential problem properties. Since the initiative was put into place, one concerned neighbor alerted the authorities about a distressed homeowner illegally stripping his house and selling all valuable construction material and appliances on craigslist.

Preserving Quality of Life

These two examples represent how police can effectively monitor problem properties with the goal of preserving quality of life for their citizens. In Milwaukee, the Community Prosecution Unit set a goal of shutting down gang and drug activity that was disturbing area residents and contributing to neighborhood disorder and danger. In Manhattan, a village-wide initiative sought to preserve property values and prevent the foreclosure-related crime that had affected nearby cities. While these goals were different, both communities attacked their problem through frequent collaboration with other stakeholders, engaging in problem-solving policing, and building trust with the community.


---