Providing Chronic Wound Care in Corrections
By Scott Savage, DO, FACEP, FAPWCA, FSCP, CCHP
Published: 10/26/2009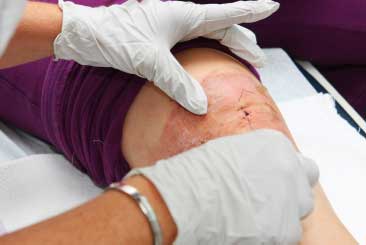 Editor's Note: Reprinted with permission from the Spring 2009 issue of CorrDocs, the quarterly newsletter of the Society of Correctional Physicians (SCP). All rights reserved.

It was commonly believed that a dry, crusted wound is acceptable; however it has now been scientifically proven that wounds need a moist environment to heal quickly and effectively. This is not the same as a "wet wound." Managing tissue fluid is like managing a trout pond. If the water level in the pond is too dry, there is not enough water, or more precisely, not enough oxygen in the water for all the fish to live and they start dying off. On the other hand, if the trout pond gets "too wet," and begins to overflow its banks, mud is formed which contains excessive bacteria and algae. As bacteria and algae develop and multiply, they consume the available oxygen in the water, deposit toxic waste products again leading to the trout death. Finally, if the pond water is stagnant, it eventually will use up the available oxygen causing the accumulation of toxic waste products which kill the trout. A new cell is like a trout and the wound bed is like a pond. Dry wounds don't heal quickly, wet wounds get bacterial infections, and stagnant wounds break down.

The questions that need to be addressed are, "How much is enough?" and "How do we know if the fluid is stagnant?" The answers can be complex, but there are a few basic principles. The moisture needs to be at the surface of the wound bed and at the edge of the wound. A good way to create just the right amount of moisture in these areas is to use a "moist mesh." If you look at a typical 4" x 4" gauze dressing, it is several layers of sterilized cotton mesh. The mesh, unlike Saran Wrap, allows fluid to pass through it to the next layers until the fluid is absorbed, or the dressing is saturated. The problem is that this mesh is dry. It sticks to the wound and, when removed, takes both beneficial and harmful cells with it. Wounds often take three times longer to heal.

The solution is simple.

To convert a dry mesh to a moist one, add moisturizer. Xeroform or Viscopaste gauze work well. You can create similar products by spreading a thin layer Vaseline or A & D ointment on a single layer of gauze with a tongue depressor, using clean technique. Unlike hand lotions, Vaseline and A & D ointment do not absorb quickly, so that they have the "staying power" wound beds need. The mesh allows the excessive tissue fluid to pass through, while the fine layer of moisture retentive material keeps it moist. A warning: use only a single layer of Xeroform or its equivalent on the wound. Too many layers of this kind of mesh retain too much moisture and clog the wound fluid. With the moist mesh in contact with the wound bed, regenerating cells have a healthier healing environment; however, this will not absorb the excess tissue fluid seen in most chronic wounds. To do this, an absorptive second layer is needed. If there is not much fluid, then a few standard 4" x 4" dressings will do. If there is significant drainage, this can be accomplished cost effectively with a standard ABD pad held in place by Kerlix taped to itself so as to avoid getting tape on the skin, since tape can lead to skin tears and more chronic wounds.

Twice daily dressing changes, once standard care, have been shown to be inefficient. If no infection is present, the absorptive layer can be changed daily or sooner if wound fluid becomes visible on the outside of the dressing. The contact layer in most wounds can be changed every three days. To reduce tissue damage caused by removing this contact layer, it can be soaked with a wet ABD pad for 10 to 20 minutes and then removed. The older practice of using hydrogen peroxide or adding Betadine solution to help with dressing changes is discouraged. These products kill not only bacteria, but regenerating cells. The dying cells then become a culture medium for bacteria attempting to regain a foothold. In some studies, infection rates have been shown to increase in wounds cleaned with full strength hydrogen peroxide or Betadine solution. Many nonionic wound cleaners are now available, but for stubborn crusting, soaking the wound with water usually works well.

For more information on SCP view their website at www.corrdocs.org.

Dr. Savage is the Medical and Administrative Director of the Hyperbarics Department at St Mary's Hospital in Knoxville, Tennessee. He recently presented a preconference seminar (sponsored by SCP) on chronic would care at the Updates in Correctional Health Care conference in Las Vegas this past April. Readers may contact Dr. Savage at sirscottsavage@hotmail.com

References:
Hess C: Skin and Wound Care, 6th Ed. NY: Lippincott Williams & Wilkins, 2008.

Sussman C, Bates-Jensen: Wound Care, 3d Ed. NY: Lippincott Williams & Wilkins, 2008.

---