Use of Force True / False Quick Quiz
By Tracy E. Barnhart
Published: 12/07/2009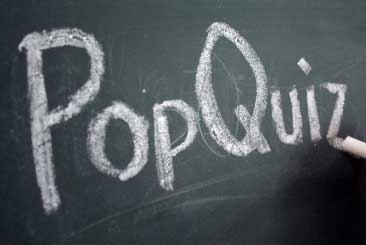 Every day, law enforcement and corrections officers face danger while carrying out their responsibilities. When dealing with a dangerous or unpredictable situation, law enforcement officers usually have very little time to assess that particular response to resistance and determine the proper response. In this training article good training can enable the officer to react properly to the threat or possible threat and respond with the appropriate tactics to address the situation, possibly including some level of force, if necessary, given the circumstances.

The U.S. Commission on Civil Rights has stated that "…in diffusing situations, apprehending alleged criminals, and protecting themselves and others, officers are legally entitled to use appropriate means, including force." In incidents of use of force there is no single, accepted definition among the courts. The International Association of Chiefs of Police (IACP) in its study, Police Use of Force in America 2001, defined use of force as "The amount of effort required by police to compel compliance by an unwilling subject." The IACP also identified five components of force: physical, chemical, electronic, impact, and firearm. To some people, though, the mere presence of a police officer can be intimidating and seen as use of force.

Ask a dozen people when "reasonable and necessary force" to affect an arrest or detention becomes "excessive force" and you will likely get a dozen different answers, none of them particularly helpful in measuring the proper amount of force. Several people may ultimately question an officer's use of force and each one may have a different idea of how to decide whether the force was excessive.

Take this use of force test put together by Judge Emory Plitt JR. from AELE, Americans for Effective Law Enforcement. This quick True/False quiz addresses issues typically raised in excessive force litigation. See how well you can separate legal fact from the many misconceptions that abound. The answers are based on federal laws and the decisions of the Supreme Court and federal appellate courts, the primary sources of legal rules that govern your use of force. For any differences that may affect claims brought against you in your state courts, consult your department's legal advisor.

There are constitutional limits on the types of weapons and tactics you can use on the street. True or False?
Your intent and your state of mind at the time you use force can be important factors in determining if your use of force was legal. True or False?
You must always retreat if possible before using deadly force. True or False?
You must first see a suspect's weapon before you can use force. True or False?
You must always use the least amount of force possible to gain control of a person. True or False?
You cannot lawfully shoot a fleeing felon. True or False?
You may not use force to temporarily detain someone for purposes of a Terry stop. True or False?
Information you discover after force was used can be a factor in determining if the force you used was legally justified. True of False?
Courts and juries are permitted to evaluate your use of force by considering what you could have done differently. True of False?
Your uses of force in prior incidents can be considered in court in evaluating whether your use of force in the current situation was legally proper. True of False?


Quiz Answers
Visit the Tracy Barnhart page
---