Rumors and conspiracies
By Joe Bouchard
Published: 01/11/2010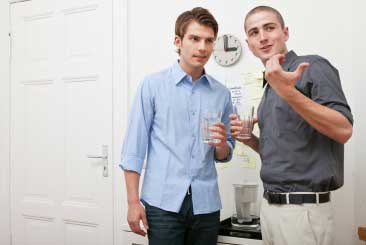 Little rumors are like an acorn. Before you know it, they grow into a huge tree with tangled roots. Like Frankenstein's Monster, conspiracy theories come to life and rampage.

Can rumors and tabloid talk bring danger to an institution? Do those who subscribe to less reputable entertainment reports make themselves potential targets for manipulation? The answers to these questions can be quite easy to discover. It is a simple matter of observing and listening to others at work in the wake of a celebrity scandal.

It seems that there have been a lot of celebrity deaths lately. Most of us see this as a sad fact. Yet others tremble as they describe what they see as a Hollywood holocaust. Is there something or someone behind this? To some, sinister forces are at work.

And while most of us wish sincere sentiments to the families of passed luminaries, there remains a strange phenomenon. The larger the fame, the wilder the rumors. We need only to look at the passing of one Elvis Presley to know that it is true. It is difficult to count the many posthumous sightings of The King. Rumors abound.

In every work place, there is a rumor monger or a conspiracy theorist. This person is more likely to believe a wild theory than a simple explanation. And there always seems to be some ominous figure or cadre behind each hypothesis.

This mindset can hurt corrections operations. Conspiracy theorists often inadvertently stir the pot, causing alarm to like-minded people. The rest of the work place has to cope with the tension. And tension, as we all know, is a bad element to introduce into a prison.

Here are some thoughts on the matter for corrections professionals to ponder:

Conjecture is not bad in and of itself. In fact, guessing which wild theories will surface is a useful mental exercise. This is a way to practice pattern analysis.
Although we can direct many things in a prison environment, we are not able to control the thoughts of others. Conspiracy theories will be with us as long as unique opinions exist.
Rumor zealots are often veritable targets for enterprising offenders. This is a lever for the classic set up. From the first time a rumor is released into the institution, people watchers need only to observe potential targets for their conviction about each conspiracy. From there, it is a simple yet possible chain of events that eventually traps the manipulated staff. Of course, this compromises security for all.
We should not openly belittle the interesting theories of others, particularly in front of offenders. Otherwise, we could introduce hitherto unknown staff division.
We need to distinguish between skepticism and gullibility. We should not immediately believe everything that we hear without some thought or investigation.
Patient listening to conspiracy theories and rumors often gives insight into the thinking of others.
Conspiracy theories may be put forth as a ruse. This may be an offender-initiated manner to gauge staff behavior.
Rumors and conspiracies are far more entertaining than a simple explanation or the status quo. People do not wish to be bored. "If it bleeds, it leads." Therefore, the power of a juicy rumor can be potent.
Some theories are introduced to harass and degrade staff. Indeed, in these times of economic instability and vocational uncertainty, some enterprising offenders could irritate already tense staff. This is easily done when rumors of bumping, closures, and repurposing are in the air.


You may not believe that the absence of a recently departed celebrity is the doing of a nefarious group or a sinister figure. However, the thought is out there and may impact operations. Since rumors and conspiracies seem to get a life of their own, we need to be aware of their possible impact.

Visit the Joe Bouchard page


---