Pranks a lot!
By Joe Bouchard
Published: 02/01/2010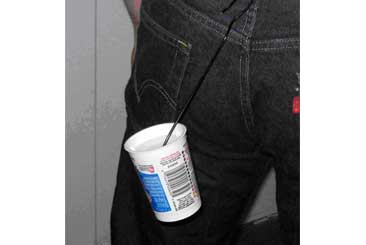 Decisions and pranks are similar: No two are exactly alike. Every practical joke has the potential to evoke many different reactions. Much of this is due to the multitude of circumstances.

Yet, mischief seems to be a part of our human condition. As playful incidents roll in with the undulating regularity of ocean waves, many questions arise. Are these jokes wholly bad? Do pranks have any benefits? How much is too much?

I considered some aspects of the psychology of pranks prior to my corrections career. When I worked in an industrial setting, these are two of the most common jokes that I witnessed.

The Tail – One of my co-workers could be very unobtrusive when necessary. He was very adept at hanging tails. That is, he could hang an empty paper cup or discarded yogurt container with a wire from almost anyone's backmost belt loop. Those who saw the victim, the one with the tail, would then check their own posterior for such an appendage. It usually went the same way. Those without tails would suppress laughter and pretend not to notice. There may have even been bets as to how long the tail would remain on the oblivious victim.

Boot Painting – This prank takes advantage of the 'target's' focus. For example, while cleaning small steel parts in a cabinet sandblaster, one typically concentrates on the steel tool. The perpetrator would take advantage of this and simply spray paint the tip of the worker's boot while the worker was unaware. Many would emerge from the sandblast area with newly colorful boots and a sense of ego-deflation.

As one might surmise, these capers drew a variety of responses. There was acceptance, anger, revenge, apathy, and reciprocity. On some occasions, there were hostile encounters as the result of administration of tails or boot painting. Again, like decisions, pranks can result in any of many possible outcomes.

In any vocation, and this includes corrections, pranks are here to stay. Despite rules, decorum and memoranda, jovial ribbing seems to persist. Why do we prank?

Boredom alleviation is a chief reason for tomfoolery. This often breaks up a painfully routine day. It tends to make the day more bearable, even if the price is the dignity of a colleague.

Sometimes we do it because of revenge or retaliation. After all, if we are pranked and do not return the action, it may be viewed as a sign of weakness.

Still other jokes are executed to help us fit in better with a group. As an esteem builder or as an initiation, the joke must go on. Of course, group think and insecurity are the prime motivators.

It can be conceded that pranks keep us on our toes. They may even generate camaraderie and shake stultifying tedium. However, there are many reasons not to succumb to the seduction of the joke.

Feuds and thoughts of counter-revenge grow over time
Some jokes can be construed as harassment
Embarrassing attention can be focused on a work place that appears to allow such to occur
Some prisoners may observe these exchanges and plan for division
In a joke war, a mis-focus may result. In other words, such an exchange of pranks could divert our attention from our fundamental safety functions. Pranks can divert staff from the primary mission – safety.


All of this is not a suggestion for a moratorium on any pleasant exchange while at work. But, with everything we say and we do, we face many possible consequences. It is up to each of us to read the particular circumstances, heed our specific worksite culture, and understand all of the possibilities.

No prank will be received the same way by everyone. And while occasional fun is undeniable, there could arise some hard to reverse ramifications.

Visit the Joe Bouchard page


---