Training Staff for Real World Applications
By William Sturgeon
Published: 03/01/2010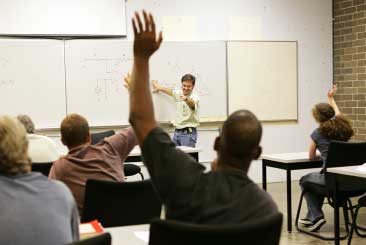 Many years ago when I was in Army Basic Training, a drill sergeant made a statement that has stayed with me for all these years. He said, "s—t heads, how you train is how you will fight." With those inspiring words ingrained in my mind, I have always endeavored to design and deliver training that was as realistic and job related as possible. Today, more that ever, criminal justice training must be as close as possible to "real life" situations. To achieve the realism necessary for effective training, it is crucial that the curricula be developed incorporating all of the training methods and techniques that are applicable to the topics being taught.

Training time is expensive and should not be wasted conducting training that has limited, if any, "real world" value or application. I used to go CRAZY when I would be asked to review a basic officer training curriculum and find time wasters such as the following:

Four hours of The History of the Organization - Lecture and PowerPoint Presentation
Four hours of Personnel Orientation - Lecture and PowerPoint Presentation
Six hours of Baton Training - Three hours of Lecture, PowerPoint Presentation and One hour of practical "hands-on" training.


When I find basic officer training filled with courses like those above, I make the following recommendations:

One hour ONLY of the History of the Organization; by doing this, there is a gain of three training hours.
One hour of Personnel Orientation that is presented via video presentation. This permits a gain of three hours.
One and a half hours of Baton Training that covers the legal aspects and agency policies for the use of the baton. This permits additional time for the recruits to physically handle the baton and practice the different types of strikes.


Another area where I find that there is a tremendous gap between the training and practical applications is "real world" in emergency (crisis) training. Of course, the training will vary depending on the agency, location, equipment, and personnel. For instance, rural law enforcement will conduct different types of scenario-based training than that of a metropolitan police department. Similarly, small county jails will differ from large state penitentiaries.

Correctional agency training must be constructed around keeping the facilities secure, the care and custody of the offenders, and the gathering of intelligence. This I believe can be accomplished by training correctional staff to:

Talk /communicate with inmates,
Be observant and know what to look for (contraband/inmate gatherings/The mood of the unit - normal sights and sounds/abnormal sights and sounds.)
Learn to observe inmate behavior ( and what that behavior may mean - planning a disturbance,a hit on an inmate, or suicide), etc.


I cannot stress enough the importance of "hands-on" and "real life" applications for all training. Training time is costly to every organization and, therefore, the training should be cost effective. I use this model to determine training needs and time allotments:

High Priority for job application
Priority for job application
Low priority for job application
No job application
Waste of training time.


What worries me now, is that with the tight budgets, training department budgets will be cut which will negatively affect training and have long term negative implications. Training, in my opinion, is the backbone of any agency because it prepares new officers to enter the correctional work force with a basic understanding of how they should conduct themselves and what they should do. People have to be trained in the knowledge, skills, technical applications, and attitudes required to do these challenging and difficult jobs. Without affording people the opportunity to receive high quality and job related training, agencies, I believe, are programming people to fail and are opening themselves to liabilities both from the offenders, and/or staff, not to mention staff turnover.

When money gets tight, training departments revert back to the old training method - Lecture. While lecture has a place in staff training, too often it gets overused. There are very few training courses where lecture, in itself, can fulfill all of the training requirements. However, it is a proven fact that participants learn and retain more when they have a chance to "practice" what they learned. As an example, staff / offender communications can be taught by the lecture method, yet the participants could still practice the skills that they have learned by incorporating role play as a training method.

Take the time to ensure that your training is job related to the level of the people taking the class and that they can use the training to refine and enhance their skills. It is an accepted fact that job related training helps to reduce staff turnover and leads to better staff job satisfaction.

For managers, superviors, staff and trainers training is a much your responsibility as it is the the training department!

Visit the Bill Sturgeon page


---