Eating in the Officer's Mess? Dont!
By Ofc. L. Ruiz, Miami Dade Corrections & Rehabilitaiton Department
Published: 03/15/2010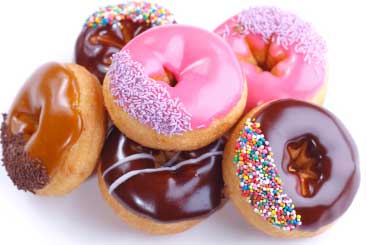 I have yet to see many OM's that had healthy food choices available to CO's. My jail feeds its CO's inmate food, most of which is fried in lard or hydrogenated oils. The vending machines on every floor are filled with candy, chocolate, chips, and sugar rich sodas.

The only item available in our building that isn't nutritionally deficient would be the bottled water sold at far too high a price. This is shameful.

If you care about your health then you need to prepare for foreseeable situation. This means have healthy snacks available just in case you get stuck working over time. In addition, to snacks brown bag your lunch. Don't rely on going out for your meals because fast food is nutritionally deficient, packed with simple carbohydrates, sugars, and hydrogenated fats.

Day Shift - Sip hot herbal tea into work and then eat a light meal until you can get home for dinner.

Afternoon and Evening Shift - Eat a good meal before you leave home and bring something light to take you to the end of the night so that you can get home to sleep. Some suggestions would be:

An all fruit meal. Eating as much as you want of only one fruit at a time is easier to digest than eating many different kinds, but you know your body best.
Bring a power bar to tide you over. There are several good 'raw food' and 'green food' bars on the market that haven't been heated and have their enzymes intact. Many of these bars are also full of probiotics to help with digestion and immunity health.
Bring a smoothie in your own clear bottle. This is one of the best and easiest food choices in my opinion. You can put several fruit into a blender and you have an instant smoothie that can travel with you. Spinach added to any fruit disappears into the smoothie and cannot be tasted at all. It adds a lot of fiber and nutrition power to your drink.


Traditionally Lacto-Fermented Foods

70% of your immune system is in your intestinal tract. Traditional foods like sauerkraut, miso, kimchi, and pickles feed your resistance to pathogens by providing you with naturally occurring probiotics in an easily digested form.

Traditionally fermented means just that, foods which have been salted or spiced and left as a means of preservation. This ancient preparation and preservation technique produces microorganisms such as bacteria, yeasts and molds as a byproduct.

Commercially processed foods made to mimic these traditional foods are meant to increase the bottom dollar not your health. Beware. Many have been cooked to preserve and then brined in salt for vinegar and sugar for flavor.

High-heat and/or pasteurization is the last thing that you want in your ferments because they kill enzymes. The easiest way to figure out if you don't want to buy that pickle is to see if its shelf stable or not. If that pickle isn't continuing to ferment and produce gasses inside that container until it explodes, it's not a real pickle. A real ferment needs to be refrigerated to slow down the enzymatic activity. Why? Because it's a living food.

Other foods that were once fermented traditionally: Olives, (fruit or vegetable) pickles, ketchup, ciders, cheese, milk kefir, water kefir, yogurt, crème fraiche, shrimp paste, fish sauce, salami, pepperoni, soy sauce (Nama shoyu), kombucha, Bread, Cheese, Wine, Beer, Mead, Cider, Chocolate, Coffee, Tea, Sauerkraut, Kimchi, Miso, Tempeh, Vinegar.

Do the right thing for you and your family buy the above items in their unpaturized (uncooked) traditional form, or make them yourself. There are thousands of books to help you and the internet is always open to lend a suggestion.

Stevia.

Why doesn't everyone know about this stuff? This is what I'm constantly wondering. A great many COs that I work with are diabetic and/or are overweight. I don't know everyone and I don't always have time to talk to them about these issues. Health issues usually have to be breached with tact or you run the risk of insulting people. Then they really won't listen.

Stevia (STEE-vee-uh) known as Stevia rebaudiana is an herb related to the sunflower. It is about 300x sweeter than sugar.

Stevia:
Has been used for centuries by natives in South America to sweeten their drinks with no adverse effects
Has no carbohydrates
Won't affect blood glucose levels and I perfect for Diabetics and anyone on a carbohydrate-controlled diet
Has a slight licorice-like aftertaste in high concentrations
Has shown promise as a treatment for osteoporosis
It is excellent for cooking and baking since its glycosides do not break down in heat
Is almost calorie free
A natural alternative to disease promoting artificial sweeteners which your body can't process


It is available in liquid or powder. The liquid is easier to control and use. The liquid Stevia also comes in several varieties of flavors. You could perhaps use it to flavor your own filtered water. Studies have shown that when a person is consuming water flavored with a fragrant additive (lemon, orange, ginger) they tend to drink more.

Used in small amounts Stevia can be a nice treat for someone who couldn't normally have sweet foods. It is considered a suppliment by the FDA and not a food; so use sparingly. Example: In liquid form 2 to 4 drops would be enough for a cup of coffee or tea.

Corrections.com author, Ofc. L. Ruiz is a Corrections Officer working at the Metro West Detention Center, Miami Dade Corrections & Rehabilitaiton Department in Miami, Florida. She had been heavy her entire life which was always normal for her... Until her weight went out of control. At 25 she was a size 28. Her health declined and she felt powerless. She started Weight Watcher's at work; Then, her research rat instinct kicked off and she began a quest to learn. She learned about food, nutrition, and health related issues. In the course of research, she kept reading about the Raw Food Movement. It was interesting enough that she tried it out. The weight simply fell off and her health improved dramatically. When her weight was finally under control she found that she suddenly had options and became a Corrections Officer.

"If people let government decide what foods they eat and what medicines they take, their bodies will soon be in as sorry a state as are the souls of those who live under tyranny." – Thomas Jefferson (U.S. President)
---