More Inmates Report to Be Muslim
By Josh Gelinas, S.C. Department of Corrections, Communications Director
Published: 03/08/2010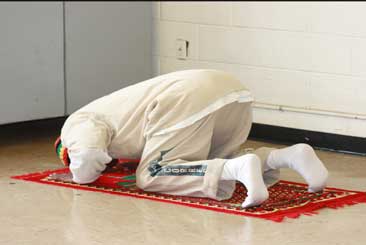 Contrary to how it's often portrayed in media, Islam is religion of peace, mercy

Inmates at SCDC report to practice Islam more than any other religion except Christianity, and the number is rising.

Between 2005 and 2009, inmates claiming to be Muslim jumped from 1,273 to 1,405, an increase of 9 percent, according to data provided by inmates to SCDC.

By comparison, inmates who reported to practice some form of Christianity grew during that time frame from 15,680 to 16,821, a 6.8 percent increase. The total prison population, meanwhile, rose by 5.4 percent, from 23,057 to 24,375.

Despite its growing popularity among inmates, misconceptions and misunderstandings about Islam abound – with inmates and our staff. Those who truly follow Islam say it is a religion of peace, mercy and forgiveness. But today it is often associated with extremists who carry out terrorist attacks like 9/11 and do so in the name of Islam.

"What's happening in the global community is affecting us also," said Omar Shaheed, a chaplain at SCDC who also is a Muslim imam, or leader. "There are things being done in the name of Islam that aren't Islamic, just as there are things being done in the name of Christianity that aren't Christian.

"Islam had nothing to do with 9/11."

On Jan. 16, Mr. Shaheed led a seminar at the S.C. Department of Corrections' Training Academy in Columbia titled "Understanding Islam and Muslims." Tamir Abdul Mutakabbir and Lloyd Roberts, also chaplains at SCDC, and Khalil Akbar, a chaplain with the N.C. Department of Correction, also took part in the training. In all, about 160 people attended, including SCDC employees from across the system and representatives from multiple county detention centers.

The seminar provided historical context about Islam, clarified misconceptions and provided information correctional staffers need to better understand and get along with Muslim inmates.

"We're here because as employees we want to know the people that we work with and the inmates that we serve," Mr. Shaheed said during the seminar. "If you are afraid of us, that's not going to work well. If our neighbors are afraid of us, that's not going to work well, either."

The seminar was held just weeks after a man from Somalia was caught trying to detonate a bomb on an airplane in Detroit. He allegedly trained with al Qaeda, an organization that is synonymous with extremist terrorism. The accused was misguided and did not represent Islam, Mr. Shaheed said.

Unfortunately, such incidents and intense media coverage have created a Muslim extremist stereotype which is being applied to true followers who have nothing to do with terrorism, Mr. Shaheed said.

SCDC policy forbids the teachings of radical Islam, and part of Mr. Shaheed's job in the Pastoral Care Division is to work with prison leaders to make sure inmates are properly carefully screen all religious materials, as well as volunteers who apply to enter SCDC facilities.

"So-called radical Islam is not an issue in South Carolina prisons because of the proactive steps we've taken to educate and train staff and inmates," Mr. Shaheed said.

Islam is a monotheistic religion that, like Christianity and Judaism, is centered on the belief in one God. There are five pillars: a declaration of faith; daily prayers; charity; fasting, namely during the holiday of Ramadan; and a pilgrimage to the holy land of Mecca at least once during the follower's life.

Lessons about the religion are compiled in the Qur'an, a compilation of teachings passed down from the prophet Mohammad from the 7th century.

Sometimes inmates confuse Islamic teachings from the Koran with Islamic culture, which isn't applicable in prison, Mr. Shaheed told SCDC staff.

One popular misconception among Muslim inmates: SCDC staff members aren't supposed to handle the Qur'an. While Muslim inmates are allowed to possess a Qur'an, Mr. Shaheed said agency policy clearly allows SCDC staff to inspect it.

"Handle it with care and respect," he said, "but you can touch it."

Other falsities: female staff can't tell a male Muslim inmate what to do; Muslim inmates can make a pilgrimage to Mecca; inmates can be imams.

Inmates who truly believe in Islam are among the best behaved and most committed to once again becoming productive citizens, chaplains said. And institutional staff reported few complications with Muslim inmates. Exceptions include the need to interrupt prayer during count time and inmates who have tried to assert themselves as imams, which is not allowed.

During a recent Muslim prayer session at Walden Correctional Institution, about a dozen inmates filed into a dormitory dayroom reserved for the purpose. Many wore colorful skull caps and prayed on mats. Later an inmate spoke about the need for Muslim inmates to be good role models upon release. A correctional officer at the facility said inmates in the group were among the best behaved.

Other inmates at Walden came and went, going about their business without paying any mind to the prayer and worship service. A correctional officer opened the door and quietly conducted count. Inmates, who had also served time in medium- and maximum-security settings, said they Islam peacefully, with the exception of occasional interruptions for count.

Warden Wayne McCabe at Watkins Pre-Release Center said he keeps a copy of the Qur'an and texts that explain the religion behind his desk. He says he's rarely run into complications with Muslim inmates, at Watkins or Broad River where he formerly served as associate warden. Understanding the religion helps him better communicate with Muslim inmates, he said.

Whenever there's an issue that needs clarification, he says he speaks with Mr. Shaheed. "Whatever Muslim inmates are allowed to do within policy, we allow," Mr. McCabe said.

Understanding policy that impacts the practice of Islam is just as important as understanding the religion, Mr. Shaheed said.

"If an inmate gives themselves to Islam and really believes, they abide and are among the best inmates," he said.

Corrections.com author, Josh Gelinas is the Communications Director for the S.C. Department of Corrections. Some of his responsibilities include: internal communications, agency's newsletter, public communications and media affairs.
---