Northpoint Staff Honored By General Assembly
By Lisa Lamb, KY DOC, Director of Communications
Published: 04/12/2010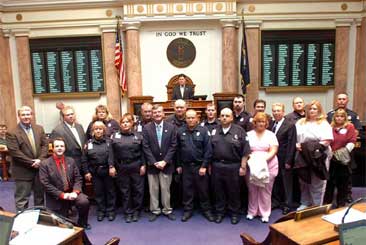 The Kentucky State Senate and House of Representatives honored the staff at the Northpoint Training Center on March 23rd, in recognition of their bravery and heroic actions on the night of the riot. The NTC staff was introduced in both legislative chambers and a resolution was read that commended their actions. They received a standing ovation in the Senate.

The resolution was sponsored in the Senate by Senator Jimmy Higdon, R-Lebanon, and Senator Tom Buford, R-Nicholasville; and in the House it was co-sponsored by Rep. Mike Harmon, DDanville, and Rep. Kent Stevens, D-Lawrenceburg.

A representative group of NTC employees who were on duty when the riot erupted were able to attend and were accompanied by Warden Steve Haney and former NTC Deputy Warden of Security Don Bottom (now warden at Blackburn Correctional Complex.)

Several DOC and Justice Cabinet officials watched from the House and Senate galleries including Secretary J. Michael Brown, Commissioner LaDonna Thompson, and Deputy Commissioners Al Parke, Rodney Ballard and Kim Potter-Blair. Warden Kim Whitley was also in attendance.

Several senators stood after the resolution was read to add their own tribute to the Northpoint staff.

A RESOLUTION honoring Department of Corrections personnel for their exemplary service during the disturbance at Northpoint Training Center near Burgin, Kentucky.

WHEREAS, Northpoint Training Center is a medium security prison operated by the Kentucky Department of Corrections that housed approximately 1,200 male inmates; and

WHEREAS, on August 21, 2009, at approximately 6:30 p.m., scores of inmates at the Northpoint Training Center set fire to six buildings on the compound, destroying the medical unit, kitchen, sanitation, visiting, canteen, and multi-purpose building; and also causing extensive damage to five of the six living units at the prison; and

WHEREAS, Department of Corrections personnel immediately activated the Department's critical incident management plan and deployed Corrections Emergency Response Teams from various institutions to the scene; and

WHEREAS, the quick action of these heroic Correctional officers and staff allowed the Department of Corrections to regain control of the prison in under four hours without loss of life, serious injury, taking of hostages, or escape;

NOW, THEREFORE,

Be it resolved by the Senate of the General Assembly of the Commonwealth of Kentucky:

Section 1. The Senate does hereby honor Department of Corrections personnel whose bravery and dedication to service was instrumental in quelling the inmate disturbance at Northpoint Training Center on August 21, 2009.
Section 2. The Senate applauds these individuals for their training, courage, and professionalism.
Section 3. When the Senate adjourns this day, it does so in honor of the Department of Corrections personnel who were involved in resolving the Northpoint Training Center disturbance.
Section 4. The Clerk of the Senate is directed to transmit a copy of this Resolution to the Capitol Annex offices of Senators Jimmy Higdon and Tom Buford.


---