What is "Paramilitary"?
By Marvin Preston, LT, NH DOC
Published: 04/26/2010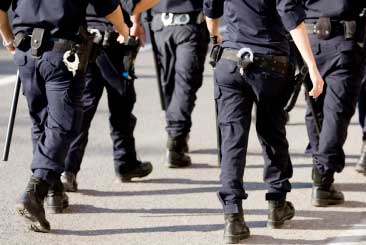 If you work in Corrections for any amount of time, you will hear our service being described or labeled "paramilitary" at one time or another. Being a retired military service member, I always take notice whenever I hear that term. I think it would be worth the time to take a look at it and play with the term a little.

Par-a-mil-i-tar-y
adjective/noun

-adjective
Noting or pertaining to an organization operating as, in place of, or as a supplement to a regular military force; a paramilitary police unit
-noun
A person employed in such force.


I put the dictionary definition above because it seems some of our employees, both line staff and supervisors/administrators, need to have it spelled out for them. It has become one of the most misused terms I've come across in my 19 years of corrections experience. It sounds cool, high speed low drag as we used to say in my Marine years, but it becomes misused by most that throw it into a conversation. At times, it gets the hair standing up on the back of my neck. Why do I seem so touchy on a little word? Let me try to explain.

We work in a dangerous environment. In this environment, rules must be followed, order must be given and carried out. The orderly operations of a facility demand this. Chaos and unruliness is our enemy. When our residents sense either of the above, they tend to pounce on the ability to send it into further disorder. So why is it we have so many of our fellow employees feeding the fire? And when I say fellow employees, I mean all through the ranks! Let's start look at it from the bottom and work our way up.

In every corrections system I've come into contact with, there's an established ranking system. In New Hampshire we have Corrections Officers, Corporals, Sergeants, Lieutenants, Captains and Majors. In my travels, I've seen that most follow this line with a few changes (some don't have corporals, some go higher than the rank of Major) but they tend to follow the Army/Marine Corps model. If you follow this I would split the ranks into three groups. Those groups being;

Line Staff (Officers)
Supervisors (Corporals and Sergeants)
Managers (Lieutenants and above)


When you then mix in non-uniformed supervisors, it tends to get kind of mucky. In this model, there tends to be confusion at times.

"Why is he ordering me around like that?"
"Can he order me to do that?"
"Do I have to follow that order?"
"Is he my boss?"


These are all comments I'm sure you've heard from Line Staff. And at times, I'll have to side with them. I went through a vigorous boot camp at Parris Island back in the late 70's. While going through this, it was very well explained to me that I was to carry out orders immediately, if not sooner. There would be no questioning, complaining about, adapting, or ignoring any order given. Anything other than instant obedience to all orders was dealt with quick and sometimes harsh punishment. This is a very important concept when you're training Marines to function in unit teams, during challenging times, and operating under dire circumstances.

I received a much different learning module from the Corrections Academy. We were told to follow orders, but cross reference the orders to legal interpretations. We were taught laws, regulations, and post orders and told to interpret them and use our best judgment. Less "Take the hill!" and more "Take a look at the hill, report on the hill, try to talk to the hill, and maybe take a stroll over the hill". This more laid back training develops line staff officers into a more thinking/questioning performer. Now send them into your institutions and let them mix with your long term officers and you find fewer and fewer officers standing at the position of attention awaiting their next order. While that might draw a chuckle from some readers, it's the thing that makes me scratch my head when I watch my fellow Supervisors and Managers bark out orders like they were R. Lee Ermey in Full Metal Jacket. "Four inches Pyle, FOUR INCHES!" We should settle down and remember that this isn't the Third Battalion Parade deck. It's ok to ask, not demand. Talk to our officers. Take care of them. These are all things they are looking for from you. But when it's time to put the rubber to the road, take charge of the situation. If you give them responses like "And that's my problem how?" you should expect to get a negative response in some later form.

Now the other side

"Just come in to work on time"
"Wear your uniform the right way"
"Follow your Policies and Post Orders"


These comments flow out of every Shift Commanders office across the country. While we might not requires our staff to be lean mean fighting machines awaiting the Op order to go into battle, we do want them to remain professional and ready. We have to be able to count on them to keep a vigilant presence and conduct themselves with the highest level of integrity. They have to wear their uniform with pride and present a role model image. They also have to follow orders. Anything less will lend itself to assisting in creating havoc and chaos.

I was in a control room a month ago during a shift change. It wasn't my unit so the officers probably felt more at ease to talk to me. One of the officers coming in was very irate (and late). He came in talking about how he had been officially put on notice. The reason for this was because he wasn't wearing his blue uniform shirt under his sweatshirt. There had recently been an adaptation to our uniform policy allowing officers to wear sweatshirt into units as long as they had their blue uniform shirt on also. This was third shift and at times they would try to sneak past the entrance and go to the unit without their uniform shirt. The officer went on to complain that this was supposed to be a "paramilitary" unit. He then said "if this was a paramilitary unit, they wouldn't complain about little things like this and care about us more". I told him, "you might want to think about that again. In a military unit, following orders went without question, and they do care about little things like that". My mind then drifted to another place, "Four inches Preston, FOUR INCHES!!!!!!"

I think that if we all take a look at the definition of paramilitary, maybe we could come to an agreement that on both sides, we could make some little changes that would go a long way. Let's try to treat our subordinates like the professional workers they are and are trained to be. Let's treat them with respect and value what they bring to us. And let's pay more attention to the orders, directive, memo's etc. that are given and sent to us and follow them. We'll all like the results.

Lt. Marvin Preston works at the New Hampshire Department of Corrections. He has been in corrections for more than 19 years, and also is a retired Marine.

Other articles by Preston:
---