Defining a Correctional Nurse
By Anna Moak
Published: 05/17/2010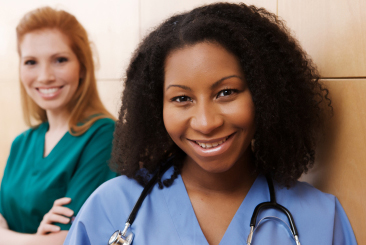 Nursing is a tough job in prison. In the following column, SCDC's Regional Director of Clinical Services Anna Moak describes challenges associated with the job, what it takes to be good, and applauds those doing it everyday.

Correctional nursing is not an easy task.

Correctional nurses are one part security; one part ER nurse; one part primary care nurse; and, if working in an infirmary, one part critical care nurse.

Their patients are not defined by one disease process. On many prison yards, nurses must treat patients who are diabetic, hypertensive or Hepatitis positive. Or maybe all three. They treat stab wounds, cardiac arrest, and any other number of emergency events. Nurses within the S.C. Department of Corrections have to be able to change modes and change modes fast.

On top of that, many of the nurses employed at SCDC also retain part time jobs across multiple specialties.

Nurses in our system arrived here from many different backgrounds.

Amy Spencer at Tyger River Correctional Institution previously worked in a hospital emergency room. Michael Fletcher at Kirkland's infirmary was trained in critical care. Yvonne McDonald at Lee Correctional previously specialized in neurology.

There are nurses trained in OB-GYN, including Donna Gibson from Camille Griffin Graham Correctional Institution. Nurses like Tina Huggins at Turbeville are trained in grant writing. Mary Frazier, who also works at Lee, trained in oncology before coming to Corrections.

"Correctional nurses walk a fine line between maintaining security and delivering optimal medical care."


These nurses often work long hours. And with such a diverse set of ailments to treat, the work is complex. Nurses at SCDC have to be strong, critical thinkers. Linda Wooten and her staff at Kirkland's specialty clinic are an example. The clinic is a unique setting, where physicians with specific medical qualifications treat inmates from prisons across the system. This setup has created a major cost savings to SCDC. An example: the orthopedic specialist at Kirkland saw 850 inmates last year. If those inmates had been treated at outside appointments that required security escorts, it would have taken 1,600 correctional officer hours to make it happen. That's not necessary because of Ms. Wooten and her staff.

Correctional nurses walk a fine line between maintaining security and delivering optimal medical care.

They are very seldom acknowledged for the job they do. They do what is expected and ask for little in return. Take Karen McCullough for example. An RN at Kirkland's infirmary, she has excellent assessment skills and goes the extra mile by always giving the on-call physician an excellent description of her patients' status. This allows the physician to make an informed decision on what care to administer and ensures the patient gets the best possible outcome.

"At Kirkland Correctional; last year alone, 850 inmates were seen by an orthopedic specialist, preventing the need to transport inmates to outside doctors' offices for the same care."


Correctional nurses stay sharp. They train on their own time to stay abreast of the latest information. Yvonne Munroe and Ingrid Williams, both LPNs, attended outside sessions to stay educated on issues dealing with HIV/AIDS, for example.

In the end, defining the correctional nurse simply is not an easy task. Their job description can't be made to fit neatly in a tidily defined box. They might administer care to a particular inmate with a particular disease on one day, only to treat multiple diseases and multiple inmates the next.

They have to have strong assessment skills and be fearless in their approach. A patient is depending on them.

Thankfully, correctional nurses are up to the task.

So, this is a tribute to what it takes to be a correctional nurse and the brave individuals who strive daily to ensure they deliver optimal patient care.

Thank you for your loyalty and dedication, your work ethic and endurance. It never truly goes unnoticed, though sometimes unmentioned.
---