Selecting a Floor Machine with a KISS
By Mike Schaffer
Published: 07/12/2010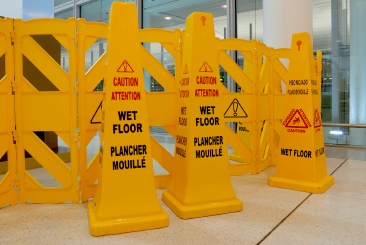 In the last few years, manufacturers in the professional cleaning industry have introduced a number of new floor machines, automatic scrubbers, and burnishers designed to make floor care easier, faster, and Greener. These new machines are being introduced in all sizes, designs, and price points.

However, some of the new machines are so new that many end customers are not sure which machine is best for them and their floor-care needs. Although it is exciting that new floor-care technologies are evolving, it must be admitted that at this time, it may also be causing some end-customer confusion.

Large facilities, such as correctional facilities are unsure if they should select some new technology now or hold off until it has been around for a while, waiting to hear what others have to say about the machine. And the severe restrictions on correctional facility budgets have made selecting any new technology, especially if it is a more expensive technology, all the more difficult.

The answer to the dilemma? Now is the best time to use the KISS formula when selecting floor-care equipment: Keep It Simple…and Straightforward.

KISS…in Practice

As it relates to automatic scrubbers and other types of floor-care equipment, the KISS formula involves the following five concepts, all of which are critical to proper, cost-efficient, and environmentally responsible floor care:

Performance: At the top of the list is proper machine performance. Floors should be done right the first time. Usually this entails selecting a "world-class" machine. This means the machine is designed to work on a wide variety of floors and meets specific standards as to craftsmanship, durability, versatility, and comfort for a broad diversity of users.
Productivity and ease of operation: The cost of floor care is typically 80 percent to 90 percent labor. Worker productivity can be enhanced by selecting equipment with an appropriately wide cleaning path; large solution and recovery tanks so that the machine performs longer with less downtime; a simple operator interface; ergonomic handles; and an easy-to-read control panel. For a correctional facility, a machine with a 26-inch cleaning path and solution/recovery tanks of 26 to 28 inches should be suitable.
Serviceability: Although most automatic scrubbers have become considerably more durable and reliable in recent years, batteries, vacuum hoses, and some other components may still need changes or adjustments. (See sidebar for more on battery care.) A "clam shell" design with a wide-opening hood makes equipment maintenance safe and straightforward and makes it easier to diagnose problems. Also, some machines now have "peel-back" shrouds covering the pads. This means pads are easier to access, and with some machines, they can be changed without tools.
Safety: A few automatic scrubbers now come with built-in worker safeguards that help avoid accidents. These safeguards include maintenance-free, nonspill, eco-friendly batteries; a clear sight line so work views are unobstructed; and parabolic squeegees, which ensure moisture recovery, helping to prevent slips and falls.
Green: Some autoscrubbers are now powered by a new type of eco-friendly battery that is far safer to use and is essentially maintenance free. Additionally, many newer scrubbers clean effectively with less water, which typically means less chemical as well, making them more sustainable as well as Green. Finally, the quieter machines on the market help reduce worker fatigue, bolster morale, and improve productivity, all aspects of Green cleaning.


A Note about Chemicals

Unless the selected floor machine has been designed to perform without water, automatic scrubbers do require some cleaning solution, Green or conventional, to achieve the best results. By thoroughly removing soils, the look and life span of the floor are improved. Many chemical manufacturers now have cleaning agents that perform exceptionally well on floors. Although this includes environmentally preferable chemicals, most users and their distributors suggest trying brands made by different manufacturers before finalizing a selection.

As to finishes, many now have high solid content that resists wear, requires fewer coats (which helps cut costs), and leaves a tough, high-gloss shine. Additionally, many of these finishes can be high-speed burnished or spray buffed using a lower speed machine to quickly restore shine and gloss.

Correctional facility managers should also be aware of one more thing when it comes to chemicals. Many floor-care products are designed by manufacturers to work better together. For instance, a manufacturer may formulate cleaning agents and other chemicals to work well with their finishes and other floor-care products. It's often a good idea to test a manufacturer's cleaning and scrubbing chemical solutions first. If these perform satisfactorily, then try their other floor-care glosses and finishes.

Final Thoughts

No matter what type of automatic scrubber has been selected, some basic care and maintenance issues apply to all machines. First and paramount to ensuring best-practice use of equipment is training. Many distributors will take the time to teach users how to properly operate the machine. This includes not only the actual scrubbing and cleaning function but also the correct start-up and shut-down procedures for the machine as well as instruction on how to service those items that can be repaired or adjusted in-house.

Automatic scrubbers should be inspected on a set schedule. Often this is best accomplished by having a log "checkoff" system. This formalizes the process and ensures that the machine is checked frequently and as scheduled. If a problem is noted, it should be listed on the log, dated, and brought to supervisory attention.

Also, there are some safety issues in regards to storing floor-care chemicals and finishes. Cleaning chemicals can create hazardous conditions, and even storing certain types of cleaning chemicals together can increase the likelihood that a health threat may arise. This is because chemicals can release fumes that when mixed with other fumes, can cause hazardous chemical reactions. A good policy is to store large quantities of cleaning chemicals by type in a safe, secure, out of the way location. Place smaller and more limited quantities of chemicals in facility working areas and janitorial closets.

With both floor-care machines and chemicals, make sure the equipment is used and operated per the manufacturers' recommendations, mixing directions, and guidelines. Failure to do so not only can hamper performance and results but also may result in an injury, risk the safety of others in the facility, and even void the equipment's warranty.

Mike Schaffer is president of Tornado® Industries, a leading manufacturer of professional cleaning equipment.

Sidebar: Battery Maintenance

The following are some routine battery maintenance tips to keep floor machine batteries in tip-top condition:

Check the water level regularly (if applicable).
Check cables and connectors for cleanliness and make sure these parts are tight.
Check the connections and cables on a regular basis, even when using sealed or maintenance-free batteries.
Periodically charge deep-cycle batteries (a more conventional lead-acid battery) to maintain battery life, ensure the battery holds its charge, and ensure the floor machine is ready for use when needed.
Keep all batteries and battery-operated equipment away from heat sources when stored. Heat can severely damage a battery.


Remember to always wear safety glasses when servicing batteries.

*An automatic scrubber is a floor machine designed to perform three functions, all in one pass: apply cleaning solution to the floor, scrub the floor, and then vacuum dry and squeegee the floor.
---