The Comprehensive Approach to Sex Offender Management
By Center for Sex Offender Management
Published: 05/03/2010
The problem of sex offending has garnered significant concern and attention in recent years. The impact sexual victimization can have on victims and families, the fear these crimes generate in members of the public, and the unique risks and needs posed by sex offenders have led to more concerted efforts to develop specialized ways to manage known offenders as a means to prevent future sexual victimization.

The dynamics of sexual victimization and sex offending are multifaceted. Responding effectively to sex offending requires involvement from a wide range of disciplines and agencies. Jurisdictions across the country have recognized clearly that the effective management of sex offenders is more than just supervision and treatment: rather, it demands the thoughtful integration of these and other management components (including ensuring effective investigation, adjudication and sentencing; assessment; reentry; supervision; treatment; and registration and notification) and, perhaps as importantly, ongoing collaboration among those who are responsible for carrying out these activities. As such, strategies to address these issues should involve the key agencies, organizations, entities, and individuals who have a stake and role in adult and juvenile sex offender management.

The "Comprehensive Approach" to sex offender management described in this document is one framework that has been developed to define and encourage a strategic and collaborative response to managing sex offenders and reducing recidivism. This approach addresses a wide spectrum of critical issues, in terms of principles, policies, and practices. Moving beyond more traditional and sometimes fragmented and inconsistent responses, it connects each of the core components of an integrated model. As described in this document, the Comprehensive Approach offers a promising and well-grounded framework that jurisdictions can consider as they build an informed, integrated set of policies and practices to promote the shared goal of ensuring victim and community safety.

It is estimated that 265,000 sex offenders are under some form of supervision in the community (Greenfeld, 1997). These offenders represent a very heterogeneous population, and the risks that these offenders pose to the community vary tremendously.

Approximately 150,000 adult sex offenders are currently incarcerated in state and federal prisons throughout the United States, representing between 10% and 30% of prison populations in some states (see, e.g., Bynum, Huebner, & Burgess-Proctor, 2002; Greenfeld, 1997; Harrison & Beck, 2006a). During the past decade, there has been an 80% increase in the number of sex offenders in the nation's prisons (Beck & Gilliard, 1995; Harrison & Beck, 2006b). And while many sex offenders are entering prisons each year, large numbers are also being released; between 10,000 and 20,000 are estimated to be returning to communities each year (CSOM, 2007). Some convicted sex offenders are sentenced directly to community supervision (e.g., probation), while others may be sentenced to prison or jail and are then released conditionally (e.g., permitted to live in the community under parole or probation supervision). Still others are sentenced to prison or jail and later released with no period of follow-up supervision. Since the overwhelming majority of sex offenders likely will be released into the community at some point (Hughes & Wilson, 2003; Hughes, Wilson, & Beck, 2002)1, and because research demonstrates that observed recidivism rates for sexual, violent, and non-violent crimes are lower when sex offenders receive appropriate interventions, such as proper supervision and treatment (Aos, et al., 2006), it is incumbent upon public safety agencies to provide services to offenders that can ensure the most effective management of these offenders in an effort to reduce future victimization.

Building upon some of the seminal work described above, the Comprehensive Approach defines the core components of sex offender management for those who have a key role and/or vested interest in how to manage most effectively this challenging offender population. Like the Containment Approach and others, the Comprehensive Approach recognizes the complex nature of sex offending and the need for key system stakeholders to facilitate accountability, rehabilitation, and victim and community safety throughout all phases of the justice system. However, the Comprehensive Approach reaches beyond the primary focus on the treatment– supervision–polygraph triad, and expands to a strategy that includes a broader sphere of partnerships and influence.

The Comprehensive Approach to Sex Offender Management addresses three key questions:

Who are the stakeholders who need to be involved in the full expanse of sex offender management efforts in order for them to have the most potential impact?
What is the range and scope of activities that are central to managing sex offenders and reintegrating offenders into the community in a way that is safe and effective?
How should professionals approach the sex offender management process (i.e., what are the foundational tenets and philosophies of the work and what are the vidence-based practices professionals should employ)?


The first question is addressed by the key components listed in the outer circles of the diagram depicted.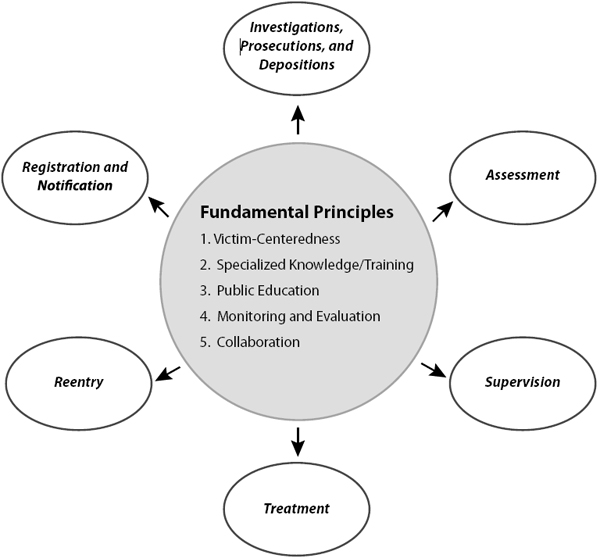 The second and third questions are addressed by the underlying principles of the Comprehensive Approach. These principles, represented by the innermost circle of the diagram, include an ongoing appreciation of the needs and interests of victims, the importance of specialized training and knowledge for policymakers and practitioners, the value of public awareness and education, the need to monitor and evaluate policies and practices, and the recognition of the critical role of collaboration in effective sex offender management.

A Project of the U.S. Department of Justice, Office of Justice Programs
Download the full document here
---