Dealing with corrections' storms
By Joe Bouchard
Published: 05/24/2010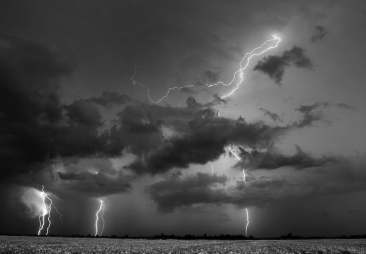 Early and accurate forecasting of tumultuous weather gives us the opportunity to mitigate damage. We can, in other words, execute our version of battening down the hatches.

Even if we secure lawn furniture, tools, and the like, we may still face a different landscape in the wake of severe weather events. Fallen debris over which we have no control could litter the landscape.

This is also true in corrections. How many times have we prepared for various storms and carefully secured our vulnerable places only to be surprised at the aftermath? Yet, when we realize the worsening surroundings, we must force ourselves to return to normal operations as soon as possible.

It is useful to look some of the categories of storms that we face in corrections. What sorts of storms are there?

Fiscal storms – Complex economic conditions drive governments. And all agencies have to react to a lack of funds. When fiscal belts are tightened, everyone, including corrections staff, feel the pinch. In fiscal storms, all aspects of operations are on the table. Programming is reconsidered. Staffing levels are reassessed. Supplies and energy consumption are reviewed.

Yet, the safety of all staff, prisoners, and the public cannot be compromised. This sort of balancing act can set in motion many debates, recriminations, and tense feelings.

Media storms – At times, the media shines a bright light on certain parts of operations. It sometimes seems like there is a relentless investigation on our integrity. Most of us realize that this is a great safeguard that exposes the occasional imperfections in our system. Yet, we cannot shake the underlying feeling that all of us are on trial.

Demographic storms – These are certain movements within our society that impact corrections. A somewhat recent example is the rise in the meth related crimes. Because of the increase in the popularity of the drug, staff have to be trained on how to deal with meth prisoners. Also, mounting numbers of incarcerated of this crime flood or jails and prisons, shifting our resources. Some demographics are like a large stone heaved into a placid pond. The waves are the consequences that reach all areas.

Event driven storms – Without a doubt, the most important event of this decade is the attack of 9/11/2001. Of the many reactions that followed, corrections was also in the mix. The initial shock of the events prompted officials to reschedule supervision staff to extended hours. Emergency plans were reviewed and revised. Prisoner movements were scrutinized. Entire operations were reexamined.

Innovation storms- Inventions and improvements on current technology forces change upon corrections. For example, the mobile cell phone has transformed from a toaster-sized, bulky contraption to an unbelievably small and reliable communications device.

The evolution of the telephone into an inconspicuous and mobile tool has impacted our facilities. This is the newest contraband threat. Prisoners at different facilities can conduct business on the streets and coordinate uprisings and escapes with mobile telephones. All of this has prompted officials to reconsider and refine search procedures.

Stress Storms – Corrections is not an easy profession. Staff stress will sometimes develop into a horrible event that shakes a facility. Some of these could be sudden resignations, violence, or even suicide. It seems that these events trigger others. Stress is like a dangerous thunderstorm that sets off an avalanche.

Are we helpless in the cruel elements? Can we fend off the inevitable wrath of circumstances? How do we cope with these storms?

Focus on what we can change. Ride the winds of the storm as much as possible.
Consider if the storm in question is part of a rhythmic cycle. Learn from the past. Ask yourself, "How did we cope with these events previously?"
Explore other agencies. Review how other states and countries weathered similar storms.
Formulate action plans with many different outcomes in mind.
Include a variety of staff in action plan meetings.
Concentrate on fundamentals of safety. Keep everyone protected with existing resources.
Prioritize. Think of what can be postponed and what must be immediately addressed.
Maintain fresh staff with training and honest news updates.
Ensure that staff are granted ample time away from the facility.
Keep abreast of demographic, economic, and societal trends that may impact corrections.


Naturally, we will not always be able to avoid the ill effects of the inevitable steamroller of circumstances. However, we can temper the unfavorable conditions presented by each storm and return back to normal as soon as possible.

Storms of many varieties will come and go. When they have safely passed, we simply pick up the pieces and prepare for the next event. Optimally, our experience with past storms better prepares us for future storms. How we react to these vocational storms may make the difference between safety for all and disaster.

Visit the Joe Bouchard page


---