Your Attitude Determines Your Altitude
By WY Dept of Corrections News Letter
Published: 06/07/2010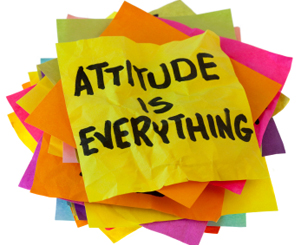 Editors Note: Reprinted with permission from WY Department of Corrections.
Following is a shortened version of a speech Director Bob Lampert gave to the graduating class of the Wyoming Department of Corrections Training Academy on March 5, 2010 in Torrington, Wyoming. This was the last of eight academies that were taught in Guernsey, Wyoming, in anticipation of the opening of the Wyoming Medium Correctional Institution in Torrington. Following this graduation, the Training Academy moved back to Rawlins, Wyoming, where it is headquartered.

The reality is that we all have to deal with forms at some point in our lives, especially in corrections. We have a form for everything from filing a staff report to joining the Employee Wellness Program. But, that's not necessarily a bad thing. That's because forms guide us through the process the form is associated with. It is a black and white guideline, designed to gather information and to make us more efficient.

Not everything we do in the field of corrections is black and white, however. That's one thing that makes this new career of yours so exciting. You have the opportunity everyday to exercise some level of discretion, in some small way at least. And the way that you choose to exercise that discretion can make a difference in the lives of others. You've heard me say over and over again, "Do the right thing at the right time and for the right reasons." The discretion you are left with after all the policies are read and the forms completed, allows you to do that. So my first suggestion to all of you is to cherish the discretion you are given, exercise it as wisely as you can, and be consistent in doing so.

It's tough to be consistent in a profession where the only thing that seems to be consistent is change. But, that is the task before you. Whether you are already on the streets of our institutions doing the job we hired you for, or just completing the Academy, remember that being consistent in how you deal with others and how you exercise your discretion will be important to your success.

You all arrived here from different locations throughout the state or nation. Just like the pioneers who first settled Wyoming, you may have come here in different wagons, but you're all in the same boat now.

As you launch your new career in corrections, if you allow the ballast of your past to weigh you down, or your fear of the future to anchor you in place, your ship will remain stranded on WDOC's deserted beach of former employees. Like my mother used to say, "If you want to leave footprints in the sands of time, you can't be dragging your feet."

How many of you have heard the saying, "Your attitude determines your altitude?" Keeping your boat afloat and sailing to success has a lot to do with attitude.

No where is that truer than in corrections. The attitude you wear to work each day from this point forward impacts everyone you come into contact with. You learned in training that the best approach is to be firm, fair, and impartial. You learned about the importance of personal appearance, positive attitudes and professional boundaries. You also learned about using policies and forms to guide your behavior. As you trim your sails and set out over the seas of your corrections future keep those things you learned here forever in your tackle box.

Ben Franklin once said, "By failing to prepare, we prepare to fail." Like in sailing, that is true in life and true in corrections. Prepare your course now while you have the continuing opportunity to do so and your learning is fresh and your failures will be reduced. Fail to prepare the course you have set upon or allow others with negative attitudes to decide it for you and you'll be less likely to ever Sail to Success. You are the wind, the water, the sail and the map for our future. Make us proud!

It is in part because of the ability of our recruiting team to attract and select the highest caliber of people available in the nation to join our profession, but also because of a hard-working, dedicated and skillful group of trainers and support staff that got them ready to go. My hats off to Mr. (Peter) Norris and the entire cadre of trainers for your fine work throughout Operation Guernsey and beyond. And, congratulations, to all of our employees, regardless of the institution or Field Services office they are assigned to for keeping this boat moving forward.


---