Worst- Case Scenario "Killed in the line of Duty"
By Tracy E. Barnhart
Published: 06/07/2010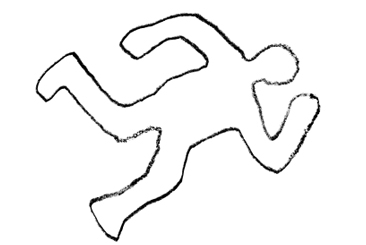 "For those regarded as warriors, when engaged in combat the vanquishing of thine enemy can be the warrior's only concern. Suppress all human emotion and compassion. Kill whoever stands in thy way. This truth lies at the heart of the art of combat."



Kill Bill 2003



Remember when I said in a previous article "When do you know you're being killed?" What clicks on the light switch when you begin to take steps to kill your attacker?

So I ask again, "when do you know, what identifying factors must be present, when is it OK to activate the monster within?" "When am I justified?" "At what point can I pull out all the stops and disfigure this individual?" "When can I press my fingers into his eyes?" "At what point can I pull off an ear?" This is the question I have to ask every time an officer is killed, "During the attack, did it every cross your mind that this guy was trying to kill you?" I wonder if these officers ever considered the violent monster concepts to save their own lives as their incidents unfolded.

Corrections Officer Andrew Paul Weister
Officer Weister confronted an intoxicated man who was causing a disturbance inside of the bar. When Officer Weister told the man to stop dancing on a table, the man jumped from the table onto Officer Weister, knocking him down. The man then grabbed Officer Weister around the neck and choked him until he was unconscious. Officer Weister sustained irreversible brain damage and died as a result two days later. The man who choked him was arrested and charged with murder.

Special Agent Thomas Joseph Byrne
Special Agent Thomas Byrne succumbed to injuries sustained two days earlier when he was abducted and beaten while attending a conference in New Orleans, Louisiana. He was returning to his hotel room when he was abducted. He was found suffering from major trauma 40 blocks from where he was last seen. He was taken to a local hospital where he succumbed to his injuries two days later. The suspect, Ameal Parker, was apprehended and convicted of assault and robbery and sentenced to 30 years.

Juvenile Detention Officer Leonard Wall
Juvenile Detention Officer Leonard Wall succumbed to injuries sustained when he was severely beaten by three juvenile inmates at the Jack Jones Juvenile Justice Center.
Officer Wall was conducting bed checks when the three inmates attacked him and took his keys. When another officer came to check on Officer Wall, the inmates attacked him too, inflicting non-life threatening injuries. The three inmates escaped from the facility and stole a car from a nearby gas station. Two of the suspects were apprehended the following day and charged with capital murder. The third suspect was apprehended later and was charged with capital murder.

Constable Elmer Kiser
Constable Kiser was in his personal vehicle when the suspect passed him and another vehicle on a curve, forcing the other vehicle off the roadway. Constable Kiser radioed a member of the Olive Hill Police Department and requested backup as he followed the driver. Minutes later a passerby called 911 to report a man lying on Crawford Avenue, bleeding from his head. Responding units located Constable Kiser in the roadway. He was transported to a local hospital and then transferred to a trauma center, where he remained until succumbing to his wounds. The suspect who assaulted Constable Kiser was taken into custody approximately 8 hours after the incident. He was charged with murder after Constable Kiser's death.

Deputy Sheriff Bruce Kevin Lee
Deputy Lee was beaten to death with his service baton after responding to a domestic disturbance call on Avenida Velazco Street, in La Quinta, at 0940 hours. The call involved reports of an emotionally disturbed man attempting to break into his parents' home. Deputy Lee became involved in a struggle with the suspect, and was beaten. Deputy Lee suffered severe head injuries from the attack. Deputy Lee's backup officer arrived on the scene and found Deputy Lee unconscious. The suspect then began to approach the backup officer with the baton. The suspect refused to drop the baton and was shot and killed. Deputy Lee was transported to Desert Regional Medical Center where he succumbed to his injuries approximately two hours later.

Correctional Officer Darla Kay Lathrem
Officer Lathrem was killed as she supervised five inmates on a construction detail inside the Charlotte Correctional Institution. Three of the inmates assaulted her as they attempted to escape. The inmates were assisting with the building of a new dormitory for the maximum-security prison and had access to tools such as hammers and screwdrivers. Two of the inmates were attacked by the other three when they refused to participate in the escape attempt. One of the victim inmates died because of his injuries.

Correctional Officer Frederick Gayle Hyatt
Officer Frederick Hyatt was strangled and beaten to death during an escape attempt by five inmates at the Middle Tennessee Correctional Complex. Other officers noticed an inmate who was in a common area, out of his cell, at approximately 2330 hours. The officers attempted to contact Officer Hyatt, who was assigned to the common area, but were unable to reach him. When officers responded to the common area, they located Officer Hyatt's body. He had been strangled with a cord from a laundry bag and beaten with his flashlight and a sock filled with canned food. Officer Hyatt was taken to Saint Thomas Hospital where he succumbed to his injuries.

Correctional Sergeant Eric Jason Autobee
Sergeant Eric Autobee was beaten to death after being attacked by an inmate in the kitchen of the Limon Correctional Facility in Limon, Colorado. The inmate struck Sergeant Autobee in the back of the head with a kitchen instrument in an unprovoked attack. Sergeant Autobee was flown to Swedish Medical Center in Englewood, Colorado where he succumbed to his injuries at 1230 hours. The suspect was convicted of Sergeant Autobee's murder and sentenced to death.

Police Officer Domenick J. Infantes Jr.
Police officer Infantes was attending a neighborhood party while off duty when the two men began setting off and throwing firecrackers near children. A dispute started between the men and a neighbor, and the neighbor was struck with a pipe. Police officer Infantes, who was unarmed at the time, came to the man's aid, displayed his badge, and identified himself as an officer. The two men demanded to see Patrolman Infantes' gun as well because they did not believe he was a police officer. The men then struck him in the head with a 4-foot lead pipe and continued to beat him with pipes until backup units arrived. The pipes that were used had the names of the suspects engraved on them. Police officer Infantes was taken to a local hospital where he succumbed to his wounds two days later. The two suspects were charged with murder.

Detention Officer Alvin Sherman Glenn
Inmates during an escape attempt at the county jail. The incident occurred when he was locking prisoners back in their cells. Three inmates overpowered Officer Glenn. The inmates handcuffed, beat, and then strangled him. The inmates then made their way to the roof of the jail, but were injured when they jumped to the ground. All three were taken into custody before they made their escape. Officer Glenn was the only guard overseeing 64 inmates in the medium security area.

Sergeant George Daniel Sullivan
Sergeant George Sullivan was found beaten to death next to his patrol car at approximately 1:00 am. A man who held a hatred for law enforcement officers ambushed Sergeant Sullivan. The man attacked him with a hatchet, fatally wounding him. Two university employees walking through campus found his body. After murdering Sergeant Sullivan, the suspect took his gun belt and gun and fled the area. He was arrested two days later after a standoff with the Salt Lake City, Utah, Police Department. On October 6, 1999, the was convicted of murder and sentenced to death.

Correctional Officer Brent W. Lumley
Corrections Officer Lumley was killed when he was stabbed in the neck with a home made knife. Officer Lumley was attacked by six inmates and stabbed while other inmates kept his partner's attention diverted. Two suspects were convicted in his murder.

Corporal Rufus Earle Brown
Corporal Rufus Brown succumbed to injuries received four years earlier when a drunk male beat him during the city's Mardi Gras celebration. He had responded to a call of the male creating a disturbance. While on the scene the male beat Corporal Brown's head against a cement curb in the street. The injuries caused Corporal Brown to begin suffering seizures, forcing him to retire in 1993. On March 23, 1997, Corporal Brown suffered a grand mal seizure and died as a result. The seizures were determined to be a direct result of the assault on Corporal Brown in 1993.


"Then there are the wolves, and the wolves feed on the sheep without mercy." Do you believe there are wolves out there who will feed on the flock without mercy? You had better believe it. There are evil men in this world and they are capable of evil deeds. The moment you forget that or pretend it is not so, you become a sheep. There is no safety in denial. Then there are sheepdogs, and I am a sheepdog. I live to protect the flock and confront the wolf."



Lt. Col. Dave Grossman


Grossman went on to elaborate; here is how the sheep and the sheepdog think differently. The sheep pretend the wolf will never come, but the sheepdog lives for that day. After the attacks on September 11, 2001, most of the sheep, that is, most citizens in America said, "Thank God I wasn't on one of those planes." The sheepdogs, the warriors, said, "Dear God, I wish I could have been on one of those planes. Maybe I could have made a difference." When you are truly transformed into a warrior and have truly invested yourself into warrior hood, you want to be there. You want to be able to make a difference.

This Sheep, sheepdogs and wolves analogy is correct for law enforcement and the military. However, we have to tweak it a bit to identify with corrections. We as the sheepdogs are guarding the wolves, preventing them from escape so as not to further victimize the sheep. We must continually think of the inmates we supervise everyday as wolves. The minute we forget this identity we will be victimized by the very inmates we are sworn to protect. The above list of officers killed was going back just 5 years and only killed because of assault. We all know if someone has a knife or a gun deadly force is justified. However, when do we know its time to use deadly force when the individual is unarmed?


"There is no safety for honest men except by believing all possible evil of evil men."
Edmund Burke
"Denial can be seductive, but it has an insidious side effect. For all the peace of mind deniers think they get by saying it isn't so, the fall they take when faced with new violence is all the more unsettling. Denial is a save-now-pay-later scheme, a contract written entirely in small print, for in the long run, the denying person knows the truth on some level."



Gavin de Becker


Well we all know we have drilled into our brain in the academy all the legal phrases, all the conditions, and all the what not to do scenarios. We have countless hours of verbal de-escalation on what not to say, how to say it and how to remain professional. However, we are never actually given green light indicators when it comes to deadly force application. We all know how to remain professional or that we should. We are taught how to accept verbal harassment and that 80% of the time the inmate is bluffing. 19% of the time, we will request assistance for the incidents for which we have time to respond to an aggressive situation. However, we are left feeling short that 1% of the time when the inmate wants or has been ordered to take our life or the life of another.

Well then, listen up because here it comes. I am going to explain the green light indicator for when you better pull out all the stops and defend your life. You had better rapidly disfigure this individual or you will not walk out of the institution at the end of your shift. It is time to activate the monster concept or they may place black bands over the agency badge just for you. Lets just say, its time to apply deadly force concepts or the agency flag will be at half mast tomorrow morning, all in commemoration of your death in the line of duty.


"Whenever an inmate is in active attack mode against you or another person, and that inmate has gained physical control over you or another person, deadly force is authorized."


Now let's break that down. You still have to utilize all the prerequisites on the past two articles as it pertains to deadly force but we all know you will not be correctly thinking when the adrenalin is flowing and you will not have time to mentally go back and hit the Supreme Court use of force checklist. Now, an inmate has actively engaged you and you can justify that you have attempted or that there was no time to verbally engage this inmate. This inmate has combatively attacked you in an attempt to physically harm you, and after you have attempted to disengage from the inmate to no avail. You had better start kicking it in or you will have fallen behind the reaction curve and you will not be able to regain your ability to survive.

When an officer believes a suspect's actions place them, their partner or those in the immediate vicinity in imminent danger of serious bodily injury or death, the officer can reasonably exercise the use of deadly force. Typically, if the suspect threatens an officer with a weapon, that risk has been established. You need to fight back quickly, decisively and without hesitation. Be prepared to gouge his eyes out, bite off his ear — whatever it takes to stop the attack. You must use every dirty fighting technique in the book to win, and win quickly.

You better press your finger into his eye, you better reach around and grab an ear and pull in from his head, you better strike him in the throat, you better apply a lateral vascular neck restraint or do whatever you can to stop the aggression of this inmate or bad things are going to happen to you without fail. Your ability to react is only guarded by your willingness to react. Inmates know whom they can and cannot attack successfully. But never assume that your on the don't attack list. You had better do some soul searching right now to determine if you have the ability to physically and mentally defend yourself using up to and including all deadly force options. If you can't do it, then this profession is not for you.


"… As we wake or sleep, we grow strong or we grow weak, and at last some crisis shows us what we have become."


As you have read the third and final part of this deadly force series, I hope I have generated more answers than I have questions. However, understand that I cannot give you the green light in a situation you have found yourself in because I am not there with you. Every person sees the situation they are in differently and everybody's reasonableness is slightly different depending on his or her background and experiences. I urge you to seek out your own agencies policy and laws in your own state. You have to not only understand the laws and policies but the political atmosphere within your agencies as well. The arena of deadly force is a murky pool to swim in but odds are you will have to jump in the water sometime during your career. Be safe, train hard and be aware of your surroundings.

Other "Use of Force" Articles by Barnhart:

Verbal and Non-Verbal Indicators to Assault .

Methods Of Attack .

The Ultimate Use of Force Report .

What is Excessive Force?.

Unconventional Delivery of Deadly Force in a Correctional Facility.

Use of Force True / False Quick Quiz.

"Use of Force" Quiz Answers .

Worst-Case Scenario "Deadly Force".


---