Corrections professionals share information about contraband
By Joe Bouchard
Published: 05/31/2010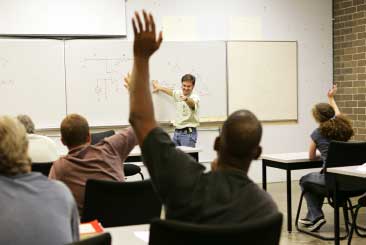 Recently, I was invited to speak in Virginia on the topic of contraband control. I did get to rest a bit, meet fascinating jail professionals and enjoyed a location that was new to me. And while I cannot fully share the actual tourist attractions or cuisine with you through the written word, I can offer a part of the conference.

At the conclusion of "Wake up and Smell the Contraband", there were many who volunteered to offer answers for a survey. Their answers follow:

Is contraband a problem in your facility?

100 % of those who answered this said "Yes", though one person commented that contraband "is not a big problem."


When comparing jail and prison populations, jails generally have a fluid influx of new offenders. Prison populations, by comparison, are somewhat static. Because of this, do you think that there is a difference between the contraband found in most jails and in most prisons? If so, please explain.

55% of those who answered said that there is a difference between contraband traffic between when comparing jails and prisons. Their comments were:


Prisons have opportunity for long-term contraband enterprises. Jails has it more opportunistic – work release and weekenders
Those sentenced to jail are doing less time and may not want or need the same things as prison inmates.
Prisons with contact visits have more of a problem.
Yes, workers or repeat offenders often stock up before returning to jail
Jails have more work release and local department trustees, thus giving more variety of contraband brought into jails.
Prisoners appear to have more freedom than jails – therefore, contraband may be more prevalent in jails
In some prisons they still have smoking of cigarettes whereas in jail it is not allowed but the inmates find ways to get them,
Prisons with longer term have time to collect more,
Because you are limited to movement in a jail and there is more movement in a prison
In prison, I believe there is more contraband than in jail because prison inmates are thinking of new ways to come up with different things



45% answered that it is the fundamentally same.


What is the most contraband item found in your facility? Cigarettes and tobacco dominated this category. This was followed by stockpiled medication, lighters, food, sharpened tooth brushes, weapons made from tissue, dice, and allowable but excessive property.

Other items that were mentioned at least once were tattoo supplies, magnets from inside of speakers, clothing, paper, markers, sugar, orange juice, batteries, matches, dew rags, pens, and shanks.


What is the strangest contraband item you have ever found or heard of?

The most frequently reported items in this category were: hollowed book, pair of horse shoes, cell phone, marijuana, gun, and a fake penis.

Other items included; ladies panties, liquor bottle, drugs, hot wings, A pet bee, dog, glove crafted into a sexual toy, TV remote, shank from eye glasses, handgun carved out of soap, electric guitar, cigarette in rectum, file, a six foot by two inch metal beam from a broken cell door, cell phone charger, small gun, gun smuggled into facility by an arrestee hidden in his anal cavity .25 caliber, chewing gum, hard ball made out of plastic wrap, a jewelry box topped with a Buddha made of state soap, completed full sized coffee mugs made out of toilet paper, sharpened pork chop bone, pack of condoms, and a Christmas tree made of green paper.


Can contraband in facilities be completely eliminated or simply lowered? 86% reported that contraband could maybe be lowered but never eliminated. Some comments that came from this are:


Contraband will always find a way into a facility.
In theory yes, lowered, practically, absolutely not.
Maybe lowered. I don't think that you can completely stop it at all.
I don't think that you can eliminate it, but you can lower it.
Staff should make sure that other facilities are aware of a potential trader



12% suggested that contraband could neither be lowered nor eliminated.

2 % answered that contraband could be eliminated if all staff would do their job correctly.


How can corrections professionals stem the tide of contraband?

Being more vigilant, better searches and more frequent searches were the most frequently offered answers. Better training and persistence were also mentioned more than once each.

Other solutions included: x-ray machines, no canteen, no exchange of anything, laundry done in-house, consistency in searches, professional about job, random movement of inmates, holding guilty parties accountable, more unannounced searches, awareness, presence, and better intake procedures.


Conferences can serve as a productive time away from the facility where one can recharge one's batteries, meet interesting people in the field, and experience a new and exciting place. In addition, one can come away with fascinating data and the expertise collected from the people who attended. Thanks to the participants in Virginia who offered their insights in this survey.



Visit the Joe Bouchard page


---