New Electronic Medical Record Transforms Health Care Services
By Tracey E. Zeckhausen , Chief of Information & Public Relations Rhode Island Department of Corrections
Published: 06/21/2010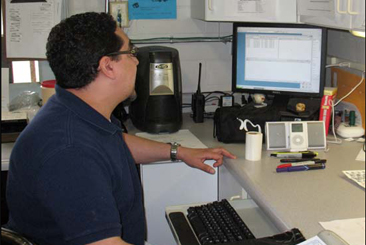 Editor's note: The following is reprinted with premission from the Rhode Island DOC
It's become a challenge for Health Care Services staff to remember life before the new Electronic Medical Record (EMR), which was up and running in the late fall. It's hard to imagine that when an inmate patient transferred from one building to another, all of his/ her medical paperwork had to be collected and physically transported to his/her new facility. It's hard to remember that when an inmate patient arrived to a new facility, if a nurse or doctor had questions about upcoming appointments or wanted to know what was going on health-wise with the inmate, he/she had to look through pages and pages of the paper record. It is mind boggling to think that the typical way for providers to leave updates and notes about inmate patients was to place post-it notes on the paper chart. Now if a provider gets a question about an inmate/patient regarding followup appointments at outside facilities, for example, he or she can access that information right at his or her computer. Things like resubmitting orders for medications are now a matter of a few keystrokes, whereas in the days of old, the ordering practitioner would have to write out an order and fax it to the pharmacy.

"This way of working is much more efficient, and a much better use of people's time," notes newly appointed Director of General Nursing Services Gordon Bouchard. "We're not paying people to run between buildings tracking down paper," he continues. "Docs used to have to hand write orders, a nurse would then have to transcribe the orders and fax them to the pharmacy, then wait for two days to match the order against what had come in," he shares.

Bouchard provides an example of a patient who was sent to Rhode Island Hospital at 11 p.m. and within two to three hours was returned to Intake. The staff at Intake, in the pre-EMR days, would have no idea why he had been sent out. The patient's record would still be at Intake while he was at the hospital. Now, facility health care staff can look up the EMR and have the information they need instantly.

Another advantage to the EMR pointed out by Pauline Marcussen, Interdepartmental Project Manager, is the ability of more than one user to access a patient's record simultaneously. Pauline also applauds the fact that physicians can have Virtual Private Network (VPN) access to the EMR from home, meaning they don't have to physically be here in order to look up information about an inmate/patient.

The EMR's reporting features are also a plus. We can now run reports by diagnosis, building, or chronic condition, to give just a few examples. "Now we can see within an instant how many inmates had their vitals checked, how many have had a TB test within the past year, how many tested positive for a specific illness, and who is due for vaccines," notes Marcussen. "This is something we would have had to find by manually going through all medical records." In the past, staff would also have to look through paper records to determine when medications would expire. Now they can run a list of medication expirations and reorder accordingly.

Another thing that can now be easily tracked is volume in our clinics. We can track how many patients have been seen where and by what provider. This enables us to be more efficient in our allocation and scheduling of staff.

Correctional Officer Hospital II J.R. Perez is a super user of the EMR and has trained numerous new and current staff on how to utilize the many features of the software. "There was a definite learning curve," Perez notes. "But it's become so much easier." Each member of the Health Care Services staff received 16 hours of training over four weeks when the software was first implemented. One of the many improvements Perez notes is the fact that nurses' notes are now so much easier to read because they are typed into the computer and not hand scribbled in illegible hand writing.

There are about 140 authorized users of the system, with varying levels of access depending on their position and need. Each user has an in box where important information about patients is shared. "Things used to fall through the cracks, like lab work might not get transferred with a patient," notes Perez. "Now everything gets documented."

Another advantage over the old paper system is patient confidentiality, according to Marcussen. "We can limit access and I can easily track what a user is doing on the system, how they are using the information – so if there were to be any misuse, I would know about it and have documentation of it." Access is also tied to position. Some users can only view information, some can write, and some can do both.

Processing new inmates has become much more streamlined thanks to the EMR. There is just one nurse doing the intake questionnaire, and it has become much easier to translate information to physicians and to chart. In the past, one chart would have to be stored on each inmate. Now the information about each inmate is all accessible on line.

We are one of the first states with a unified system to go with an EMR, meaning our jail and prisons are all on one complex and information is accessible between the jail and prisons. Since the vendor, NextGen, has designated Rhode Island as a "premiere site," we are getting inquiries from many states considering implementing the technology. Staff from the Alabama DOC, for instance, visited the RIDOC on April 21st and 22nd, to see the program in action and pick the brains of our staff about how it's working. Joseph Marocco, Associate Director for Health Care Services, figures he has received about 20 calls from different states and counties wanting to ask about our experience with the EMR in the past three months alone. Also in May, Pauline Marcussen was invited to provide an overview of the new technology to sheriffs and staff from jails across the country along with the Information Technology specialist from Portland, Oregon, at the American Jail Association's annual meeting.

It's been about six months since the RIDOC's Health Care Services staff began using the EMR, and most can hardly remember how they did their work without it. "It's getting better and better all the time," says Marcussen, "because the information is becoming more and more complete." It's slightly more labor intensive for physicians to have the EMR, because they have more forms to complete and can't just leave written notes on a chart, but few would argue that the additional time doesn't have huge payoffs. Newly hired nurses go to about four hours of training with J.R. Perez because even if they come from a place that had an EMR, they need to learn the particulars of the RIDOC's system.

For Pauline Marcussen and Joe Marocco, having the EMR in place is like a dream come true. They've been advocates for this type of technology for well over a decade. Like anything else in state government, it's been a long time in coming, but they still sometimes have to pinch themselves to realize it's indeed a reality. Like all major changes, there was resistance and griping at first, but you'd be hard pressed now to find a Health Care Services staff member who would say they would prefer to go back to things they way they used to be.

Editor's note: Tracey E. Zeckhausen is Chief of Information and Public Relations for the Rhode Island Department of Corrections.
---