Parking Spaces, Nepotism and Networking
By Joe Bouchard
Published: 09/27/2010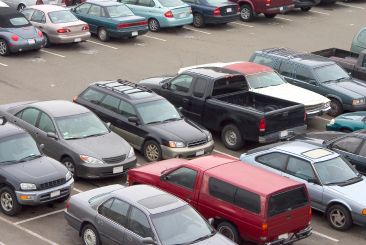 So many problems between people are rooted in differing perspectives. The truth is relative, not absolute. In fact, the truth can be very personal.

Think of two drivers in different cars vying for one coveted parking spot. Both cars circle, waiting for an opening. In most cases, the closest, fastest, or most aggressive driver will claim the spot. It is my understanding that there is no law against this sort of behavior. Saving parking spots, like cutting in line, is rude. But, it is not a crime.

Let's get back to the relativity of the truth. At some level, both drivers wish to get the spot before any others. This could be a simple convenience or even an adversarial sentiment. In the world of seeking one's place, notions of entitlement, luck, and fairness arise.

I have witnessed people throw what would be considered a huge fit over a simple parking spot or place in line. Imagine how someone like this would feel if they were overlooked for a promotion.

Nepotism is a horrible practice. This is a way in which unqualified friends and relatives are inserted into a choice position. A less obvious manner of advancement is through non-related connections. That brings the question: Are well-networked people to be as scorned as those who benefit through favoritism or nepotism?

Networking typically is not a genetic privilege. When one networks, one labors to make connections with colleagues. In a more pejorative sense, networking can be done through golf, entertainment, or common avocations. I feel that a purer, more respectable networking occurs when vocational matters are discussed. Closer to the ideal is when someone in a hiring position finds worth in a colleague based on performance or ideas.

Of course, we are not robots. Personal interaction comes into play. Most would agree that the fate of two candidates might be decided by an intangible factor such as charisma. Un- measurable qualities such as likeability throw a wrench in the works of structured, quantifiable decisions.

What about the relative with wonderful credentials? A candidate of that sort, if selected to fill a position, will likely be the topic of water cooler speculation. And in more critical circles, the relationship with the appointing authority will eclipse the actual credentials, deeds, qualifications, and interviewing skills.

Perhaps a few simple truths are applicable here:

People want fairness;
Sometimes we are damned if we do and damned if we don't. In other words, not everyone will be happy with a decision;
Being related to someone with appointing authority does not necessarily a free ride for that relative;
Everyone will speculate when a position opens;
At these times, small mistakes will be vocalized by a loud minority. It can get ugly for all involved.


Just as in a busy parking lot, there will be those who feel that they are more entitled than others to slip into any open job. And connections of all kinds can facilitate this. But unlike an open parking spot, newly opened positions are much more valuable. In these instances, we can learn a lot from human nature.

Visit the Joe Bouchard page

Other articles by Bouchard:


---