Glory Grabbers and the flood of '86
By Joe Bouchard
Published: 10/02/2010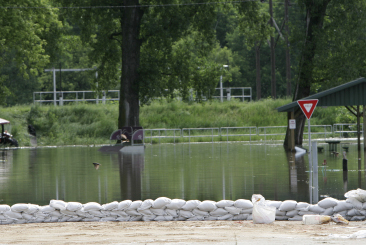 The following, Dear Reader, is not a self-congratulatory celebration me as a working class hero. Nor is this a damnation of the work habits of people from years ago. Rather, this is an illustration of the personality type that I call "glory grabber".

We can define glory grabbers as individuals that steal the credit from others. Their main objective is to appear to be the prime movers in all work endeavors. Their true labor is in seeming to be busy only when they are watched by those in authority. Glory grabbers impact corrections operations in a negative way. Their actions cause resentment and division among staff. And staff division, through a variety of possible occurrences, diminishes safety.

Nearly twenty-five years ago, I saw a perfect example of glory grabbers. I was working for a small business on the edge of a large lake. It was March, and the snow melt had predictors chirping about potential flooding.

The owner, understandably nervous, acquired sand and sand bags. He instructed three of his employees, me included, to build a wall of sand bags in front of the business as quickly as possible.

Coming from an industrial background, I was not afraid of some hard work. Slowly, I build that wall of sand bags. The gradual progress was heartening. And it was good to work in the cool air.

I paced myself; I was certain that I would be working alone. You see, two of my co-workers were supposed to help me. I knew that would not be the case, as they had consistently demonstrated a lower threshold of industriousness. That's just how it was. Based on their past performances, there was no point in raising my expectations. Being objective and resigned to the circumstances, I continued with the task at hand. After all, those sand bags would not fill themselves.

Then a minor miracle occurred! It was nothing supernatural like the materialization of an instant wall. Nor did the lake dry up for my sole benefit. A very ordinary television news van pulled into the parking lot. That was the catalyst for the phenomenon. To my surprise, the two aforementioned slackers bolted from their comfortable hiding places in the back of the store. Their energy was awe-inspiring. The slower of the two hefted a filled sand bag on each shoulder and made a land speed record in front of the camera crews. The other one grabbed a shovel and started a furious filling of sand bags as though every moment counted.

The "helpers" departed almost as soon as the news van was off grounds. Later, apparently ashamed of his other two employees, the owner spoke to me about the problem of prima donnas and value of a true worker. He even slipped me some bonus cash for my dedication.

It is very human for any of us long for credit for a job done. Yet, all of us are not the same. Motivations vary. Most of us simply want credit for our efforts – no more, no less. And then, there is the Glory Grabber. Glory grabbers are wired to crave credit, even if they did not do the work.

They desire positive attention, and are very concerned about the forward advancement of their careers. At times, they very deliberately sabotage parts of a project to enhance the image of things under their control.

What can we learn from them? How can we direct the egocentric to think beyond their own aspirations? There are many ways to lessen the ill effects of egos gone wild on the worksite. Here are some suggestions.

Empathy and shared praise go a long way to introduce the larger picture. Also, leaders can illustrate the interconnectedness of operations.
The worksite should promote the mission statement and the notion of safety for all and by all.
Training should be offered on teambuilding.
Giving credit in good measure is important. Glory grabbers often seek acclaim, even if it is not warranted. Yet, there are many who achieve many good things under the radar. It is imperative that supervisors sing the praises of the unsung heroes, while not over-praising the glory grabbers.
Do not disenfranchise future talent by deifying current talent. Refrain from rewarding glory grabbers with undue recognition for ordinary tasks. Look at the results and process rather than the presentation. Credit given should be credit earned.
Place those who crave attention and praise on special assignments. Let them earn the kudos.
For some, working above and beyond the call of duty is satisfying in itself. However, there is no guarantee that it will attract extra attention or additional rewards.
Hard workers should always be conscious of the peachiness that can come with such a distinction. While of great value, productive staff can ooze self-righteousness and elitism. Quite simply, that is another unwanted avenue that leads to staff division.
In the end, we do have to dance with egos to a degree. But that is a small price to pay for safety.


Regarding the flood of '86, it never happened. The business was not inundated by rising waters. In fact, the store really never was threatened. The sand bags remained for a few weeks as a reminder of that which never came to be. My calluses healed long ago.

I do not know how the glory grabbers in this story developed. I am optimistic that they are productive somewhere. But I imagine that a spot on the 6:00 news was the highlight of their spring of 1986. Whatever their fates, it remains that glory grabbers are just one part of the mosaic that is our complex workplace.

Visit the Joe Bouchard page

Other articles by Bouchard:


---