Vets Gain Job Skills, Get "Clean Start" In Jail Program
By Cook County Sheriff's Office
Published: 10/25/2010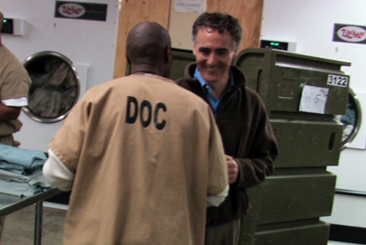 COOK COUNTY SHERIFF'S OFFICE - Thomas J. Dart, Sheriff
Non-violent inmates who served in military do jail laundry, saving money

Cook County Sheriff Thomas J. Dart unveiled a new laundry program at the Cook County Jail today, utilizing inmates to wash all clothing instead of using outside contractors.

The "Clean Start" program utilizes about 20 U.S. military veterans who are in the Cook County Jail on non-violent charges. In addition to hands-on experience in laundry services, the program also includes a classroom component where participants can learn business plans and entrepreneurial skills, thanks to support from Roosevelt University.

It is all being done at no cost to taxpayers, as all laundry machines, education costs and other start-up expenses are covered by profits generated by inmate purchases from the jail commissary for items like snacks and toiletries.

"This program makes so much sense on so many levels," Dart said. "These men were willing to sacrifice themselves for our country, but then came home and made mistakes. We can help them with mental health services, then give them job skills and the support they need to get back on their feet. We're focusing on rehabilitation instead of incarceration and we're saving taxpayer money – two of the highest priorities I have as sheriff."

ARAMARK Correctional Services, which manages the program, agreed to hire two people who have gone through the "Clean Start" program, once they are released from custody. One "graduate" will work each of the two shifts at the jail, along with an ARAMARK supervisor. In addition, ARAMARK has agreed to consider participants for job opportunities throughout their private-sector operations.

"We are proud to serve as a partner to Cook County," said Jim Hinds, Vice President for ARAMARK Correctional Services. "Our team has witnessed how onsite training programs like Clean Start and our own IN2WORK help support a detainee's successful return to the community. By helping these individuals gain the skills needed to secure meaningful employment, we are helping to create an environment that also benefits the community, the taxpayers, and those who protect public safety."

In early 2010, Dart presented the idea for the program to jail administrators as a way to cope with a shrinking budget.

With about 9,200 inmates, the Cook County Jail processes approximately 3.5 million pounds of laundry every year. An outside vendor held a 2-year, $1.5 million contract to handle nearly all of those laundry services. But with that contract set to expire in September, plans were developed to use commissary profits to start an in-house laundry program in an under-utilized storage area in the basement of the jail.

In the spring, Dart moved all non-violent veterans to one tier of the jail, giving them on-site access to mental health services and substance abuse treatment programs. That move also provided a base for potential participants in the program.

This summer, five industrial-grade washers and dryers were purchased - each able to handle up to 150 pounds of sheets, towels, pillow cases, blankets, uniforms and coats. The washing formula, developed by ARAMARK and Ecolabs, is both NPE- and phosphate-free.

Cook County Jail administrators then identified 20 inmates to work in the program and also assigned two correctional officers who are also military veterans to secure the laundry area and interact with the participants.

Roosevelt University agreed to come into the jail to teach program participants basic business skills three hours a day. Finally, in August, bids were solicited to start up and manage the program, leading to ARAMARK taking on that role.

Though commissary profits are being used to start the program, it is expected that by 2012, program expenses will cost approximately $55,000 a month. Though that is 13 percent less than previous spending, Dart said he is already exploring the possibility of offering jail laundry services to outside companies. Any funds generated through such an effort would be used to avoid any impact on taxpayers.

The same model was used at the Cook County Jail garden, where after 17 years of operating, produce is now being sold to restaurants like Charlie Trotter's and The Publican. Those profits, along with inmate welfare funds, allow that program to be self-sustaining.
---