Think about it: "LOOK BEFORE YOU TOUCH…."
By Mike Plourde
Published: 11/01/2010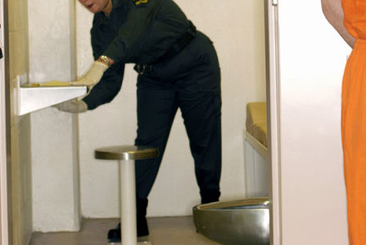 An officer enters the empty cell to shake it down. Both prisoners who reside in this cell are elsewhere. This is a routine cell search that officers required to make during the shift. The officer conducts the search by being systematic, curious and patient - the principles of good searches.

However, there is one problem. This Officer has developed a bad habit that will be costly. As the officer approaches the cell writing surface, the officer runs finger-tips along and under the edge of the table. Suddenly, the officer feels immediate pain in those fingertips and recoils as if bitten.

Indeed; the Officer has been bitten. Under the edge of the writing surface there are two jagged and rusty razor blades held to the underside of the surface with dried toothpaste. The booby-trap has worked. The Officer has been cut on two finger-tips and is dripping blood on the floor.

Stop and think for a moment just what this now entails. Will staff suffer from a lack of confidence? Is the surface infected? Will this be a life-long health hazard? It it too late to learn the lesson?

"No one respects flame like fool who's badly burned." Pete Townshend

Everyone who works in Corrections agrees that routine and thorough searches are the building blocks of top security. And even though methods may be as individual as the people conducting the searches, certain basics should be strictly followed. One of those basics is "Look before you touch".

In our scenario above, the officer has a few choices:

Get down below the writing surface, either by kneeling down or peering at the undersurface;
Bend down to do the same thing;
Use some sort of mirror to view the undersurface.


Automobile rear-view mirrors, on extendable handles, should be made available to all staff for every search. Many correctional systems do provide just that. Some systems even provide dental mirrors and those are very effective also. But no amount of equipment, no matter how sophisticated, is any good if staff members fail to use them!

One of the things that I stress to new correctional employees, both custody and non-custody, is to build good habits. Do that by doing the job properly all the time, every day, in every way that makes sense, makes for good security. Success comes from solid practice and experience; your experience and that of others.

Managers and supervisors, it is your job to ensure that your staff do the job properly every day. The wise supervisor accomplishes this by being the very best example, and by continuously talking to and training staff, sometimes right on the line. Persistent supervisors require that they staff perform searches properly all of the time!

Stop and think for a moment. What other ways can prisoners set up situations so that staff-members are hurt while searching? One that I can think of right away is a variation of the above scenario. Razor-blades are often hidden in waist-bands and in seams of clothing. Whatever the variation, the same thing happens. The searcher is cut while running fingers along those areas without looking first.

By building good habits, both scenarios are very easily prevented. "Look before you touch"!

Corrections.com author Mike Plourde, now retired, is a 31 year veteran of the Michigan Department of Corrections. He has a B.S. degree in Criminal Justice from Northern Michigan University. He has been a Corrections Officer and has held several Corrections Supervisory positions. The ideas and opinions expressed in the above article are those of Mike Plourde alone and should not be attributed to any other entity.
---