Blazing and Training Dynamics
By Joe Bouchard
Published: 12/20/2010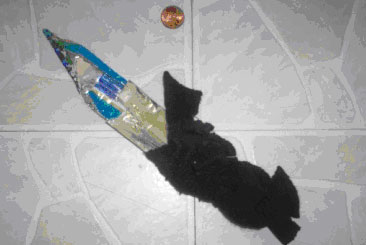 There are some staff dynamics that look uncomfortable to the untrained eye. However, many seemingly contentious exchanges are really the expressions of respect. In other words, this is an instance of professional blazing meant in the best of ways.

One of my favorite out-of-state colleagues recently attended a presentation that I conducted about effective icebreakers and group activities. There were two good dynamics in this for me. First, this colleague is an accomplished trainer and would certainly offer good, constructive suggestions to me at the conclusion. Second, the person in question is my all-time favorite sparring partner. She is an incomparably adept blazer, playful and unyielding.

As a bit of background, whenever she and I meet on a one to one basis, we are quite civil and professional. However, when there is a crowd, one of us will slip the other and cry foul loudly. Those who know us understand that this is our twisted yet endearing manner of interaction. They know that if we are not play-fighting, one of us is ill or deadly tired.

Back to the icebreakers presentation –

In what was an informal train the trainer session, she shot across my bow first as she introduced me. Feigning indignity, I continued in a hurt manner, milking the most out of the persona that I don during these conferences. She set the stage for a playful time. I trust her assessment of audiences and I followed suit.

And now I present the story within the story. One of the icebreakers that I demonstrated was an exercise in impromptu weapons making. I set the scenario: A staff person who is not security conscious loses a tin of breath mints inside the secure perimeter of a facility. I split the class into small groups and together they make a weapon out of the stock haphazardly left by the scenario's incautious staff person. As I made rounds, the participants were instructed to divert me and hide their shank making enterprise.

The four groups were progressing nicely. Each time I approached the group with my sparring partner, I was greeted with fawning conversation meant to dissuade inspection. After what would be my last round, I heard the rapid foot fall against the conference room carpeting. I did not turn, as I suspected that my pal was trying to demoralize me. I should not have ignored her. I felt the sharpness of a skin puncture in my lower back. I was literally stabbed in the back by a colleague – my favorite sparring partner.

(Don't worry, Dear Reader. It was actually just a little poke, not anything to worry about. I barely felt it. Of course, in the spirit of teasing and camaraderie, I did the best acting of my life. I concluded my howls of pain and told all involved that it was really nothing.)

I will mention here that I always bring adhesive bandages to the training. I caution participants to be careful when handling the thin and pliable metal. After all, someone in this session might cut their palm or their phalanges. However, this was the first time that there was an actual puncture wound. How fitting that I would be a victim of my own exercise.

My "stab wound" has long since healed. I now reflect the professional relationship of me and my sparring partner. We were able to have some fun and take the other participants with us because we adhered to a few rules of blazing:

We knew each other's limits;
We did not hit below the belt;
We let the content come through. The reciprocal teasing did not obscure the lesson;
We gauged the audience;
We understood that there was room for play. Not all audiences or venues or topics allow for play;
We showed gestures of friendship as we parted.


I do not mention her name, agency, or rank because of my devotion to absolute professionalism. (You know who you are, T.S.) And let there be no doubt that I very much respect her work. Anytime with a mentor is a fantastic time, even if you incur your first physical wound during training from that person. Still, let there be no doubt that I can't wait to see her at the next conference and engage in rough verbal camaraderie.

Visit the Joe Bouchard page

Other articles by Bouchard:


---