Corrections Reflections: From Bad Dreams to a Good Career
By Joe Bouchard
Published: 02/21/2011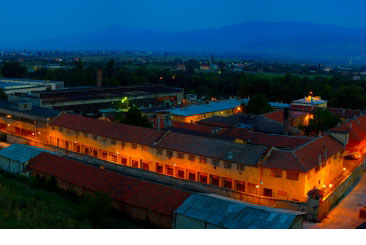 Sometimes I still see it. It only happens at certain nights when I look out the window. Though it is many miles away, it seems to be much closer. Its surreal yellow/orange glow still hovers in like a mystical haze on the horizon. This nebulous illumination is not a setting sun concluding it appearance for the day. Rather, it is "the glow of the prison".

Years ago when I looked at "the glow of the prison" from my back yard, it evoked anxiety and regret. It was an ominous, nocturnal reminder of my new job as a prison librarian. Especially on nights that I just returned from work, I would stare at the glow and fall captive to the relentless parade of negative thoughts.

"Why did I ever apply for this job?"
"I can't do this job. I am not mentally prepared for it"
"I need to find another field."
"This is the worst mistake of my life."


Zooming ahead many years from that point, I can happily report that all of those feelings changed. It is strange how the same vision brings different feelings at various points in one's life.

As you read this, reflect on your beginnings in corrections. How did you feel in your first six months of employment? How did you view the world in your new circumstances? What effects did you experience due to your new vocation?

During my first six months in corrections, insomnia was my constant companion. When I did sleep, scenes from my workday played back in my mind. My subconscious would occasionally try to rectify my missteps from the day. I also dreamed of immense quantities of law books and argumentative prisoners. In essence, I would awake in a very tired state each day. I felt like I worked all night.

I knew that there had to be a change or I would be in a terrible state of mind. I pledged to quit in five years and conclude this vocational episode of my life.

I now like my job very much. It is quite satisfying and keeps me interested. I feel that I contribute to many areas of the facility. I help promote the merits of programs while maintaining a safe atmosphere. I contribute observations to the pool of data which ultimately keeps everyone in the institution secure.

I also feel that I have a voice in the greater world of corrections. Through a series of events and the permission from my chain of command, I find myself wearing additional corrections hats. Professional development opportunities present themselves to me as my career unfolds. I serve not only as a corrections librarian, but also as an author/columnist, adjunct instructor, speaker, and editor. At the risk of sounding like a cliché, corrections is a potential land of opportunities.

I do concede that it is not perfect in all ways. Of course, there is no Utopian ideal in the work world. In all walks of life, coping with one's job is really a matter of adopting an attitude of positive realism.

The uncomfortable start to my career did not magically change into complete satisfaction overnight. And it would make for a dramatically interesting essay if I could pinpoint the exact moment that I felt vested in the profession. I cannot do that, unfortunately.

The change was gradual. My trepidation melted in small, imperceptible increments. It was not an instant revelation. After six months or so, it seemed that I dreaded going to work less than the day before.

In retrospect, I think these are some of the factors that facilitated the change.

Acclamation – We can withstand extreme temperatures by becoming used to them. That is the same principle of working in a prison. One simply gets used to it.
Building on little successes – As I became acclimated to the environment, I also became familiar with my daily tasks. It was gratifying to modify my mode of operation into a more efficient manner. Little successes like those build a base of confidence.
Mentors – It pays to have positive vocational role models. I learned many corrections lessons through the stories of my many mentors. These were not only programs mentors. I also benefited from the wisdom and guidance of custody and administrative staff.
Perspective – As time went on, whenever I felt the pull of negativity, I thought of the larger scheme. One's own challenges pale in comparison with the problems of corrections, the criminal justice system, and society. It was also useful to consider the positive changes that I could make in my little corner of corrections.
Reality – I learned that some days are destined to be horrible. Nothing goes well. No strategies to defuse a volatile situation seem to work. It is, in short, the day from hell. Realistically, we need these sorts of day in order to gauge what is ordinary and what is excellent. Reality checks are sobering and useful.
Decompress – Divert your mind from the profession during time away from the facility. Find meaningful hobbies. A satisfying avocation can facilitate a rewarding vocation. Strike a balance between work life and life away from work.


Every corrections professional has a dangerous job. Unfortunately, corrections is not regarded by others with the respect that it is due. However, it can be quite rewarding. It is simply a matter of rethinking your perspective and taking advantage of professional development and mentors in their many forms.

Visit the Joe Bouchard page

Other articles by Bouchard:


---