Preparedness and Hypotheticals
By Joe Bouchard
Published: 03/21/2011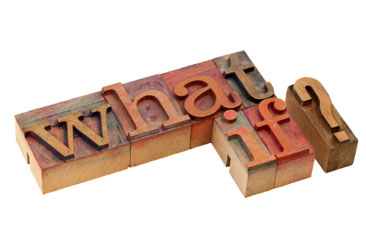 I once heard a curious phrase. "Step on a bug and destroy a civilization." I do not know of its specific origins, though it does have a science fiction feel to it. Regardless, it poses an interesting scenario. What if we were able to go back in time? Could we alter the course of history by changing a small detail such as inadvertently stepping on a bug? The results of one action can result in a vastly different future.

Some scenarios are more entertaining than practical. Still, we benefit by playing the game of "What if…?"

In essence, "What if…?" is the act of planning ahead. Just as on the baseball field, if a ground ball is hit to you, the next move should be mapped out in your mind. Similarly, if you are blocked in a corner by assaultive offenders, you should be aware of the location of exits and back up before you are trapped.

"What if…?" gives us an opportunity to think about the worst case scenarios and react as best as possible. In other words, our mental exercises can help us plan to mitigate peril when it actually comes.

Here are some thoughts about the game of "What if…?":

Think in terms of very difficult dilemmas. For example, suppose a fight in the kitchen were called. Then a duress in the school were announced. Which do you attend? What do your post orders say relative to this? Will momentum or intuition override policy and training?
Some staff believe that "What if…?" is an exercise in futility. They contend that you can work yourself into a frenzy by over-thinking any situation. In answer to that, this is where the age-old notion of balance enters. The ultimate goal is to prepare in the event of dire situations. One needs to strike a balance between the rigidity of over-preparedness and the paralysis of under-preparedness. The mindset that comes with hypotheticals should assess some details, not obsess over all of them.
Some contend that such dire situations have never happened here before. They reason that it is therefore not likely to happen at all. One can grant that it may be true. But I believe that "What if…?" is especially necessary if the event never happened before. For example, what you learn in knife defense class may never be utilized. Another example of "can't happen here" is found in one of the worst fears of corrections staff- the escape. Most facilities have not experiences a serious escape. Even if it never happens, it is good to have the practice. By having the training and the information, we have a source of solace. It is a comfort to know what can be done in case of emergency. The preparation is like having a shovel in your trunk in case you are snowed in. It is hoped that you never will use the shovel. But having it hand is a comfort in case of need.
Preparedness helps to stave off complacency. And it is like athletes visualizing before a game. We can play scenes in our head for the eventual benefit of facility safety.
"What if…?" does not just have to happen on an individual basis. It can be found in training. A large scale version of this occurs in West Virginia each year in the mock riot training exercises.
Scenarios can be practiced and modified for better training. Even if the same scenario is employed, this gives the players a chance to improve on a past occurrence.


Suppose that you went back in time and accidentally killed your grandfather before helped produce one of your parents. Would you blink out of existence as he died? This is only academic, no matter how intriguing. Still, mental exercises benefit our imaginative side, even if they do not seem to connect directly to corrections. Of course, our scenarios are more practical and realistic. And nothing complements training for the worst than a good game of "What if…?"

Visit the Joe Bouchard page

Other articles by Bouchard:


---