RI DOC - Dangerous Drivers Program
By Tracey E. Zeckhausen , Chief of Information & Public Relations Rhode Island Department of Corrections
Published: 03/31/2011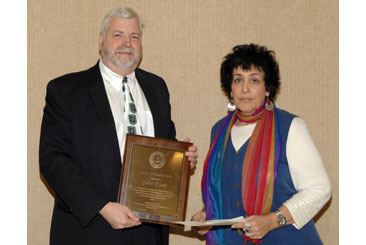 Cranston, RI – March 30, 2011 - About seven years ago, two inmates approached Department of Corrections Clinical Social Worker Judi Tassel upset because they hadn't gotten into her 6-month Cognitive Self Change for Violence group. Both were incarcerated for a driving offense, however, and Judi didn't feel they fit the parameters for that class. Both had completed the Spectrum drug treatment program and were finding limited additional programming to address their particular needs. That's when Judi decided to begin offering the 6-month Dangerous Drivers Program she has now taught seven or eight times.

Approximately eight male offenders doing time for DUI or Reckless Driving offenses sit around a table in the Education Wing of the John J. Moran Medium Security Facility for a few hours each Tuesday and Thursday afternoons. Sometimes there are guest speakers like Dr. Ken Walker, head of the Parole Board. Each week participants are expected to talk about their situation in more detail.

Nick, an athlete in high school, had the opportunity to go overseas through the military, attended college, and was planning on going into the healthcare field. He took his best friend out to celebrate his birthday and his life changed forever. During the crash that occurred as they were leaving a club that night, Nick lost his leg, his best friend, and his freedom. He spent three months in the hospital and seven weeks in a coma. In court, Nick had to listen to the son of his victim, who was six at the time, talk about what a monster he was for taking away his only father. Nick's classmates listen to his story and ask questions about how he felt at certain times during the aftermath of the accident.

The topics covered during the Dangerous Drivers Group include: contributing factors of sentencing; involvement with substance abuse treatment; the purpose and role of prison; responsibility, denial, is this a crime or an "accident" the "blame game"; what do you know about your victims?; letter to victim(s); letter to survivors; recovering and forgiveness, attitudes about authority, effects of crime, do you have a substance abuse problem?, lessons learned and can you give back; relapse prevention and decision making; and managing anger, resentment and loss.

Some of the students who complete the Dangerous Drivers Program go on to speak on the Zero Fatalities Project panel. Zero Fatalities is a DUI-awareness program for high schoolers launched in April 2008 in partnership with the Attorney General's Office, the Police Chiefs Association, MADD-RI, the Rhode Island State Police, the Department of Transportation, and Rhode Island Family Court. It is offered on Wednesday mornings throughout the academic year.

Judi Tassel was the recipient of the 2010 John J. Moran Award, presented at the annual employee awards ceremony in February of this year. The award honors a staff member from the Division of Rehabilitative Services who exemplifies helping others to achieve their maximum potential on a daily basis. Some of the qualities expected of the recipient of this award include outstanding work performance, dedication, alertness, good communication skills, and the ability to motivate other staff members.


---