Former Inmates Thrive at Rutgers, Remember Their Roots
By PIO, NJ DOC, Matt Schuman
Published: 08/22/2011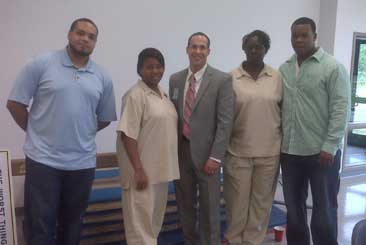 Once upon a time, Walter Fortson worked in a kitchen at Mountainview Youth Correctional Facility in Annandale, N.J., where he was part of the inmate population. These days, Fortson works in a laboratory at Rutgers University, assisting a graduate student as she works toward her Ph.D.

"Last week, I was doing MRIs on mice," said Fortson, an Exercise Science and Sports Studies major, with a minor in Psychology.

Fortson, who aspires to work as a professor and a researcher, is enrolled in two honors programs and carries a 3.92 grade-point average.

On this day, Fortson is seated at a table in a conference room on the Rutgers campus in New Brunswick, N.J. He is joined by several others who have made the transition from state-sentenced inmate to Rutgers student.

Seated to Fortson's immediate left is Regina Diamond, a one-time inmate at Edna Mahan Correctional Facility for Women in Clinton, N.J.

"I feel I belong here at Rutgers, and every day I try to prove it," said Diamond, a Social Work major with a perfect 4.0 GPA.

Through an initiative dubbed the Mountainview Project, a former New Jersey Department of Corrections inmate was admitted to Rutgers in the fall of 2005. The following year, six more ex-offenders went to Rutgers through the project. By the time the Fall 2011 semester begins, the number will have swelled to 35, including Fortson, Diamond and three ex-inmates who have completed their undergraduate requirements and graduated from the university.

"For those individuals who had been incarcerated, this opportunity becomes very precious," said Dr. Donald Roden, member of the Rutgers faculty and the driving force behind the Mountainview Project. "The vast majority are very serious students. They understand how this experience can avail them to possibilities that would have been there for them before."

Roden began volunteering at Mountainview Youth Correctional Facility back in 2002. Shortly after he learned about Project Inside – which enables inmates who meet a certain set of prerequisites to take community college classes – he began to formulate a proposal that would enable the best Project Inside students and selected others to attend Rutgers upon release.

"While I was incarcerated, I knew education was definitely something I wanted to pursue," said Amy Rodriguez, who is studying Information Technology as well as Women and Gender Studies and is carrying a 3.5 GPA.

"Realistically, I didn't think Rutgers was a possibility," she added, "but Dr. Roden made it possible."

The other seated around the table nodded in agreement.

"I never really took school seriously, but going to prison made me realize I had to do something different than what I had been doing," said Jonathan Wewer, whose double majors are Sociology and Information Technology. "I actually got into trouble while I was incarcerated, and that's when I decided that as soon as I got out of lockup, I was going to sign up for whatever educational programs were available. I started working as an aide to a teacher, and she introduced me to Dr. Roden.

"Once Dr. Roden showed me the way, my entire outlook changed. From that point on, any time I had a problem, I'd think about the future and how I didn't want to mess up and maybe cost myself a chance to go to Rutgers."

The former inmates, who are generally in their 20s and 30s, are undaunted by the difference in age between them and the overwhelming majority of their classmates at Rutgers.

"It just heightens my desire to be successful," the 33-year-old Diamond related. "I see how a lot of the younger students don't care as much or study as hard as I do. For them, it's easy to get distracted, just like I did when I was younger. But after where I've been, I'm so grateful for this opportunity that it's not difficult for me to stay focused."

When Rodriguez, 32, hears her teenage classmates sharing the details of all-night parties and other assorted escapades, she finds herself chuckling. She said: "I'm thinking, 'Been there, done that. In fact, been there, done more than that.'"

Furthermore, as Fortson noted, unlike most of the student body, the former inmates are responsible for more than themselves. Their behavior is a reflection on the Mountainview Project and everyone associated with it.

"We try to uphold a standard of integrity," he said. "We understand it could take only one on-campus slip-up for the program to be abolished. That's why each of us has a sense of ownership in the program."

Many also have a sense of ownership in Project PRIDE (Promoting Responsibility in Drug Education), an NJDOC program through which minimum-custody inmates visit young people in schools or community settings to discuss the decisions that led them to incarceration. The vast majority of those in the Mountainview Project are Project PRIDE alumni.

Beginning in mid-June, a group of Rutgers students added a new element to Project PRIDE through their involvement. During a program in East Brunswick, N.J., the Project PRIDE inmates were joined by Fortson and fellow Mountainview Project member Raymond Cheley, both of whom made presentations of their own. A few days later in Hoboken, N.J., Cheley was joined by Diamond and Rodriguez at a Project PRIDE event.

A new tradition was born.

"Nobody could have envisioned that we'd reach this point," said Michael Ritter, Project PRIDE coordinator since 1999. "Here are people who were in PRIDE and are no longer incarcerated, yet they continue to give back to the program and make a positive difference. Not only was it wonderful for the students, but it was terrific for the presenters to see former presenters who have become success stories and continue to maintain a connection to the program.

"The Rutgers students have such a powerful message," Ritter continued. "They say that even though they're proud of where they are and that they're doing so well, they still have a criminal record. That's something that will always be there."

The students from Rutgers also had a message for Ritter.

"They told me that while they were incarcerated, PRIDE provided one of the few opportunities they had to feel good about themselves," he reported. "That means a lot to me and everyone else associated with Project PRIDE, especially coming from men and women who now have such promising futures. There was a time in their lives when they made the wrong choices. Now they're making the right choices, and it's paying off big-time."

The Mountainview Project participants reported that they reflect on the importance of the decision-making process on a regular basis.

"My family members always tell me that they knew I had the potential," Rodriguez said. "They're just happy I'm reaching it now."

Added Wewer: "Now that I'm a responsible person – abiding by the rules, going to school – I feel like people look at me differently. I recently went to visit my sister in upstate New York. I brought her and her kids a bunch of Rutgers shirts. They were all really excited, and my sister told her kids to wear the shirts to school and to tell everyone that their uncle goes to Rutgers. For her to look at me in that light, compared to the way she used to look at me, it was so cool."

Editor's note: Matt Schuman is the public information officer for the New Jersey Department of Corrections.
---