NC DOC Takes Action in the Eye of Hurricane Irene
By Pamela Walker
Published: 09/19/2011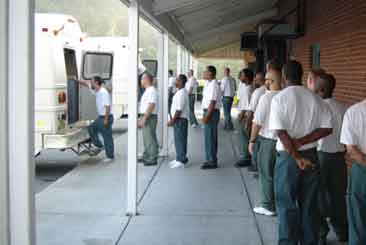 The Department of Correction manages inmate transfers statewide on a daily basis, but rarely does it have to empty three prisons with nearly 1,900 inmates in just a couple of days. Hurricane Irene forced the department to do just that and one of those evacuations was completed in the middle of the hurricane.

That awesome task was carried out by a number of department employees-- too many to count or name. But their incredible organization, teamwork and cool heads resulted in every one of those inmates being moved safely, securely and without incident.

On Thursday, two days before the eye of Hurricane Irene was expected on the coast, the Division of Prisons (DOP) set up three command posts in anticipation of the hurricane and to prepare for anything to come. First the decision was made to evacuate Hyde Correctional Institution, a medium security facility in Swan Quarter, and Tyrrell Correctional Center, a minimum security facility in Columbia. Both appeared to be in the path of the storm and based on flooding and structural concerns, prison and local emergency managers determined the evacuations were the right thing to do.

By the next day, buses from as far as Charlotte and Scotland County were on the road with Prison Emergency Response Team (PERT) members mobilized to provide security. Correction Enterprises and Central Warehouse trucks were enroute to pick up mattresses for the inmates to sleep on; prison managers that would be receiving inmates were notified; additional staff were scheduled; and all evacuating inmates had their belongings inventoried and medical evaluations completed.

Saturday morning, Hurricane Irene was just arriving on the North Carolina coast. The winds were whipping around Pamlico Correctional Institution, a medium security prison in Bayboro with more than 500 inmates, and the torrential rains started pouring down. Irene's winds ripped at the prison's roof eventually peeling it back, piece by piece. That afternoon, when the roof started leaking in one housing area, the superintendent and her staff started moving inmates to other parts of the prison. Soon the water started leaking in more places.

A team of maintenance supervisors deployed to see if anything could be done. They knew that the only two roads leading into the prison were flooded and downed trees blocked many nearby roads. Armed with chain saws, road maps and a sheer will to get there, the team made their way to the prison in about four hours -- normally a hour and a half trip. It did not take long for them to recommend that this prison, too, needed to be evacuated.

Department managers concurred, but the decision was not made lightly. While managers knew they had to do something for the staff and inmates at Pamlico, another major concern was putting bus drivers and other staff on the roads in the middle of a hurricane with strong winds and torrential rain. It was not easy to ask them to go to work while leaving their families at home, but most understood the important job they had to do. Complicating matters was the fact that much of the eastern part of the state had no power. There would be no streetlights or traffic signals to help them navigate through the debris and downed trees that they would likely encounter.

When the decision was confirmed, the command centers jumped into action again with even more urgency because everyone was concerned for the staff and the inmates as Irene continued her path of destruction. Everyone involved knew many tasks needed to be completed. An incredible amount of logistical work had to be completed quickly and efficiently. They identified space at other facilities; notified the managers at those prisons to be ready to house, feed, and secure more inmates; and mobilized more buses, drivers and PERT members.

Back at Pamlico, without power, phones and with only intermittent cell phone service, they prepared the inmates for a long trip. They relied on emergency lights operated by generator or plugged into buses equipped with power outlets. The inmates' belongings were inventoried; medical jackets were reviewed; and correctional staff kept the inmates under control as they anxiously awaited bus rides to their new assignments.

All the inmates were transported safely to their new locations within 12-to-14 hours. All of this was done in consultation with Emergency Management and the Highway Patrol, but it was completed by DOC employees without having to pull additional resources from the emergency responders who were already very busy with the storm. The very large, multi-faceted team of Department of Correction employees should be commended for an incredible job well done!

Corrections.com author Pamela Walker has been the Director of External Affairs for the NC Department of Correction since March 2010 and oversees the agency's external communications sections including public affairs, state and federal legislative affairs and victim services. From January 2006 to March 2010, Walker served as director of corporate communications at the North Carolina Education Lottery. From 2001 to 2005 she was the public affairs director for the Department of Correction. A Charlotte native, Walker holds a bachelor's degree in speech communication from the University of North Carolina at Wilmington.
---