Care for the Delusional & the Delirious Geriatric Prisoner
By Carl ToersBijns, former deputy warden, ASPC Eyman, Florence AZ
Published: 01/23/2012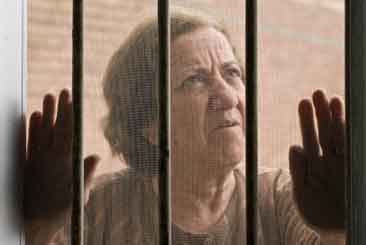 Everyone who has worked inside a prison has noticed several things that are impacting their ability to work effectively and supervising the geriatric prisoners inside the joint as their numbers are becoming larger and larger putting more burdens on staff and space to treat them some with round-the-clock care. They have seen a growth in the numbers of the elderly in wheelchairs, the number of transports for dialysis, the space modifications for American Disability Act (ADA) compliance and with mandatory sentences and stringent parole terms, this is translated into more people dying in prison due to "natural causes" as their needs are taxing the systems with excessive costs in treatment, medication and after-care that is very expensive. (1)

Looking at the demographics of our prison system it is highly likely that we are turning the corner on having a prison population that is rapidly getting old and in need of special care that most prison systems are not yet prepared for in the area of diagnosing the symptoms and then the follow treatment for elderly persons with dementia and other disabilities that include a real disconnect from reality and ability to cope and function within a general prison setting without help.

"Deinstitutionalization is the name given to the policy of moving severely mentally ill people out of large state institutions and then closing part or all of those institutions; it has been a major contributing factor to the mental illness crisis…[inside prisons]. Most of those who were deinstitutionalized from the nation's public psychiatric hospitals were severely mentally ill. Between 50 and 60 percent of them were diagnosed with schizophrenia. Another 10 to 15 percent were diagnosed with manic-depressive illness and severe depression. An additional 10 to 15 percent were diagnosed with organic brain diseases -- epilepsy, strokes, Alzheimer's disease, and brain damage secondary to trauma. The remaining individuals residing in public psychiatric hospitals had conditions such as mental retardation with psychosis, autism and other psychiatric disorders of childhood, and alcoholism and drug addiction with concurrent brain damage. The fact that most deinstitutionalized people suffer from various forms of brain dysfunction was not as well understood when the policy of deinstitutionalization got under way." (2)

The mixing of the psychotic population that has resulted in approximately 41 % of the prison population being severely mentally ill and in need of treatment coupled with the growing number of elderly prisoners has put a severe strain on the caregivers inside our prisons as well as inside our communities and nursing homes. It is logical to explain that some of these "natural deaths" were results of delayed treatment decisions based on funding, staffing available and space for keeping them where medical standards could be met.

Their presence or their prevalence in relation to dementia has not yet been fully disclosed but it is reasonable that if the patterns of diagnosis in accordance to the established Diagnostic and Statistical Manual of Mental Disorders (Third Edition, DSM-III-R) criteria we are in for a heavy burden of taking care of this matter in a most complex manner as some of these diseases or disorders are associated with other related disorders that further burden the medical and psychological staff with the obligation to take care of all diagnosed and in need of treatment and special housing. (3)

For example, many in corrections, other than doctors and nurses, are unaware of the associated illnesses or causes associated with dementia such as Alzheimer Disease and other hallucinations or delusions symptoms that are in fact psychotic in nature and in need for treatment. It is fair to say that this matter has not yet reached the point of being critical thus no advance or future preparations are made to deal with this matter until the time comes when the prison administrators are overwhelmed with this concern and strategize plans to address this critical component of medical and mental health treatment. It appears the first challenge would be to differentiate the difference between "actual and premorbid intelligence" or in laymen terms, making a distinction between dementia and other psychiatric symptoms such as depression. (3)

Prison officials need to take the time in their planning to take into account these special needs and decide whether these men and women are going to be treated inside a prison or released on sound supervised parole to the communities where other caregivers can take over the task and lessen the burden of the correctional systems and avoid untimely and unexpected deaths because of delays or unavailability of services where the prisoner is being housed.

For many states such as Arizona, it means listening to the alternative sentencing advocates such as State Representative Cecil Ash who has proposed a sentencing commission to begin the process for the state to look at alternative sentencing and easing parole requirements to begin this transition from the prisons back to the community for those individuals who would benefit from such community programs rather than rotting inside a prison and dying there without the proper care or sufficient resources to avoid prolonged suffering and pain or discomfort because of their illnesses. (4)

Source:

Psychotic Symptoms in a Population-Based Sample of 85-Year-Old Individuals With Dementia J
Geriatric Psychiatry Neurol, March 2011; vol. 24, 1: pp. 3-8., first published on July 2, 2010
http://www.cecilash.com/Issues.html - http://www.cecilash.com/uploads/Hessick_et_al__Sentencing_in_Arizona.doc


Editor's note: Carl ToersBijns (retired), worked in corrections for over 25 yrs He held positions of a Correctional Officer I, II, III [Captain] Chief of Security Mental Health Treatment Center – Program Director – Associate Warden - Deputy Warden of Administration & Operations. Carl's prison philosophy is all about the safety of the public, staff and inmates, "I believe my strongest quality is that I create strategies that are practical, functional and cost effective."
Other articles by ToersBijns:
---