The Floors Are Now "Spotless….Hospital Clean"
By Dawn Shoemaker
Published: 03/19/2012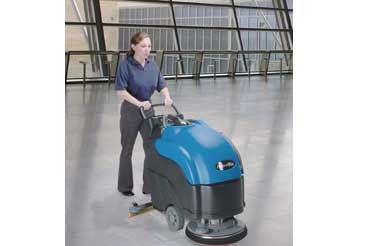 Correctional facilities around the country are adjusting to overcrowding and budget cuts as best they can. In many locations, facility maintenance—especially when it comes to floor care—has really suffered. A good example of this was the Hays County (Texas) jail. One observer indicated it was "blanketed with mold and mildew" due to a variety of cleaning and maintenance problems and even failed two state inspections in 2009.

However, today that has changed and changed significantly. The same observer says the floors are now "spotless….hospital clean." This was not accomplished by contracting with professional cleaning companies to clean the facility. Instead, it was accomplished through a new voluntary program designed by Sheriff Gary Cutler, allowing certain inmates to help spruce up their correctional facilities in exchange for a reduction in their sentences.

Not only do they clean and maintain floors, but inmates also clean the facilities' commissary, trim trees outside, paint walls, and even wash prison vehicles. The program seems to be working out very well, both for the inmates, many of whom would rather work than be kept in their cells, and for the correctional facilities, which are seeing significant cost savings.

But when you turn over some cleaning and maintenance duties to inmates, cleaning-related problems can arise. This is especially true when it comes to floor care. Sheriff Cutler, like many sheriffs, wants the jail's floors to always be clean and shiny, a symbol of the success of his program. But very often, even with the best of intentions, floor care equipment, and chemicals, problems do arise. To help us understand some of these problems, we have asked Mike Englund, a veteran of the professional cleaning industry and product manager for Powr-Flite, a leading manufacturer of floor-care equipment, to answer some floor-care questions and provide some quick and easy pointers on how administrators can help keep their floors clean, shiny, safe, and healthy.

Mike, is there one mistake you see over and over when it comes to floor maintenance?

One mistake that is surprisingly common is not designating certain mops as "finish mops," meaning they are to be used only for applying finish to floors, and other mops for applying stripper, cleaning chemicals, and so on. Always keep the mops separate and keep them clean. These mops should be laundered and replaced regularly.

Another suggestion is to try to use all floor-care chemicals—cleaners, stripers, glosses, and so forth—from the same manufacturer. Many chemical manufacturers formulate their products to work together, as part of a system, and they work best when they are all used together.

Because jails and prisons are 24-hour facilities, they need refinished floors to dry as fast as possible. Are there ways to speed up the drying times?

Each coat of finish, and you should apply three to five thin coats, is going to take about 30 minutes to dry. There is really not much you can do about that but to block off the work area and select times when those areas are least used. However, you can place air movers (directional fans) over the area and this can help. Just make sure that the air's direction is over the floor, not on the floor. Pointing air at the floor can cause what are termed "fish eyes" or blemishes on the floor. Also, do not point the air movers at air ducts, for it can cause dust to fall on the floor.

Some correctional administrators report that their finish "powders" after refinishing. What is this and how can it be prevented?

Powdering is when the finish begins to "powder" and form a fine, light colored film on the floor's surface. This can happen if different types of finish, often from different manufacturers, have been used when refinishing the floor. Always use the same finish from the same manufacturer. Also, and this is more common than you might think, powdering can happen when a high-speed burnisher has been used to polish floors coated with a low-speed finish. Make sure the finish selected is designed for the type of machine that will be used to polish the floors. If you are having a powdering problem, it sometimes can be corrected by scrubbing the floor and then refinishing it; in a worst-case scenario, the floor will have to be stripped and refinished.

Even after several coats of finish have been applied, some floors have a dull appearance. Why is this?

As mentioned earlier, always apply thin coats of finish. This produces the best shine. However, sometimes a dull appearance occurs because the floor was not properly cleaned or rinsed before finish was applied. Or possibly, soiled mops or buckets were used. Always line the bucket with a plastic liner. This helps keep the finish free of contaminants and makes cleanup easier as well.

Some floors seem to get scratched and scuffed up shortly after refinishing. Is there a way to prevent this?

This can happen if the finish was applied too thick or, just the opposite, there were too few coats of finish applied too thin. However, in most cases, this can be corrected by simply machine buffing/burnishing the floors on a regular basis. This helps remove the scratches and scuffs and restores the shine.

Do you have any suggestions on the types of floor machines to use?

First, select equipment from a reputable dealer. Some manufacturers have been around for decades. They have managed this because they are producing a solid product that performs well, and lasts. However, selecting an automatic scrubber can be a bit complex. The technology is evolving and administrators should look for machines with the following more-advanced features:

Some machines are now "eco-friendly," meaning they use less chemical and water than older machines. In today's environmentally focused cleaning world, these machines should be given consideration.
Look for machines with an effective squeegee system to help remove moisture and speed drying.
Because cleaning workers, or in this case inmates, come in all shapes and sizes, look for an ergonomic machine; this is a machine designed to fit the worker, and not the other way around.
Some newer scrubbers are much quieter than older machines. Noise can cause fatigue and a variety of problems in a 24-hour environment. Some newer scrubbers are surprisingly quiet.


Finally, Englund also offers correctional administrators the following advice when it comes to training inmates to care for floors:

Most importantly, training is a must. Proper floor care is a science; it is a skill that is learned, and this is not only to ensure that the work is done correctly, but safely as well. Designate an area in the correctional facility as a training area. Let inmates learn the necessary skills here and not in the prison common areas. This can save a lot of time and money and protect the safety of everyone in the facility.

Dawn Shoemaker is a writer for the professional cleaning industry. She may be reached at info@alturasolutions.com
---