Safer Disinfectant Alternatives - Moving Towards Green
By Mike Sawchuk, Vice President and General Manager of Enviro-Solutions
Published: 01/23/2012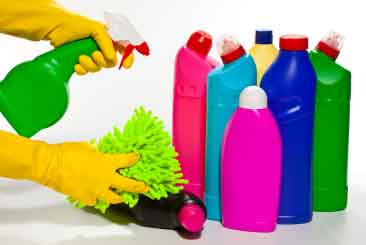 Recently, a U.S. prison administrator had a cleaning dilemma. For years, the prison used bleach and ammonia—hopefully, not together—as disinfectants for floors, surfaces, and fixtures.* However, the administrator was interested in switching to a solution that is less corrosive, less toxic, less of a respiratory irritant to staff and inmates, more environmentally friendly, and yet still effective.

My first suggestion was to stop using bleach or ammonia, unless absolutely necessary. These products have served us well and have proven very beneficial in killing harmful germs and bacteria. But, when used in a facility on a regular basis, their negative human and environmental impact is just too significant to warrant extensive use. Furthermore, there are healthier and effective alternatives available.

Because this is a U.S. facility, I also advised the prison administrator to use an EPA-registered disinfectant approved for hospital use in place of the bleach and ammonia. Manufacturers submit disinfectants for evaluation and registration to the Environmental Protection Agency (EPA). The manufacturer is required to include current efficacy data to prove that the product, when properly diluted and used according to the manufacturer's recommendations, does indeed kill all the microorganisms claimed on its label and marketing material. If the product is approved, the EPA assigns it a registration number, which must be displayed on the product's container.

Typically only medical facilities—and just in specified areas, such as operating rooms—are required by law to use EPA-registered hospital-use disinfectants. However, in a crowded prison facility, a disinfectant should be considered as part of the cleaning products and procedures, especially in showers, restrooms, and other high touch areas. A prison's high touch areas include railings, ledges, tops of chairs, and any surface that many inmates touch during the course of the day.

But, we must keep in mind that while a properly mixed and used registered disinfectant will likely be less corrosive with less negative human and environmental impact than bleach or ammonia, disinfectants are still very powerful cleaning agents. They can cause harm to the user, building occupants, and the environment, which is why the signal words "danger," "warning," or "caution" are typically found on their labels. (See Sidebar: What Are Signal Words?)

In fact, according to the EPA, disinfectants are considered pesticides, which are commonly used to kill insects and rodents. This is also why they are tested and evaluated under the Federal Insecticide, Fungicide, and Rodenticide Act (FIFRA). This begs the question: is there a safer alternative for correctional facilities than bleach, ammonia, and some conventional disinfectants?

Searching for a Safer Disinfectant

In the United States, the EPA will not allow a chemical manufacturer to claim or market a Green disinfectant.** As a result, there is a conflict of interest for many facilities, such as prisons, medical locations, schools, offices, and so on, that want to operate in a healthier, more environmentally preferable manner and still use effective disinfectants. Fortunately, there are steps administrators can take to at least reduce the potentially harmful impacts of disinfectants, including the following.

Limit the use of disinfectants. One problem we have identified, especially in medical facilities, is that custodial workers tend to overuse disinfectants in far more areas than legally required. Their use should be limited to just the areas mentioned earlier, only when necessary and appropriate.

Clean first, then disinfect. Always clean surfaces first and then disinfect. Unless the disinfectant is a cleaner and disinfectant, a two-step cleaning process is necessary and helps make sure the disinfectant is used properly and most efficiently.

Select safer disinfectants. Not all disinfectants are alike. Some have a reduced impact on the user and environment because they are non-alkaline, have a neutral pH, and contain no NPE. Nonylphenol ethoxylates (NPEs) are often used in industrial cleaners and some disinfectants. They have the potential to be acutely and chronically toxic and, if NPEs enter waterways, harmful to aquatic life.

Look for disinfectants that have fewer VOCs. Some manufacturers have developed effective disinfectants that have little or no volatile organic compounds (VOCs). VOCs are found in many products, including cleaning chemicals, and when inhaled can have adverse health impacts on the user as well as building occupants.

Look for disinfectants with a high PPM. The greater the PPM (parts per million) the better. Quality disinfectants should be greater than 600 PPM.

Select disinfectants based on specific "kill claims" and broadness of kill claims.

Is the particular pathogens you are concerned about listed on the label of the product as one it kills? How broad are the kill claims?

Incorporate more effective cleaning systems. To kill bacteria and germs, administrators and custodial workers often select more powerful chemicals and disinfectants. Instead, safer cleaning products, systems, and methods should be selected, which are effective without as great a negative human or environmental impact. For instance, studies indicate microfiber is more effective at removing contaminants than traditional mops and cleaning cloths. Additionally, high-pressure indoor cleaning systems, often referred to as no-touch cleaning, have proven effective at removing contaminants without powerful disinfectants and cleaning agents.

Working with a Walking Cleaning Encyclopedia

A final suggestion, which applies to disinfectants but can also relate to the general cleaning and maintenance of correctional facilities, is to work with an astute, knowledgeable janitorial distributor...preferably one that is well educated about Green cleaning products and procedures. Just as with other purchasing decisions, many administrators are now going online to buy cleaning products, tools, and equipment. However, for administrators who are looking for an effective disinfectant or any cleaning agent that has the potential to be harmful to staff or inmate health, Internet shopping is not recommended for these products. In fact, online product selection may prove to be a costly trial-and-error venture.

A well-informed distributor is an invaluable resource when looking for effective, healthier cleaning alternatives. Administrators should view them as walking cleaning encyclopedias in tackling all kinds of cleaning challenges, including disinfection control.

Corrections.com author, Mike Sawchuk, has been involved with the Green and professional cleaning industries for more than 15 years. He is currently Vice President and General Manager of Enviro-Solutions, a leading manufacturer of proven-Green cleaning chemicals based in Ontario, Canada.

Sidebar: What Are Signal Words?

Some prison administrators may not realize, but the words "danger," "warning," and "caution" serve distinct purposes, especially when found on the labels of disinfectants and cleaning chemicals. They are considered signal words based on how much of the product could kill or seriously harm a person by ingestion, skin contact, or inhalation. In terms of hazard levels, "danger" indicates the highest risk, followed by "warning," and then "caution."

* Mixing bleach and ammonia produces what was called "Mustard Gas" in World War I and it can cause death.

** The EPA is reviewing this position and may allow manufacturers to place a Green label on their disinfectants if they so qualify. However, no definite determination has been made yet.
---