Inmate Braille Program to Help the Blind Enters its 10th Year
By Machak, Public Affairs Manager, Corrections Corporation of America
Published: 03/05/2012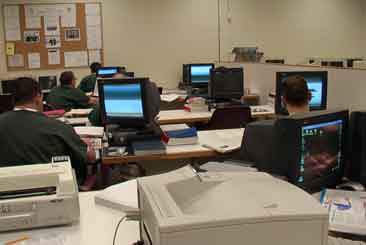 Marshall Bautista has a big vision that's getting even bigger.

He wants to help train inmates at Idaho Correctional Center (ICC) in Braille, the unique language that makes life better for the approximately 1.3 million people without vision, and see the inmates go onto to use their new skills for employment when it's time to return to society.

He is facility coordinator for the Braille Transcription Center at ICC. This year, the program celebrates its tenth anniversary.

"Inmates who participate in the program come from throughout the resident population," Bautista says. "To get started, you have to show interest. An inmate usually approaches someone already working. If the person is serious, his daily activity is observed and history reviewed."

Enter CCA's ICC.

From small beginnings in 2002, with 18 projects totaling more than 3,200 pages, the center has grown to nearly 2,000 projects, which collectively encompass more than half a million pages—565,000 pages to be exact—of transcripts converted for use by the visually impaired.

But it's not just the visually impaired who benefit from this program. The inmates who conduct the transcription are also changed for the better.

"People gain pride and accomplishment that helps effective rehabilitation," Bautista says. "They also learn a valuable trade, which can help them find fulfilling employment after they are released."

Learning to transcribe is like learning a new language. It is quite an accomplishment for a resident to master the process. As the individual progresses through 34 chapters of work, less assistance is provided. Independence is the goal. The process can take up to a year to complete. Once lessons are completed, the individual's final exam is a several page manuscript, which is then submitted to the National Library Service for the Blind and Physically Handicapped (NLS) for approval. If the candidate does not pass, after a waiting period, he may try again.

ICC transcription projects include Braille versions of the Idaho Standard Achievement Test (ISAT) for the Idaho State Board of Education and book transcriptions for the American Printing House for the Blind (APH). Recipients of the completed projects have included the University of Miami Medical Campus, Boise State University, Vanguard University of Southern California, and the College of Southern Idaho.

"Our program also covers music transcription," Bautista says. "We've had a project for the Library of Congress. We transcribed Handel's MESSIAH into Braille music code."

Another example from the world of music, he said, was Chopin's Rondo, Opus 16. The music had been requested by a blind music teacher whose student, with very little time available, was learning the piece as part of an entrance exam for further music study. The transcription was completed; the student learned the piece and was accepted at an internationally renowned music conservatory.

Today, ICC's program is one of 39 Prison Braille Programs in 29 states operating in both state and federal institutions in the United States. The Library of Congress certifies those who complete the ICC Braille transcription program. This certification provides them with new job skills to assist them with obtaining employment once they are released to the community. A Braille transcriptionist can earn as much as $14 per hour or more working for Braille publishers.

"At ICC, we serve the state government by helping it to meet core correctional goals and deliver services at meaningful cost savings to the taxpayer," Warden Tim Engler says. "We also provide programming and rehabilitation opportunities to inmates who, armed with new skills, can enter the mainstream job market with a genuine chance at finding gainful employment."

The ICC transcription center is such a project, now tested for over a decade. The program continues to generate new possibilities to benefit the visually impaired and inmates.

"Imagine a moment," says Marshall, "when a blind mother can read out loud to her son or daughter, or the first time a blind child can read back. It feels great to know that this kind of moment is actually taking place and that it might well be courtesy of inmates at ICC."

At ICC, a big vision continues to grow.


---