America's Finest: Flexes Law Enforcement Muscle for Charity
By Michael Davi, Leader Enterprises, Inc.
Published: 04/09/2012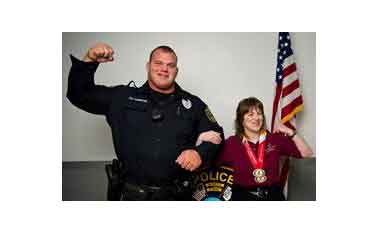 Unique Strength Competition Debuts in May and Showcases the Muscle of American Law Enforcement, While Raising Money for Special Olympics

America's Strongest Cop, a national competition testing the physical strength and cardio abilities of full-time law enforcement officers, will debut in May of this year with a series of regional competitions, culminating in a finals event to crown America's strongest law enforcement professionals. America's Strongest Cop has designated the Law Enforcement Torch Run for Special Olympics (LETR), the largest grassroots fundraiser for Special Olympics, as the charitable beneficiary of the competition, and will donate $10 from each participant's entrance fee to Special Olympics. Additional fundraising events for Special Olympics may occur at certain regional competitions.

For some, the competition provides a platform to compete and win the title of America's Strongest Cop. For others, America's Strongest Cop serves not only as a fun and motivating platform for law enforcement professionals to compete, represent their departments and stake their claim to this unique national title, but also to champion the indelible spirit of our first responders and the daily sacrifices they make while cloaked in anonymity. For all, the competition serves as a motivating platform to get healthy and fit by following the successful diet, exercise and time-management principles developed by official spokesman and America's most decorated competitive strongman, Derek Poundstone.

Poundstone has been America's most decorated Strongman over the past four decades. But what is most impressive is that he's done so while maintaining his full-time position as a working Patrolman for the Naugatuck, Conn. Police Department. Poundstone personifies the sacrifice and commitment that American law enforcement and America's Strongest Cop are all about. In addition to his dual role as full time patrolman and strongman, Poundstone hosts "Poundstone Power Radio," an internationally syndicated program on Sirius XM satellite radio. In February 2011, he was appointed as a Global Ambassador for the Law Enforcement Torch Run (LETR) for Special Olympics. Poundstone is also heralded as an expert in the time management and fitness arenas and has served as a columnist for Muscle & Fitness magazine.

"I consider it a great honor to be a part of a program that celebrates our first responders' dedication to protecting and serving our local communities," stated Poundstone. "I'm thrilled that we've created a platform to provide a fun and competitive challenge for my law enforcement brothers and sisters who put their lives on the line every day, while also supporting my colleagues who participate in LETR and their amazing fundraising efforts on behalf of Special Olympics."

America's Strongest Cop will feature multiple fitness events, including 3 individual lifts and a police-themed obstacle course that will test their cardio and endurance. Participants can train for all events at any local gym and no special equipment is required. Competitors will be grouped by weight class, age and gender, and must be full-time sworn officers for a local, state or federal agency. Individuals can compete alone, or join an 8-person team. Teams will perform a tug-of-war, truck pull and a farmer carry. The competition, which kicks off in May, will host events through August in the following cities:





Date
May 18-20
June 1-3
June 15-17
June 29-July 1
July 6-8
July 13-15
July 27-29
Aug. 10-12




Location
Cleveland, Ohio
Baltimore, Md.
Edison, NJ
Orlando, FL
Charlotte, N.C.
Dallas, TX
Los Angeles, Calif.
Chicago, Ill.




Venue
IxCenter
Baltimore Convention Center
NJ Expo Center
Marriott World Center
Charlotte Convention Center
Gaylord Center
LA Live
Navy Pier






Participants can register now at www.AmericasStrongestCop.com. The entrance fee includes commemorative event apparel, an instructional training video hosted by Poundstone and a reserved slot in the regional competition of choice for the first 7,500 registrants. In addition, Special Olympics will receive $10 for each entrance fee paid.

America's Strongest Cop has designated the Law Enforcement Torch Run for Special Olympics as its official charity. The LETR, which is now in its 31st year, has raised more than $410 million for Special Olympics. The LETR was founded by Chief Richard LaMunyon in Wichita, KS in 1981, and now boasts an impressive 85,000 active law enforcement volunteers, who collectively raised $42.6 million for Special Olympics in 2011.

"Special Olympics is proud to be the official charity of the America's Strongest Cop competition. The commitment and dedication that law enforcement has for Special Olympics is incredible. Through participation in ASC, officers will be showcasing their abilities as well as supporting Special Olympics in a unique and fun way," said Michael Teem, Executive Director of the LETR for Special Olympics. "We are excited to have such a compelling platform to activate the energies of law enforcement officers in our ongoing fund-raising efforts."

About Special Olympics
Special Olympics is an international organization that changes lives through the power of sport by encouraging and empowering people with intellectual disabilities, promoting acceptance for all, and fostering communities of understanding and respect worldwide. Founded in 1968 by Eunice Kennedy Shriver, the Special Olympics movement has grown from a few hundred athletes to more than 3.7 million athletes in over 170 countries in all regions of the world, providing year-round sports training, athletic competition and other related programs. Special Olympics now take place every day, changing the lives of people with intellectual disabilities all over the world, from community playgrounds and ball fields in every small neighborhood's backyard to World Games. Special Olympics provides people with intellectual disabilities continuing opportunities to realize their potential, develop physical fitness, demonstrate courage, and experience joy and friendship. Visit Special Olympics at www.specialolympics.org. Engage with us on: Twitter @specialolympics; fb.com/specialolympics; youtube.com/specialolympicshq, and specialolympicsblog.wordpress.com.


---