Wet/Dry Vacuum Systems… A Must-Have for Correctional Facility Managers
By Mike Englund
Published: 04/16/2012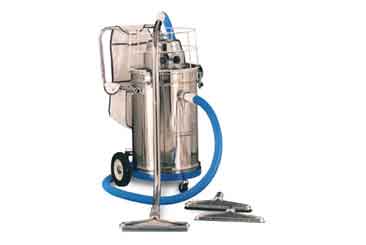 Once a facility purchases a wet/dry vacuum cleaner, they typically find them so useful that they wonder how they ever managed without one. This is true for homeowners, managers of office buildings, and even administrators of correctional facilities.

Wet/dry vacuums, as the name implies, can be used to vacuum up both dry soil and moisture from floors, carpets, and a host of other surfaces. Some of these machines come with a variety of wand attachments--including a crevice tool, a rug cleaning tool, a dusting tool, and a squeegee tool--to meet different cleaning needs. Together, these tools can tackle a myriad of tasks, including cleaning up spills, removing water coming from overflowing urinals or toilets, and vacuuming carpets and upholstery.

Along with the versatility of these machines, they also offer substantial power. In fact, some wet/dry machines are considerably more powerful than conventional vacuum cleaners, allowing them to remove deeply embedded dry soils from fabrics and collect moisture from floors more thoroughly--an important feature because it ensures faster drying. Some wet/dry systems also feature dual-vac motors, which allow for maximum performance and minimize the possibility of debris becoming clogged in the machine's hose.

Professional-quality wet/dry machines, which are available in 5, 15, and 20 gallon sizes, are often used to perform hard-surface floor maintenance.* This makes them perfect for correctional facilities, which generally have a great deal of hard-surface flooring that must be cleaned and maintained on a regular basis. Wet/dry vacuums are able to recover moisture and solution quickly from floor areas during the refinishing process. Most wet/dry systems can do this far more thoroughly than conventional mop-and-bucket methods; this is because mops can become soiled and saturated as they are used, negatively impacting performance.

Safety Concerns

Some users wonder how wet/dry vacuums work. Are they safe? When using them to collect liquids, can those substances possibly come in contact with the motor or other electrical parts, causing a safety hazard?

The answers are yes and no. Yes, wet/dry vacuums are indeed safe, and no, liquids cannot come into contact with any of the machine's electrical or mechanical components. The basic design of these machines is actually rather simple. The air stream pulls moisture and debris through the hose and into the machine. As it enters the machine, the air enters a large chamber, where the air stream slows down. This reduction in speed loosens the air's grip on the soil it is carrying so that it falls into a recovery tank.

Because a considerable amount of air flows through these machines along with the soil and moisture they recover, correctional facility managers are advised to select wet/dry vacuums with multistage filtration systems. These systems prevent harmful contaminants from being released from the exhaust and becoming airborne, effecting indoor air quality.

In order to further protect indoor air quality, managers should select wet/dry vac machines that feature two separate types of filter bags. One type of filter is a permanent, washable filter bag used for wet vacuuming; the other is a paper filter used for dry vacuuming.

Using the Machine

Using a wet/dry vacuum is relatively easy. They are operated very much like a typical canister vacuum cleaner--they are just much bigger.

One thing to avoid is moving the machine by pulling on its hose. This can damage the hose and even tip over the machine, possibly resulting in a spill. Professional-quality machines typically have built-in wheels and a top-mounted handle or dolly design with a handle so that they can be pushed and pulled for easy transport.

The hoses on professional-quality wet/dry vac machines are typically seven to ten feet long. More advanced models usually have a swivel connector that allows for 360-degree hose rotation. This gives the machine considerably more flexibility, protects the hose, and improves worker productivity.

Wet/dry vacuums should be emptied after each use, especially when they have been used for wet vacuuming. Emptying these machines has become much easier due to the new "tip and pour" dolly design that some newer models feature. These machines can be safely tipped on their frames, allowing both wet and dry soils to pour out of the machine.

After emptying the machine, users should consider cleaning the dry filter bag. Usually all that needs to be done to accomplish this task is to shake the bag to loosen and remove particulates. Finally, before parking it away to await its next use, let the machine run for a few minutes to remove any remaining moisture from the tank, hose, and attachments. It is always best to store these workhorses dry in order to ensure that they will provide years and years of dependable service.

Mike Englund has more than 30 years' experience in the professional cleaning. He is the product manager for Powr-Flite, a leading manufacturer of professional cleaning equipment including wet/dry vacuums.

*Smaller wet/dry vacuums and less-powerful machines are available at hardware stores and mega-retailers, but these are typically for home use only and would not be the appropriate machine for use in a correctional location.
---