What's all this about reentry?
By Bob Anez, Communications Director, Montana Department of Corrections
Published: 06/25/2012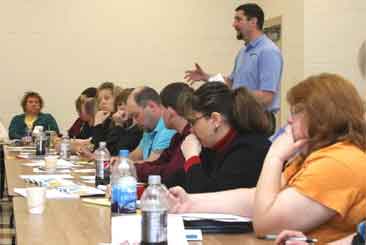 Nine months ago, the Montana Department of Corrections launched its reentry initiative. Since then, "reentry" has become one of the most frequently used words in the agency.

Reentry, reentry, reentry.

Reentry has become the dominant focus of the department.

But that doesn't mean it's new. Reentry has been around for decades. The word refers to more than the process of inmates leaving prison and reentering communities. It encompasses a broad array of services and programs that the corrections system provides offenders to help their transition go smoothly and be successful.

The initiative is spearheaded by a 28-member task force is designed to enhance existing reentry services and improve coordination among corrections professionals.

It involves everybody across the correctional spectrum: prison war-dens, case managers, unit managers, correctional officers, information technology staffers, the Parole Board, probation and parole officers, and the staffs of prerelease centers and community treatment programs.

But it goes beyond the corrections world. Job Service offices able to help offenders find jobs, landlords willing to provide housing to offenders, law enforcement, family support groups, educators offering job-skills training, and public assistance pro-grams have roles to play.

Every year in Montana, about 1,200 inmates are released from prison. What happens to them then is what reentry is all about.

The bottom-line for reentry is reducing the number of offenders failing in the community and returning to prison. Reducing this recidivism will mean Montana taxpayers will have to spend less on incarcerating offenders than they otherwise would.

So the department looked at statistics and determined inmate populations most at risk to return to prison. Those leaving prison when less than 25 years old or while living in higher-custody housing units have higher recidivism rates than other inmates. Those are the target populations.

The department wants the reentry initiative to cut the recidivism rate among those offenders from almost 43 percent to about 32 percent during the next three years. That means 49 fewer inmates ending up back in prison.

While that may not seem like a large number, the potential savings add up quickly given the cost of an average stay in prison.

How will this be accomplished?

The effort begins when an offender enters prison and continues through incarceration and supervision in community corrections programs. The idea is simple: Give offenders the tools to succeed.

The task force is focused on four initial priorities:

Develop a uniform means of assessing the needs of offenders and their risk to re-offend.
Encourage employers to hire of-fenders.
Promote creation of more housing opportunities for offenders.
Improve relationships between of-fenders and their families.


Beyond that, corrections officials will concentrate more effort on the targeted populations, recognizing those offenders need more attention to increase their chances for success and decrease their likelihood for failure.

The Montana Reentry Initiative is not a fad and will not fade over time. Results won't occur overnight. The benefits will take time, but corrections officials are confident and committed to the effort.

So expect to hear the word "reentry" more. The changes it brings are here to stay. For more information about reentry, visit the DOC's reentry website at http://www.cor.mt.gov/reentry/

Reprinted with permission: Montana DOC - Correctional Signpost 2012 No. 2



Other Reentry articles by Anez


---