Suicide Prevention in Corrections-Part I: "Familiarity Breeds Contempt"
By David Stephens, PsyD, Dean, School of Professional Psychology, University of the Rockies.
Published: 07/02/2012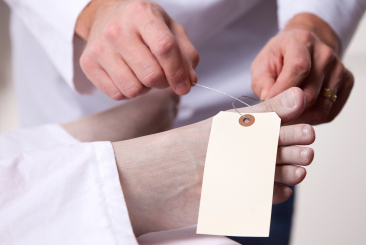 All of us who work in corrections at any level are aware of the need to engage in suicide prevention activities in the facilities where we work. If you are an officer working in a jail or prison you likely (and hopefully!) have to complete suicide prevention training of some description on an annual basis, and so have at least basic familiarity with suicide risk and how to prevent it. If you are a correctional healthcare professional (medical and behavioral health), you probably have greater familiarity with the frequency of suicide and know what must be done when somebody becomes suicidal and is placed on suicide watch in your facility. In addition, you have probably had training on national standards for suicide screening and suicide prevention coming from either the American Correctional Association or the National Commission on Correctional Healthcare.

Unfortunately, your training experiences and daily experiences in your facility may result in the title of this article being true for you. You know how to spot an offender who is at risk of harming him or herself, and know what to do when you become aware of this risk, again based on your training and your experiences. If you work in a jail, obviously depending on the size of your Average Daily Population (ADP), you are likely to see hundreds (in the smallest of jails) to thousands (in medium to large jails) of inmates come through the door every year, all of whom are screened for suicide risk. Despite screening and being aware of potential suicide risk for each of these people, a small percentage attempt suicide and an even smaller percentage commit suicide. This is where the title becomes relevant to you.

You are quite familiar with suicide prevention policies and practices, and familiar with suicide screening of hundreds or more individuals each year (or month in some cases). When you see a person with the risk factors, or screen hundreds with few risk factors, you can start to have "contempt" for the suicide risk, meaning you don't believe the individual in front of you is really a risk, because so many before you have similar stories and have seldom or never hurt themselves. Contempt in this case means overlooking the risk or minimizing it in the moment, not thinking it doesn't exist or isn't something about which you should have concern.

A similar circumstance happened with the space shuttle Columbia in 2003, when a Styrofoam panel came off of the space craft and compromised its heat shield, which was critical to re-entry to the earth's atmosphere. Authorities and scientists were aware of the potential risk, but loss of these panels happened regularly and there had never been a problem. The NASA professionals suffered from the "familiarity breeds contempt" situation as it applied to panels coming off of space shuttles; they had been exposed to the risk many times before and never had a negative event, so did not believe there would be one with Columbia. Unfortunately, this approached led to the Columbia disaster and the death of all seven of the crew members on board.

If you have never had a suicide occur at your facility it is virtually impossible for you to imagine how difficult it is for all involved. Those who are directly involved, either because it happens on their housing unit or pod, or because the person is part of their physical or behavioral health care caseload spend many hours second guessing themselves and wondering how they could have allowed this to happen and not have seen it coming. Staff members who are less directly involved often become more diligent in screening and monitoring inmates, and become anxious because they don't want a tragedy like this to occur on their units or caseloads. It is not uncommon for new policies to be developed, or for there to be more trainings on existing policies related to suicide prevention after a completed suicide, which places additional strains on the facility. Frequently lawsuits occur after a suicide, which are quite unpleasant for everybody but the lawyers. Having all of your actions individually, or the actions of the entire staff, placed under a microscope and having to justify everything that occurred is time-consuming, takes away from performing your normal duties, and adds an emotional burden to an already difficult job. Finally, as difficult as all of those things just discussed are, they are minimal compared to the tragedy of having somebody take their own life, and the tragedy of a mother, father, wife, husband, son, daughter, brother, sister, etc. losing their loved one, when it could have been prevented.

To avoid the preventable tragedy of a suicide in your facility, and getting into the mode of "familiarity breeding contempt," please remind yourself that just like the space shuttle, the presence of risk factors can lead to disaster, even when it hasn't happened to you before. Take some time to review the risk factors for suicide in jail and prison, and actively look for them and act on them when they are present in anybody in your facility.

Click here for Part II "The Shawshank Effect"

Corrections.com author, David Stephens is Dean of the School of Professional Psychology at the University of the Rockies. He is a frequent presenter at NCCHC Mental Health and other conferences. He has been the contracted Director of Mental Health for both the WY and MO Departments of Correction, was the Chief of Behavioral Health for the Colorado Department of Corrections and has overseen mental health services in jails of all sizes across the US.
---