For The Trainer
By Gary F. Cornelius, First Lt. (Retired)
Published: 06/11/2012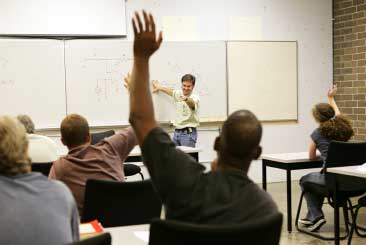 In my career, I have been a member of many different organizations. In retirement, I hold membership in just several-the American Correctional Association, the American Jail Association, the International Association for Correctional and Forensics Psychology and the International Association of Correctional Training Personnel. Why? In "retirement" I use their excellent materials for teaching, writing and consulting. People join organizations for different reasons. Some join for the materials, some for the conferences, and some because they want to advance themselves professionally.

How about the correctional trainer? They are the ones who have to implement their agencies' policies and procedures through staff training. Not only do standards have to be met, but problems come up in jails, prisons, community corrections, probation and parole and juvenile centers. For example, a jail experiences a suicide. The training committee meets-the sheriff wants an intense program of suicide prevention training-not just reading the general order at roll calls. It is up to the trainer-he or she has to come up with objectives, write a lesson plan, plan the scheduling and most importantly- presenting training in ways that keeps it focused and interesting. Also, training personnel track required hours for training and coordinate on the job training for new personnel coming out of the academy. However you slice it-training personnel have a tough job.

There is an organization for correctional and criminal justice trainers: the International Association of Correctional Training Personnel or IACTP. First formed in 1974, it is for correctional trainers. I have been a member since 1986 and currently serve on the Board of Directors, representing local adult corrections.

The economy is not where it should be; any informed citizen knows that. Budgets are tight and people both inside and outside of corrections want the most for the dollars that they spend. An individual membership to IACTP costs only $50.00 per year-and that membership has many benefits for the correctional trainer:

Networking with other trainers: trainers who have a need for new material or to refresh training methods can contact the membership for assistance and get new perspectives and ideas.


Trainer certification: IACTP and the American Jail Association (AJA) have joined together to certify adult and juvenile system trainers through a review and testing process. A two step process has been developed by IACTP and AJA Commissioners. Achievement of certification can enhance a trainer's professionalism and career.


The Correctional Trainer: an on line journal that contains a variety of articles about correctional training; it is a great resource. The Twenty Minute Trainer and other articles can give criminal justice and correctional trainers a new understanding of training ideas and topics. Want to write? The editor is always looking for new articles. Writing for the Trainer can be a great start of a correctional writing career-it was for me.


The best benefit? An annual training conference like no other. IACTP Conferences are held annually; the locations vary around the country both to make traveling easier and give attendees the benefit of experiencing local criminal justice agencies. Local corrections and criminal justice agencies host conferences and provide great tours of their facilities and a chance to network with their staff. I have attended several conferences and have attended many conference seminars on corrections training from the best, brightest and the most innovative thinkers in correctional training. I have also presented at conferences and the feedback, discussions and networking from members are always enjoyable and beneficial. Once you attend an IACTP Conference, you will come away with the thought: "It was well worth it".

This year the IACTP's 27th Annual Trainer's Conference will be on October 21 through 24, 2012 in Charleston, West Virginia and will be hosted by the West Virginia Department of Corrections. The seminars will contain up to date correctional information training that will enable you to take material, information, contacts AND ideas back to your agencies.

The IACTP Conferences have a great exhibit hall, where many vendors from all over corrections display their wares. If you are like me and want to keep up with criminal justice and corrections' technology, hardware, software and new training material, the exhibit hall is a great way to do it.

I hope that I have gotten you-the correctional trainer-thinking about improving training in your agency. The IACTP web site is www.iactp.org or you can link to it at www.corrections.com. We need members-and you will, if you become a member-get a very big "bang for your buck".

Please go there-it worth a look. The contacts and friends you make in this organization will be lasting.

Corrections.com author, Gary Cornelius, is an interim member on the Board of the International Association of Correctional Training Personnel (IACTP) representing local jails. He is also a member of ACA, AJA, and the American Association of Correctional and Forensic Psychology. In 2008, Gary co founded ETC, LLC, Education and Training in Corrections with colleague Timothy P. Manley, MSW, LCSW, Forensic Social Worker.

Visit the Gary Cornelius page

Other articles by Cornelius:


---