Cutting Floorcare Costs in Correctional Facilities
By Mike Englund
Published: 08/13/2012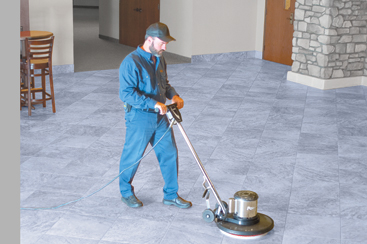 Correctional facility administrators are often stumped as to the size of the floorcare equipment they should select. Complicating matters, some areas of the facility might be quite tight with a number of obstructions while other areas are large and open.

But the size and type of floorcare equipment selected can make a big difference in the cost of floorcare. Using the proper machines and the right size of equipment for the job allows workers to cover more floor area in a shorter period of time, reduces disruption, helps lessen worker fatigue, improves worker productivity, and can help cut costs, sometimes rather dramatically.

Managers should also realize that floor machines should always be viewed as an investment. Many higher-quality machines are made to last for years so the return on investment can be significant.

In general, when cleaning floor areas smaller than 1,500 square feet, a standard floor machine—such as a 175 rpm (rotations per minute) rotary machine—is suggested. But in larger areas, such as those often encountered in a correctional facility, a walk-behind scrubber will pay dividends.

Depending on floor size and frequency of use, a walk-behind model will typically pay for itself in about a year or even less. If one person uses a standard 16-inch buffer to clean 10,000 square feet of flooring, it should take about 10 hours. If we pay him or her $10 an hour, that's $100. However, if that same person working in that same area uses a 24-inch walk-behind machine, it can be cleaned in less than 30 minutes, a significant reduction in time and related costs.

New developments in floorcare equipment have also helped to reduce costs. For instance, more advanced automatic scrubbers have 3-stage suction motors that can efficiently vacuum up the slurry and waste typically produced when refinishing floors. This minimizes the amount of time required to rinse and clean floors, another labor and cost savings. And because correctional facilities are 24/7 operations, this can also help reduce the disruptive impact of floorcare.

There is also a new generation of battery-powered floor machines for administrators to consider. In the past, the big complaint about battery-powered floor machines was that they had a short run life between charges. However, some newer systems deliver significantly improved run times over older battery-powered models. Longer run times mean more work can be completed before the machine must be recharged, also improving productivity.

In addition, battery-powered machines eliminate a key problem with using a corded machine: the potential for a slip-and-fall accident to occur. This would likely be more of a concern in a correctional facility than many other types of facilities because people both work and live in the facility. And having no cords to deal with means the cleaning worker does not have to continually take time to plug in and unplug cords from wall outlets.

What Not to Cut
Although the chemicals used to clean, polish, and maintain floors are typically a relatively minor cost in floorcare, it is not unusual for administrators to consider less expensive chemicals in the hopes of saving money. Unfortunately, in many cases this is not a wise course of action; in fact, it can actually add costs over time.

The plain truth of the matter is you get what you pay for when it comes to floorcare chemicals. More expensive products are usually higher in quality, easier to apply and maintain, and longer lasting. Plus, some are more environmentally friendly and protective of the indoor environment. And using proper floorcare strategies, the right sized machine, and higher-quality chemicals often means floor refinishing cycles can be reduced. This can prove to be the biggest cost savings of all.

Mike Englund has more than 30 years of experience in professional cleaning. He frequently instructs custodial workers on proper cleaning techniques, including floorcare. He is now product manager for Powr-Flite, a major manufacturer of floorcare equipment.
---