Steps To Success: Lieutenant at 25
By Dalonika McDonald, Texas Department of Criminal Justice/Parole Division
Published: 09/24/2012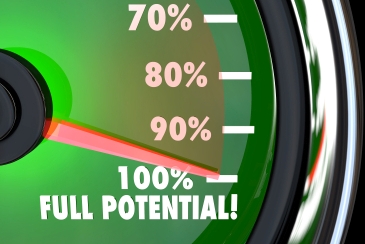 "Warden, I haven't heard back from your department. When is my start date for new hires?"

A month earlier, as a 21 year old recent college graduate, I walked into my interview, feeling proud of myself. I thought, "No one can look more professional than I do." I knew this because I was given an "educational course" on dressing for success from my mother.

I entered the interview to find four Deputy Wardens sitting around the table, each looking unfriendly at first glance. Before I was even able to sit down, I was told, "You must be Dalonika. We've already heard about you and we have everything we need. No interview necessary. We will be in touch with you shortly for your orientation date." I was beyond excited. I knew it was because of my debut, how I conveyed myself with excellence, and of course it helps when you know people in higher places.

A week went by, then two weeks, then a third week and I still hadn't heard from my "new job". What was going on? "I'm sure it's nothing.", I tried to tell myself. "Maybe they are behind in applicant interviews." I called my internal connection, "Warden, I haven't heard back from your department. When is the start date for new hires?" He replied "Give me a call in a week and either you'll have a response or I'll have an answer."

One week later, exactly, I gave him a call. "Hey Sir, this is Dalonika again. Have you heard anything yet?" "Yes. They said you appeared 'too girly' for them. They didn't think this was a good environment for you." He paused and then stated, "They said you had on heels and you were the 'really cute type'." To say the least, I was disappointed. In an effort to lessen the blow, it seemed, he quickly responded by telling me not to worry. "Just contact a friend of mine and you can start at the Juvenile Detention Center."

I followed Warden's advice. I met with the head director, who took one look at my 5'2 frame and flat out said, "I think you should try something different!" That was all I could take, I went on a year long sabbatical from looking for any other jobs in my field.

After my year had passed, I went back out determined to get my career started and become a success. I placed applications anywhere and everywhere that said 'hiring' or 'accepting applications'. After three weeks of job hunting I received a letter for an interview after passing an assessment screening.

I viewed this as the perfect opportunity to prove everyone wrong. I came dressed prepared this time mimicking the men in my life. I wore the dark khaki pants, I saw my brother wear. I purchased bulky, black bubble shoes similar to the pair my interviewers wore. My hair was pinned up, I had no make up on, and I lost the feminine walk and soft voice I was known for.

As I sat in the lobby waiting for my interview, I took notice of the men surrounding me. I watched the way they sat, the emotions they displayed, and once again - I mimicked them. When one of my interviewers came to announce it was my turn, I walked in confidence knowing I was the best candidate corrections had.

All of my hard work paid off. I got the job as a Correctional Officer and I was promoted five times within a four year period. Six months after I was hired, I was promoted to Corporal. Three months after that, I beat out over 23 internal candidates of different levels and was promoted to Case Worker. Once again, almost two years later I was promoted to Case Manager. During my last promotion to Lieutenant, I became the first African American female in our area to be promoted to Lieutenant. I was also 25 years of age, a success all by itself.

I am proud to say I have reintroduced my high heels, my soft voice, and my feminine walk while constantly and consistently climbing up the correctional ladder. I have also been asked to conduct a training that focuses on women in corrections and how to maintain professionalism while still being a lady.

I guess you're wondering how I did it, when I was told I would not be a success in this line of work? Here are 10 of the top twenty tips I have given during many presentations. I consider them to be my "Keys to Dynamism, Wisdom, and Success":

Believe in your innate abilities, become innovative
Connect with someone who is modeling success
Exceed Expectation!
Learn policy, study, breathe it
At the Genesis of your career cultivate your personal plan of action, devote time to your personal development
Stay away from complainers, always be apart of a resolution plan
Help your department heads shine!
Establish your reputation on committees to improve your institution
Work hours and perform assignments no one else is willing to
Hold on to your personal values. Never burn out, Always refuel
Other articles by McDonald
Corrections.com author Dalonika McDonald is a former Lieutenant for the Nebraska Penal System. She was promoted by The Texas Department of Criminal Justice to supervise staff to promote security first, and then provide resource services and programs to ex-offenders and their families. 
The scope of McDonald's professional experience encompasses more than inmate relations, she is a highly accomplished criminal justice and public relations specialist poised for her role as a community liaison, instrumentally contributed to recruitment initiatives, training and development and strategic building of relationships with corporate leaders, as an active member of many local and national organizations including: National Association of Women Business Owners, American Correctional Association, Executive Women in Texas Government.
---