Two Case Studies on Jail Evacuations During a Natural Disaster: Iowa's 2008 Flooding: Part 1
By Major James A. Murphy, Plymouth County Sheriff's Department, Plymouth, Massachusetts
Published: 09/24/2012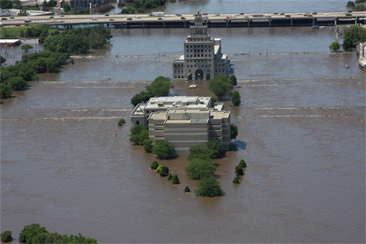 Part 1. Polk County: Short-Term Jail Evacuation

This article is based on a training resource prepared for the National Sheriffs' Association (NSA), Jail Evacuation and Implementation Program Initiative, part of NSA's Homeland Security Initiative. The author helped to develop and deliver this training and wishes to recognize the contributions of an extensive team. The material is presented here with the permission of NSA and of the Linn County and Polk County Sheriff's Offices.

The spring of 2008 was notable in Iowa for extreme flooding in several river drainages. Images from the flooding were featured on national newscasts. Conditions became so severe that the jails in Polk County (Des Moines) and Linn County (Cedar Rapids) were evacuated. The Polk County jail was evacuated on a Friday, and inmates returned 2 days later. In Linn County, the jail was not reopened for nearly a year. Both situations fortunately were resolved without loss of life or escapes, attesting to the effective response of staff and preparations that were in place long before the crisis.

Despite their overall success responding to the emergency situations, each jail's leadership learned through experience that additional preparations could have improved its response. The different experiences of the two jails make it clear that jails can benefit from making plans for both "short term" and "long term" evacuations. This report compares their experiences and highlights ideas that may be of value to other agencies.

Jail Basics
Agency—Polk County Sheriff's Office
Jail capacity—950 to 1,000 inmates (housed at the Old Main jail, Interim Jail, and other facilities; Polk County opened a new jail in 2008)
On-duty staff—223 correctional officers; 60 patrol deputy sheriffs
Inmates moved—260 adult male inmates from the Interim Jail


Incident Synopsis
The Polk County Interim Jail was located in downtown Des Moines, near the confluence of the Des Moines and Raccoon Rivers. In the days leading up to the evacuation, jail inmates as well as Polk County Sheriff's Office staff worked in a sandbagging operation to hold back the floodwaters. The waters continued to rise. As it became clear that flooding in the area would likely worsen, a voluntary evacuation of downtown Des Moines was invoked.

The Polk County Sheriff's Office responded to ensure the safety of staff and inmates.

June 7—Sheriff Dennis Anderson and his staff activated the agency's emergency evacuation planning and notification process.
June 11—The agency implemented an emergency staffing procedure to ensure that an adequate and safe number of staff would be on duty as events unfolded.
June 13—Rising waters made it necessary to invoke an emergency evacuation order for the Polk County Interim Jail. Evacuation began at 1120 hours and was completed by 1520 hours, with all inmates secured at 1700 hours. It was not necessary to evacuate Polk County's Old Main Jail, which housed approximately 250 inmates, including the women's population, or to move inmates from other Polk County housing locations.
Inmates were returned to the Interim Jail on Sunday, June 15.


Pre-Incident Preparations
Mutual-aid agreements and notification protocols were in place with several correctional and public safety agencies and organizations:

U.S. Marshals Service • U.S. Department of Homeland Security, Bureau of Immigration and Customs Enforcement (ICE)
Iowa Department of Corrections—Facilities available if needed included the Iowa Medical and Classification Center at Oakdale, the women's facility at Mitchellville, and the men's Fort Dodge Correctional Facility.
Iowa State Patrol—Provided escort and security assistance during transport.
Iowa Sheriffs' Association—Provided a channel for notifying Iowa's 98 counties in case housing or other assistance would be needed in a long-term evacuation.
Ankeny (Iowa) Police Department—Designated as a regional lock-up during an emergency.


Various other arrangements were already in place and were invoked to provide for emergency operations.

Collective bargaining agreements provided for staff overtime and compensation for housing, relocation, and travel on the part of staff who accompanied the inmates to their evacuation sites and stayed with them on a rotating basis for the duration of the evacuation period.
Agreements for housing inmates and/or use of bedding provided for inmates' physical comfort at their destinations.
An agreement with a third-party medical contractor provided for any needed medical treatment of inmates, including medical care housing, medications, records management, and staffing.
Transportation of inmates was accomplished through agreements with Southeast Polk Community School District. Additional transportation assistance was available through secondary sources but was not needed.
Escorts and security staff were provided by the Polk County Sheriff's Office and the Iowa State Patrol.
Arrangements had been made to provide hotel rooms for staff if needed. Instead, staff members were transported to and from the evacuation site each shift, so hotel beds were not necessary.


Actions During the Incident
Because of the rapidly increasing water levels, the evacuation was "rapid" and was undertaken primarily to remove people from any danger, with no opportunity for taking inmate property or other unnecessary items.

Throughout the operation, personnel followed a communications plan that called for use of cell phones and mobile/portable radios.
An operational plan was established, and the decision was made to evacuate the high-risk/ maximum security inmates and administrative segregation inmates first, followed by the general population and minimum security inmates.
A visual head count was performed prior to departure of each of the facilities.
Muster and staging areas were established in close proximity to both of the Polk County facilities.
Within 30 minutes of the evacuation order being issued, the Southeast Polk Community School District provided nine buses for transporting inmates. Additional buses were available but were not needed, since only the Interim Jail was evacuated.
Escorts and security staff were provided by the Polk County Sheriff's Office and the Iowa State Patrol. The ratio of inmates to officers was 15:2 while in transit, with dense law enforcement coverage on the 90-minute evacuation route. Three patrol units were assigned to accompany each set of three buses. Trip lists and bus assignments had been pre-planned so that the bus convoy could consist of up to nine buses at a time.
During the evacuation one bus experienced a mechanical problem, which made it necessary to transfer the on-board inmates and staff to a reserve bus. This occurred without incident.
Adult male inmates were transported to the Fort Dodge Correctional Facility, managed by the Iowa Department of Corrections.
Polk County Sheriff's Office staff took responsibility for their inmates at the host facility and performed on 12-hour shifts. Staff members were transported to and from the evacuation site for each shift.
Inmates were moved back to Polk County jail custody on Sunday, June 15, without incident.


Lessons Learned
Though the operation went smoothly, the Polk County Sheriff's Office identified ways to improve its response if another jail evacuation is necessary in the future.

An "all-hazards" emergency response plan should be developed.
A formal emergency notification system should be established and written in a format that can be easily followed and easily updated.


Reprinted - National Institute of Corrections - National Jail Exchange Click here for part II
---