Dust Explosions and Correctional Facilities
By Adam Schaffer
Published: 09/17/2012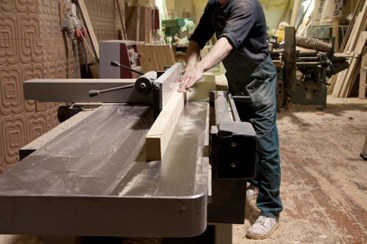 Most correctional facilities have vocational programs that train inmates in such skills as auto, body, and fender repair; masonry, mill, and cabinet work; and welding and metal fabrication. Correctional administrators must remember that many of these programs--as beneficial as they may be to inmates--can generate considerable amounts of dust that can become combustible under certain conditions. While rare, such situations can result in explosions and fires that can cause injury or even death for inmates and staff.

These kinds of events are typically referred to as "dust explosions" or "industrial explosions" and are actually quite common in manufacturing facilities both large and small. In fact, there have been more than 300 industrial explosions in the U.S. since 1980. One such event, which occurred in 2008 at a Georgia sugar refinery, killed six workers and injured 42 others. Another explosion, this one in a pharmaceutical manufacturing plant, resulted in 38 hospitalizations and 6 deaths.

Believe it or not, the common denominator in all these explosions is dust.

According to the National Fire Protection Association (NFPA), dust--which can be made up of a variety of materials, from food waste to metal and wood shavings--can become "potentially combustible when coming into contact with heat, electricity, or some other trigger." And just as this can happen in a manufacturing site, it can also happen in a correctional facility where large amounts of dust are generated in workshops or other vocational program areas.

What Causes Industrial Explosions?

According to the NFPA, for a dust explosion to take place, at least four conditions must occur simultaneously:

A large concentration of dust is suspended in air and remains airborne for long periods of time
Oxygen is present in sufficient amounts
There is an ignition source
The dust is located in an enclosed area.


Ignition sources can vary. In a correctional facility, an ignition source could even be a steam-heated pipe located somewhere within the enclosed area. However, more often than not, the ignition source is a very hot surface or an area where some type of machine cutting or welding is being performed.

Because large amounts of stagnant dust must be present in order for a dust explosion to occur, keeping dust levels at a minimum and preventing dust from becoming airborne are crucial to preventing such an event. This is why sweeping and dust mopping vocational area floors in a correctional facility should be avoided, as should any dusting procedures that tend to release surface dust into the air.

Another option for both floor and surface cleaning in such areas is industrial vacuum cleaners. Industrial vacuums are not the type of machine commonly sold in a hardware store. Instead, these are professional-level equipment typically manufactured by janitorial equipment manufacturers and designed for industrial cleaning applications.

A professional, industrial vacuum cleaner will typically have the following features:

A power head that generates a minimum of 2.25 horsepower
A machine with high levels of CFM (as discussed further below, CFM stands for cubic feet per minute and is a rating of airflow through a vacuum cleaner)
A large (at least 55-gallon) drum, which minimizes emptying frequency. Those with a "ribbed" drum have proven to be more durable for industrial cleaning than plastic or stainless steel drums.
A drain valve located at the bottom of the machine to empty liquids; along with this, some systems ride on carriers and have tip-and-pour tanks making it easy to empty collected contents.


Some more advanced industrial vacuums also have power heads specially designed for enhanced water lift and vacuuming performance

A high level of CFM is crucial to efficient vacuuming in industrial or correctional settings. Think of CFM as a reflection of the power of the machine, which gives it the capability to remove dust and soils from floors and surfaces. An industrial vacuum cleaner with high CFM is necessary for rapid and efficient recovery of both wet and dry dust and debris.

These machines' filtering systems are also key to their performance. This is because the goal is to reduce the amount of dust released into the air. While the majority of debris collected by these machines should wind up within the steel drum mentioned earlier, a filter bag is still necessary because of the exhaust that is generated during operation. Some more advanced industrial vacuum cleaners that are specially designed for industrial applications have external poly filter bags that help prevent dust and other contaminants from becoming airborne.

Adam Schaffer is Territory Manager for Tornado Industries, a leading manufacturer of professional cleaning equipment including industrial vacuum cleaners.
---