Suicide Prevention in Corrections-Part II: The Shawshank Effect
By David Stephens, PsyD, Dean, School of Professional Psychology, University of the Rockies.
Published: 09/03/2012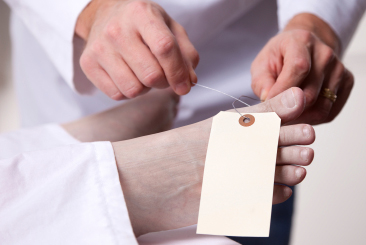 In Part One of this short series of articles on Suicide Prevention in Corrections I talked about the phenomenon of "Familiarity Breeds Contempt" and how dangerous that can be to inmates, staff and correctional facilities. A significant reason that "Familiarity" is a problem is because we know and receive regular education about the risks of suicide occurring in our correctional facilities. What we haven't talked about, or even fully realized, is what I will call "The Shawshank Effect," which represents a significant risk to the lives of those inmates who are preparing for, or are in the process of, re-entry.

Most of you have seen the movie, "The Shawshank Redemption." Although the story revolves around Andy DuFresne, a banker who is wrongfully convicted of murdering his wife and his experiences in prison, a significant subplot in the movie is the experience of those who are paroled or released from prison. Brooks is a long-time inmate who is finally released from the Shawshank Prison and tries to adapt to life in the community. As you will remember, he gets a job at the Foodway Grocery store and tries to cope with his fears and the stress of returning to the community. Ultimately, he doesn't have the skills to cope with this enormous change, the stress proves too much for him and he hangs himself in his apartment.

I first saw this movie before I began working in corrections, and thought that the fate of Brooks, while tragic in the movie, was not particularly important to the story and certainly didn't represent reality. My opinion at the time was that for most people who are incarcerated, the day they are released from jail or prison has to be the happiest day of their lives. Sadly, as many of you know, that is far from the truth. What is even worse, it turns out that the experience of Brooks is all too common, and for many it happens much more quickly than it did for him in the movie.

We know that the suicide rate in prisons is approximately 16 per 100,000, and the suicide rate in jails is 38/100,000, as compared to a rate of 10-12/100,000 in the community. This means that people are much more likely to commit suicide in a correctional facility than they are in the community. What is much less commonly known, and what I am labeling the Shawshank Effect, is the fact that inmates are at higher risk for committing suicide immediately after leaving incarceration than they are when they are in the facility.

The suicide rate has been found to be 156/100,000 for those leaving incarceration, and 20% of these suicides occur in the first week following release. Further, other studies have indicated that the death rate following incarceration ranges from 17 times the rate in the general population in the first week following incarceration to 3.5 times the rate in the general population in the first year following release from jail or prison, and that drug overdose or suicide are among the most likely causes for these deaths.

The implication of this data is that not only are people at significant risk of suicide while housed in a correctional facility, but they are likely to be at even higher risk immediately following their release. There are many reasons for this, but among the more important ones are the following:

Jail or prison is a structured environment where all their basic needs are met, while there are no guarantees of housing, food, or other basic living necessities when they return to the community.
Research indicates that a lack of a sense of belonging, along with a heightened sense of being a burden to others represent two of the greatest risks for suicide (Joiner, 2012), and a return to the community following incarceration can increase both of these factors.
Often people who have been incarcerated have had little success in the community, but have gained some respect and recognition among other inmates while they are incarcerated. They are returning to the environment where they have experienced significant disappointment, frustration and rejection.


While it is important to understand the full continuum of suicide risk in corrections, beginning at intake and continuing at least through the initial week or two of re-entry, as I have described, it is equally if not more important to know how to address this full continuum of risk. Most of us as correctional professionals are well aware (as long as they avoid the "Familiarity Breeds Contempt" phenomenon) of how to prevent suicides in the facility, but likely weren't fully aware of the risk at the time of release, and so haven't thought about or been trained on how to manage the risk of suicide upon release.

The remainder of this article briefly presents what I hope will become a common practice in corrections, which is addressing the risk of suicide at the time of re-entry. A simple method for doing so is what I will call the ESIE method, which is as follows:

E = Educate. Inmates can be given fact sheets that inform them of the risks of suicide (and drug overdose) at the time of re-entry, along with ways to address and minimize those risks.
S = Screen. Inmates who are, or who have been, on suicide watch at the time of re-entry, or who have become depressed, anxious, or agitated in the days or weeks preceding their release date need to be screened for risk at the time of discharge. Ideally, all inmates will have a brief screening for suicide risk prior to discharge, just as they are at intake, but this may represent a logistical challenge for many facilities.
I = Intervene. When you identify that an inmate is at risk of suicide immediately before he or she is released, arrange to have the person taken to be evaluated by your mental health staff or the staff of a local mental health center. If this is unavailable, call the local police or sheriff department and ask them to transport the inmate to the hospital for an evaluation before they are released into the community.
E = Evaluate. Evaluate the effectiveness of the new processes you put in place to address this risk.

The ESIE method can help you overcome the Shawshank Effect in your facility and ensure you are adequately addressing the full continuum of suicide risk in corrections.

Corrections.com author, David Stephens is Dean of the School of Professional Psychology at the University of the Rockies. He is a frequent presenter at NCCHC Mental Health and other conferences. He has been the contracted Director of Mental Health for both the WY and MO Departments of Correction, was the Chief of Behavioral Health for the Colorado Department of Corrections and has overseen mental health services in jails of all sizes across the US.
---