Assessing Needs: Women and Classification Systems
By Adrian Smith
Published: 12/31/2012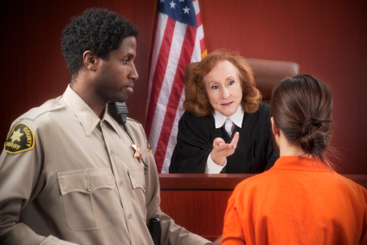 How satisfied are you with your facilities classification system in regards to women, is it fair? Burke and Adams (1991) found that many correctional staff was dissatisfied with current classification methods for women. One of the major reasons for this dissatisfaction is that classification system tends to be designed and tested for male inmates. Are females just as violent as males? What about program and special needs? Should there be a separate classification tool for females?

With women offenders representing only seven percent of the US prison population, prevailing correctional policies continue to focus on the risk and needs of male offenders. However, in recent years, the female incarceration populations have increased more rapidly than male population (Bureau of Justice Statistics, 2005). Such rapid growth draws strong attention to existing practices of assessing and classifying women offenders. Chesney-Lind, Morass, Bynum and Koons, Van Voorhis and Presser, argue that most originally developed classification tools were developed for men and then applied to women with little regard for their validity or appropriateness. In fact, a national survey of state prison correctional classification directors found that 36 states had not validated their classification system on their female inmates. Researchers argue that this omission cause over classification of females. Over classification occurs when risk assessments, designed for men, prescribe a more austere custody or supervision level for women that their behavior warrants.

With the jail and prison population of female prisoners so low, is it feasible for a separate classification tool for them? Jail and prisons are said to be the biggest mental health institutions in society. Furthermore, all incarcerated individuals are at risk for victimization and abuse while incarcerated. Researchers state their case for women's needs based on trauma, victimization, and abuse in addition to mental health needs. Certain research shows that women under correctional supervision are more likely to experience physical and sexual abuse than male offenders or women in general population (Bureau of Justice Statistics, 1999). However, studies of the real relationship between abuse and criminal behavior in adult women are mixed, likely as a result of studies:

utilizing various techniques to measure victimization, and
predicting different types of recidivism. Moreover, the issue is understudied. They also suggest that mental health needs for female offenders differ substantially from those of male offenders. Depression, anxiety, and self-injurious behavior are more prevalent among female offenders than male offenders. Current risk needs instruments are said to mask the impact of women's mental health issues.


Harer and Langan (2001) state to their knowledge, no validation of a female classification system in all female population has been published. This is probably due to the relatively small number of female prisoners and to the low female violence rate. Both of these characteristics make it more difficult to validate a risk classification instrument for women than an instrument for men. There are little to no studies that prove using the same classification tool, are detrimental to a correctional facility. Most correctional facilities obtain accreditation in which their classification systems and policies are examined, and there are minimal occurrences of problems with women's needs and classification. Classification tools and programs are regularly audited for compliance at the local, state, and national level. Furthermore, women have higher rates of arrest for financial and crimes of passion than they do of a violent nature. Although women are being arrested at a higher rate than men, there is little evidence that proves a separate classification tool should be utilized in jails and prisons to meet their needs.

Corrections.com author, Adrian Smith, is a Classification Officer for Orange County Corrections in Orlando, Fl. He holds a Bachelors of Science Degree in Criminal Justice from Upper Iowa University and a Masters of Science Degree in Criminal Justice from Everest University. He is currently obtaining his Doctorial Degree in Public Safety Leadership from Capella University. Adrian is an adjunct instructor for Everest University Online Division in the Justice Studies Department. Adrian has been in Corrections for 6 years working for Florida's Prison and Jail system. He can be reached at Adrian.Smith@ocfl.net

Other articles by Adrian Smith


---