PA Prison Dog Training Program
By Samantha Miller
Published: 11/12/2012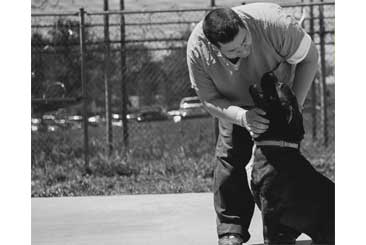 New Leash on Life USA is a Pennsylvania 501(c) (3) non-profit, prison-dog training program, dedicated to improving the life of inmates and saving the lives of dogs.

Joining thousands of exotic dog breeds and popular poodles at this year's National Dog Show will be a Staffordshire Terrier mix who did some hard time. Vivian Peyton – a '12 graduate of the New Leash on Life rescue program – will be honored as one of the Purina Therapy Dog Ambassadors at the National Dog Show at the Greater Philadelphia Expo Center on Saturday, Nov. 17 and Sunday, Nov. 18.

Formerly used as a bait dog and rescued by New Leash on Life at the Animal Care and Control Team of Philadelphia, Vivian Peyton spent three months completing a prison dog-training program run by the non-profit New Leash on Life at the Philadelphia Prison System. The pilot takes dogs that weren't being adopted in the city's shelters because of health or behavioral problems and boards them in a prison complex, where inmates then spend as much time with them as needed to train and better socialize them in preparation for adoption. It literally gives the dogs "a new leash on life" – and the inmates too, who are then eligible for training and job assistance working with animals after their release from prison.

Vivian was at-risk twice before being rescued, taken to a city shelter and ultimately given a second chance. When she arrived, she was wounded, severely underweight and apprehensive around people. But within days, the "TLC" offered by the paid staff and inmates helped Vivian relax and her true personality started to show.

After passing her canine "good citizen test" in the prison, Vivian was adopted by Michele Pich, a Veterinary Grief Counselor at PennVet, where she comforts grieving pet lovers and visits children at the Ronald McDonald House.

"We are incredibly proud of Vivian Peyton for showing the resiliency of animals and what can be accomplished with love and care," said Marian V. Marchese, the founder of New Leash on Life. "She will always be New Leash on Life's ambassador dog."

Vivian was in New Leash on Life's second class, and graduated in 2012. New Leash on Life is currently training their fifth class of dogs. Upon completion of this class, 28 dogs will have successfully finished one of the country's most unique prison-dog training programs.

ABOUT NEW LEASH ON LIFE
New Leash on Life USA is a new generation prison dog-training program that saves the lives of shelter dogs by training and socializing them to enhance their adoptability while helping inmates learn to train and care for dogs. With New Leash on Life USA, dogs live in the cells with their inmate trainers 24/7, making New Leash dogs highly desirable for adoption and ensuring the long-term success for both humans and canines. For more information on New Leash on Life USA visit www.newleashonlife-usa.org.
---